The losers of the Left defeated by increase in sales to store owner.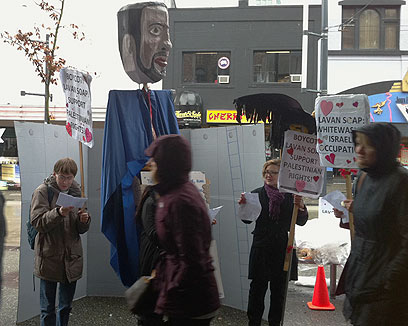 Canada store owner defeats anti-Israel boycotters

Boycott on Vancouver store owner who insists on selling Israeli goods backfires following Ynet story. 'People won't stop calling and ordering products,' she says
Abigail Looshi
Published: 02.26.12, 00:02 / Israel News
The story of Shani Bar-Oz, a Canada-based Israeli facing venomous protests outside her Vancouver soap products store, elicited a huge wave of support and generated new business, the shop owner old Ynet.
"I received a huge embrace and plenty of support," Bar-Oz said, after an article about her plight appeared on Ynet. In the story, the store owner, who insists on selling Israeli products, shared her fears of contending with anti-Israel protesters targeting her business and shouting anti-Semitic slogans.
However, it now appears that the boycott campaign against Bar-Oz has backfired, with new orders pouring in as result of the story.
"There were Israelis who came into the store and said they saw the article and want to support and help me; I expressed my heartfelt thanks to them," she said. "People won't stop calling and ordering products on the phone and online, and this is truly touching and making me stronger."
NOTE: That's the hallmark of the Left, attack private business and successful people.