Part of an article from:
Tens of thousands of Irish, Greek and Portuguese people leave in search of a new life as the eurozone's woes worsen.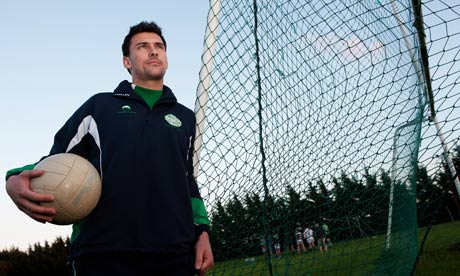 Gaelic sportsman Mick Hallows of the Roundtowers club in Clondalkin, Dublin who has emigrated to Australia because of a lack of work in Ireland. Photograph: Kim Haughton
Since its conception, the European Union has been a haven for those seeking refuge from war, persecution and poverty in other parts of the world. But as the EU faces what Angela Merkel has called its toughest hour since the second world war, the tables appear to be turning. A new stream of migrants is leaving the continent. It threatens to become a torrent if the debt crisis continues to worsen.
Tens of thousands of Portuguese, Greek and Irish people have left their homelands this year, many heading for the southern hemisphere. Anecdotal evidence points to the same happening in Spain and Italy.
The Guardian has spoken to dozens of Europeans who have left, or are planning to leave. Their stories highlight surprising new migration routes – from Lisbon to Luanda, Dublin to Perth, Barcelona to Buenos Aires – as well as more traditional migration patterns.
This year, 2,500 Greek citizens have moved to Australia and another 40,000 have "expressed interest" in moving south. Ireland's central statistics office has projected that 50,000 people will have left the republic by the end of the year, many for Australia and the US.
Portugal's foreign ministry reports that at least 10,000 people have left for oil-rich Angola. On 31 October, there were 97,616 Portuguese people registered in the consulates in Luanda and Benguela, almost double the number in 2005.
The Portuguese are also heading to other former colonies, such as Mozambique and Brazil. According to Brazilian government figures, the number of foreigners legally living in Brazil rose to 1.47 million in June, up more than 50% from 961,877 last December. Not all are Europeans, but the number of Portuguese alone has jumped from 276,000 in 2010 to nearly 330,000.
Gonçalo Pires, a graphic designer who has swapped Lisbon for Rio de Janeiro, said: "It's a pretty depressing environment there [in Portugal]." In Brazil, by contrast, "there are lots of opportunities to find work, to find clients and projects".
Joy Drosis, who left her Greek homeland for a life in Australia, expressed similar motives. "I had to do something. If I had stayed in Greece, we were all doomed," she said. "I'm lucky that I can speak the language: many others can't." The key moment in this southerly migration may have come last month, when the Portuguese prime minister, Pedro Passos Coelho, made a humbling visit to Angola, begging for inbound investment. Just 36 years after the end of Portuguese colonial rule in Angola, its president was ready to show mercy. "We're aware of the difficulties the Portuguese people have faced recently," said José Eduardo dos Santos. "Angola is open and available to help Portugal face this crisis."
But the Portuguese making this move will not have it easy: life expectancy in Angola is still just 39, compared with 79 in Portugal, and crime is rife.
In Ireland, where 14.5% of the population are jobless, emigration has climbed steadily since 2008, when Lehman Brothers collapsed and the bottom fell out of the Irish housing market. In the 12 months to April this year, 40,200 Irish passport-holders left, up from 27,700 the previous year, according to the central statistics office. Irish nationals were by far the largest constituent group among emigrants, at almost 53%.
And please do click through. Some of the stats, and even the lack of statistics in some cases, are very troubling. The future of Greece for example is grim for more reasons than the obvious.