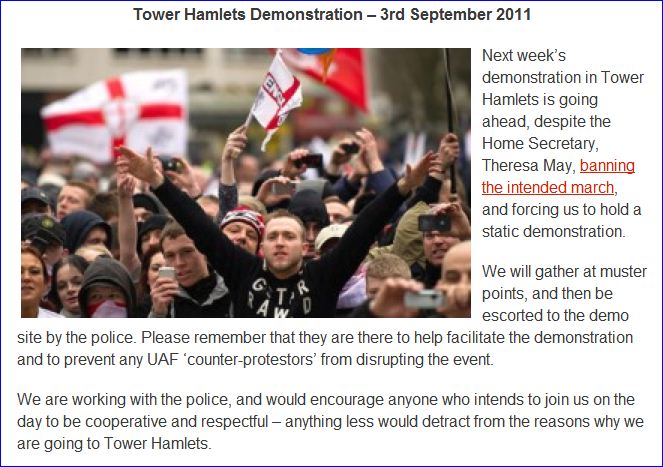 NOTE: The TT will be updating this post throughout the day of the demonstration
UPDATE: It begins.
12.45: A hundred or so of EDL gather at Kings Crossing
13:00 Police line the streets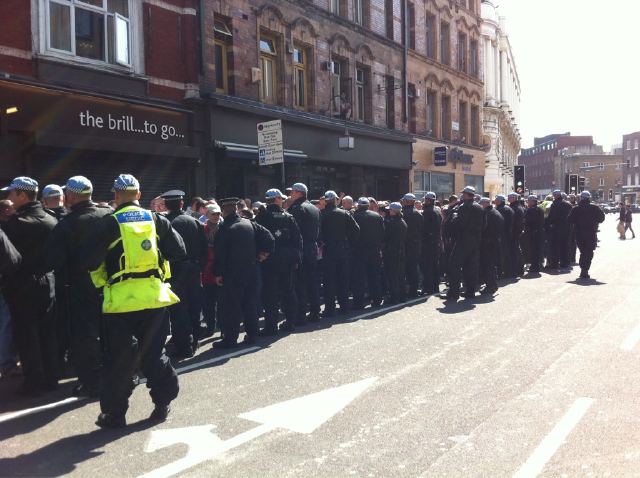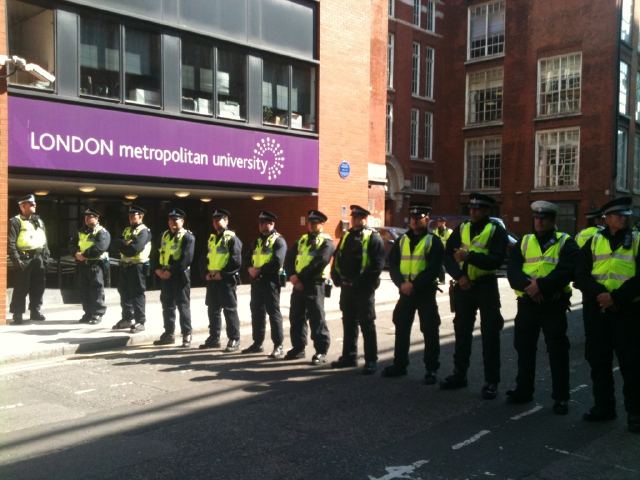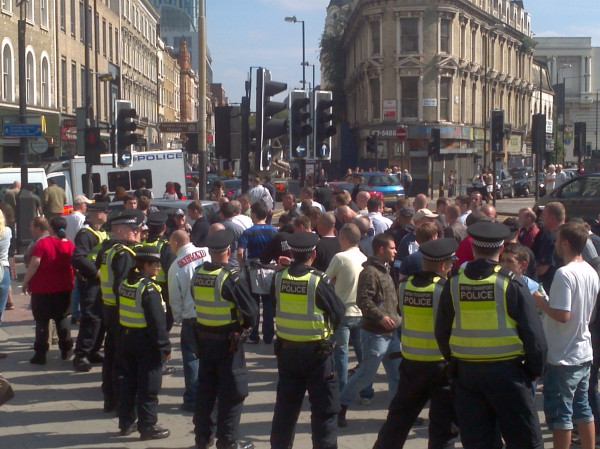 13:11 From the opposition: Ok, there seems to 2-300 inside and outside the Big Chill House and the Flying Scotsman and another 100 or so in and around Kings Cross station. Some of them are drinking inside St Pancras station. There's another 100-150 in the Liverpool Street area. Reports are coming in there are groups still coming into London. They are due to set off on buses from the Kings Cross area at 2pm.
13.21 Scuffles being mentioned
13:22 Fluffi reports: sms just in: Edl now at kings cross waiting for train to TH and singing edl songs
13:24 The Socialist Worker writes: [1.20pm. Ken Livingstone, the Labour candidate for London mayor, sent a statement to the counter-protest. It reads: [….] "This is the right response to the EDL. It is a fitting riposte to those who peddle hatred, violence and fear."]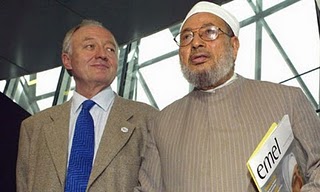 Red Ken Livingston with Sheik al-Qaradawi, who said gays should be thrown off of cliffs and Jews could be murdered.
13.33 Scottish Defense League
13.39 @evilnoodle Jenni Block SAYS: Astounded by the sheer number of #edl in London today. Hopefully there are many, many more marching against them.
13:51 Kings Cross station now closed. Met BT & City of London Police have locked down the area #EDL
14:02 FM:HOPE not hate
Update from Tower Hamlets: The police began escorting the EDL towards Kings Cross station only to find the RMT have closed the tube station. There's 300+ EDL outside the station and no-one has a clue what is happening.
[Fluffi]:from facebook. LOL. so the unions are getting in the way of the police
14:05 shanecroucher Heavy police presence on Mansell St. Putting riot gear on. yfrog.com/nwb4uaj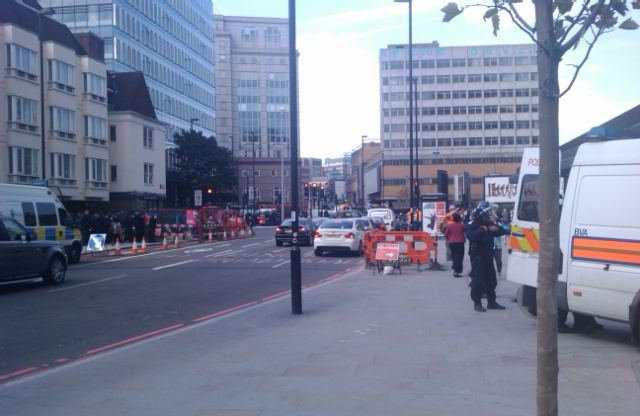 14.10 Vinny James in Hamilton Hall Liverpool St reports of Hundreds of police in body armour & helicopter overhead #EDL
14.14 EDL at Kings Cross singing God save our Queen
14.19. From Hope Not Hate:Update from Tower Hamlets:The EDL are moving off from Liverpool Street in groups of ten. It's going to take quite some time to get them all to Aldgate.
14.24 HOPE not hate
Update from Tower Hamlets: It seems that Kings Cross station is now open and a group of 500+ EDL are coming on the tube. We've heard that they will come into Liverpool Street, where they will link up with 3-400 already there.
Police are talking of 1,000+ EDL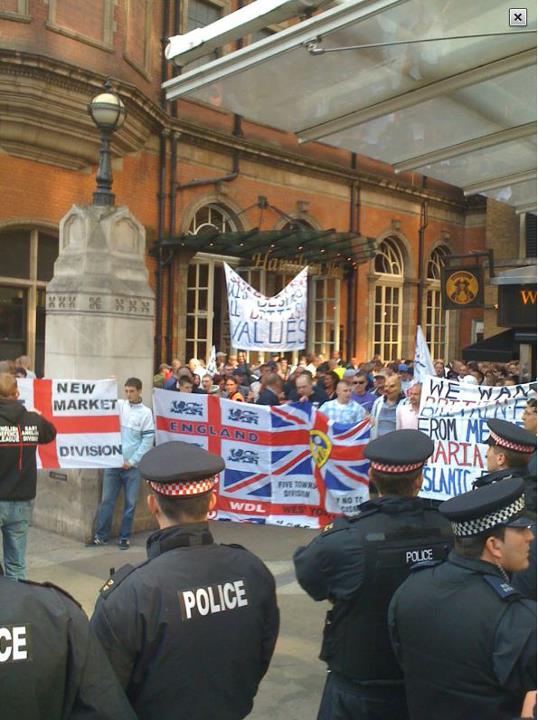 14:25 okay, so Kings Cross is open again.
14:30 "edl now being allowed into kx station to make their way to aldgate for static demo."
http://twitpic.com/6feg3j Loads of police vans going into the direction of cable street. Got the feeling #edl is going there. Or just Precaution
14.43 The Socialist Worker: A speaker from the Islamic Forum of Europe said, "This time last year we stopped the EDL from coming here. This time we are going to do it again because I see Muslims, Christians, Jews, gays and lesbians all here today."
14:44 TT: What a load of nonsense, this moron is in lockstep with Qaradawi about gays. How stupid do you think people are?
RT @hackneyhaz Overheard in Brick Lane, copper: "The #EDL have done what they were told, it's you lot that haven…http://bit.ly/nB7fbI
14:50 SW: Several hundred anti-racist protesters have marched from their rally to Osborn St, at the bottom of Brick Lane—in defiance of Tory home secretary Theresa May's ban on marches. They have stopped close to where the EDL are hoping to rally. Demonstrators are chanting, "Whose streets? Our streets!" and "Black and white, unite and fight".
14.51: TT: So they break the law and are not law breakers,..right?
14.55 Tattz reports:HJMcQuarrie HJ McQuarrie @anne_schulthess i went fascist hunting. The #uaf rally is miles from the edl! Edl is police escorted and protected. Shame! Are you staying?
17 seconds ago Favorite Retweet Reply
14.58 12 UAF wait for EDL
15.00 UAF and ilk with their smears
15:02 Both sides square off with police between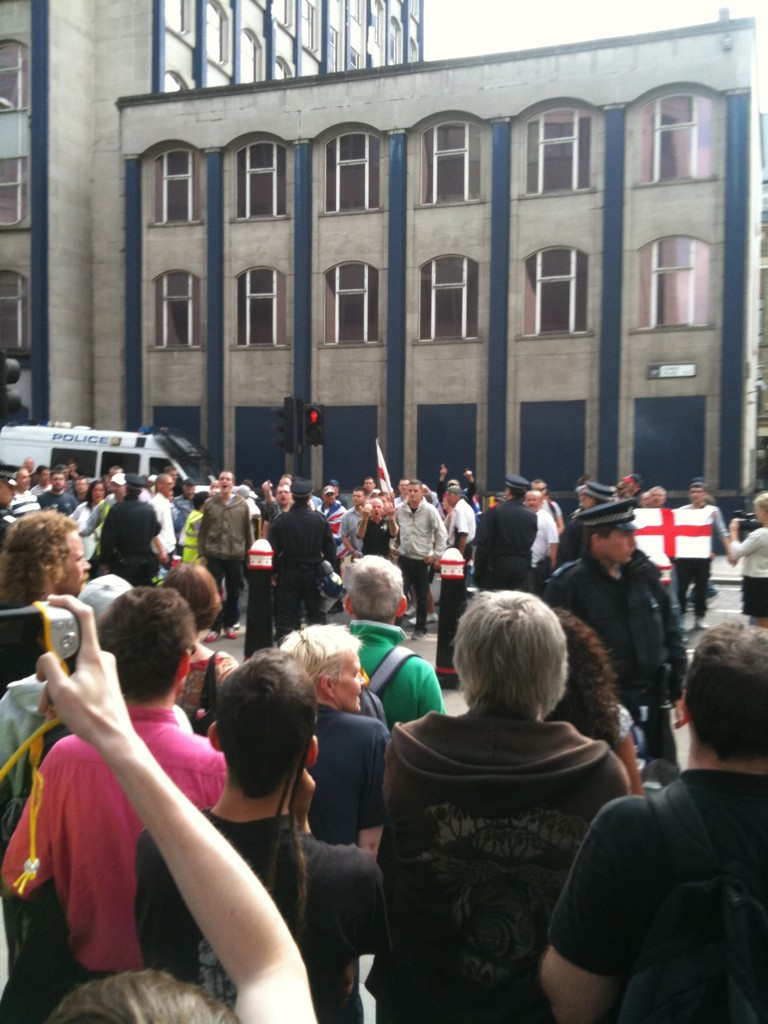 15:05 marybowers marybowers
Police refusing public entry onto bishopsgate now #EDL
15.06 T ATTZ:. Can they try any harder to incite violence????
15.09 YFROG:   Police following behind protesters in Liverpool street #EDL
15.12 Shane Croucher @shanecroucher Shane Croucher: Pol conf to me that #edl being taken to Whitechapel Rd cordon, but w're being pushed down Mansell St. Inkling they'll be taken behind RBS.
15.14 Socialist Worker: Anti-racists are holding the full width of Whitechapel Road to prevent the EDL from getting into Tower Hamlets. Marchers are stopped outside Altab Ali Park, where in 1978, 25 year old Altab Ali was murdered by racists.
15:18 Tommy Robinson breaks bail conditions & shows up at #edl demo dresses as a rabbi! yfrog.com/075tbpz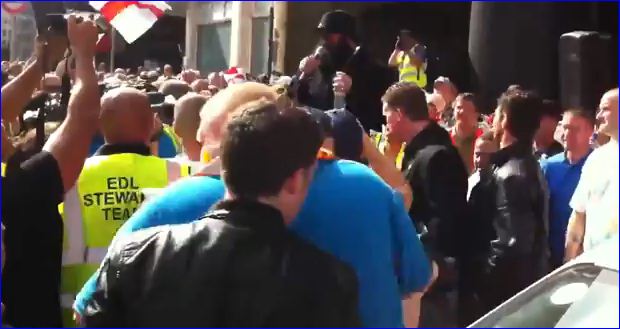 15:20 Fluffi SMS just in: Police tried to arrest Tommy
15.24 Stephen Yaxley-Lennon has been arrested posted by: Nick Lowles |He was goading the police that he was breaking his bail conditions and invited them to arrest him. It seems they did just that.
15.31 Kev Carroll currently speaking about ineffectual politicians who have sold out to islamists,He's calling them judas to their people. If govt can't police islamists and ensure freedom of speech they should use the army
15:33 Police charge #edl demo & arrests Tommy Robinson for breaking bail. Stand off now. Getting v rowdy
15:34 Fluffi: Kev ask for govt to make military covenant law and pays tribute to our troops also emphasises peaceful protest He also pays tribute to Israel,He asks for people to go home peacefully from demo
15:39 CO11MetPolice Metropolitan Police
The atmosphere is currently calm and peaceful. The policing plan is proceeding as anticipated #edl #uafeastend #towerhamlets
16:02 Police say English Defence League east London demo is 'calm'
UPDATE: TT source says the EDL managed to get Tommy Robinson free