Thanks Snapahen for this link:
An explosion has damaged government buildings in Oslo with injuries reported. The cause of the blast has yet to be ascertained.
If you have any information please email me at haroon.siddique@guardian.co.uk or contact me via Twitter @haroon_siddique
This page will update automatically every minute:
On
|
Off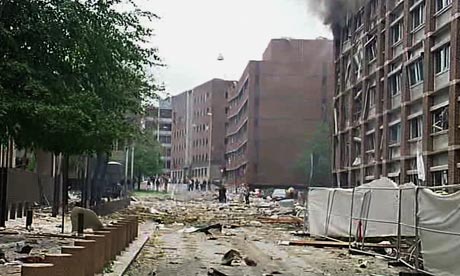 Smoke is seen billowing from a damaged building as debris is strewn across the street after an explosion in Oslo. Photograph: AP
6.47pm: Norwegian media is now reporting seven people killed by the bomb blast and two seriously injured.
6.40pm: Police are saying they believe the person(s) responsible for the bomb to be foreign, according to the BBC.
But the attacker in Utoya, now arrested, looked Norwegian, NRK reports (thanks to @Pb1231 for the link)
Witnesses who have managed to escape from the island, says to NRK reporters on the spot that the perpetrator had a Norwegian look. He should be between 185 to 190 cm tall and have blond hair.
6.30pm: This post has been removed because the video appears to be fake.
6.21pm: Four people have been killed on the island of Utoya, an official from the AUF, the youth wing of the Labour party, told Varden (Update: TV2 is now reporting "several" people shot dead):
County Secretary Telemark AUF says that there is panic on the summer camp of the Labour Party's Youth Camp.

There has been a shootout.

Are there any that are damaged?

Many people are shot.

Have you seen any dead?

Based on what I have seen, at least four people are shot and killed.

Now it's complete panic and we swim off to get to safety.
6.12pm: NRK is reporting that one person has been arrested on the island of Utoya, where the shooting took place.
6.09pm: NRK is reporting that an unknown group called "Helpers of the Global Jihad" have posted a message that this is only the beginning of the reaction to Norwegian periodicals publishing the Muhammed cartoons, according to Andrew Boyle, a journalist in Norway.
Update: This website has some more details, although the group is said to be called Ansar al-Jihad al-Alam.
6.05pm: Here's a map of the areas targeted by attacks today, provided by my colleague Paddy Allen:

View Oslo attack, July 2011 in a larger map_
6.01pm: John Magnus, chief foreign correspondent of Oslo's VG newspaper, told the Guardian he was sitting at his desk when the massive explosion in central Oslo today blew him off his chair.
It was 3.26 in the afternoon. The whole building was shaking. It was dancing. There was glass flying through the newsroom. I was on the far side of the building from where the prime minister's office is. The entire glass front of our building has been blown out …

I saw people screaming and covered in blood. There were at least four people I saw who looked lifeless with their faces covered. We've had it confirmed that two people are dead but there are other locations that the emergency services have not reached yet.
Alyssa Nilsen told the Guardian: "My entire building was shaking ….People are lying across the street everywhere, I've seen people hanging out of the windows."

The Guardian has a gallery of today's tragic events.
5.48pm: In central Oslo, the train station has been evacuated as well as the headquarters of broadcaster TV2 because of suspicious packages.
5.47pm: Anti-terrorism police are being sent to Utoya where the Labour party youth camp has come under fire, the BBC is reporting. NRK says five people have been injured.
Andrew Boyle, a journalist in Norway, has sent me the following:
There are 700 people on the island camp. At 5.20 pm ambulance personel were told not to proceed out to the island because there was still shooting there. One Labour youth member tweeted: "We are sitting down by the beach. A man is shotting clothed in a police uniform. Help us! When are the police coming to help us!"

Police stormtroopers are about to land on Utoya island from helicopters. Shooting still going on. Eyewitness describes shooting from his position on the mainland: "There is a little war going on out there"
5.40pm: Police have confirmed the shooting incident, reports Reuters.
The news agency also quotes senior police officer, Thor Langli, saying the explosion that hit government buildings "may have been a car bomb".
5.31pm: Neil Perry has sent me more details of the shooting on the Labour party youth camp, which suggests the possibility of co-ordinated attacks. It is a Google translation from Dagbladet, tidied up a bit, so it is not perfect.
yewitnesses told the AP that a man dressed as a police officer has fired several shots at Utøya in Buskerud. AP spoke with one of those who were on Utoya where there is an AUF event with over 700 people.

"Suddenly, we heard lots of shooting. People had to run and hide. We have been told to get off the island."

"We now have reports of a serious situation there – a critical situation on Utøya," Prime Minister Jens Stoltenberg told TV 2

The police are now on site and sealed off the area. Bjorn Jarle Røberg-Larsen of Labor, is not in Utoya, but has had telephone contact with young people who are on the island.

"They say that at least one person wearing a police-like uniform was firing shots with a handgun," he said.

He says that the young people he talked to were hiding and dared not speak on the phone anymore for fear of being discovered by the perpetrator.

"Young people have to swim in panic, and it is far to the mainland from Utoya. Others are hiding. Those I spoke with did not want to talk more. They were terrified," he said to VG Nett.
5.16pm: Neil Perry in Oslo just sent me this worrying development. I'll try to get more details:
A man disguised as a police officer began shooting where youth were attending a Labour party conference at Utoya, Prime Minister Jens Stoltenberg has just confirmed.

He said there is a 'critical and serious situation' but he is safe.

He was speaking on the phone to Norwegian TV station TV2.
UPDATE: This post was amended as Stoltenberg was not present at the conference as previously stated. He had been due to attend it but did not go.
5.11pm: Police are now saying 15 people are confirmed injured, says the BBC.
They are telling people to leave the centre of Oslo and warning there could be more explosions.
They are also examining an unexploded package, although the location of the package is not clear.
4.57pm: You can watch the live coverage from state broadcaster NRK here (it is in Norwegian). (via my colleague Laura Oliver)
4.56pm: The official police statement says:
There has been one or several powerful explosions in the government district in Oslo. So far, police cannot say anything about the scope of the damage, aside from that there's been one or several explosions.
The BBC says police have told them it is believed to be terrorism-related although they do not no the motive.
4.48pm: The police have said on NRK that there are more dead (and injured) inside the buildings, Neil Perry, a former Guardian colleague, now living in Oslo informs me.
Also, Norway government official Hans Kristian Amundsen told the BBC that there are people trapped at bomb site
Neil said officers say there are quite a few injured inside the affected buildings who have
called police on their mobiles to let them know they are inside.
Neil also shared his own reaction when the bomb went off:
I live in Vålerenga, which is about a 15-minute bus journey from the city centre. It was loud even where I was, I jumped and initially thought it was thunder. Then I saw a large white cloud of smoke rising in the distance.
4.39pm: According to reports from the newspaper Dagsbladet, the bomb was meant to target the office of the oil and energy ministry, Lars Eriksen in Demark informs me.
Rumours have been rife of additional bombs (possibly two more) in Oslo.
NRK (the state broadcaster) is saying police believe there are no more bombs.
But Nicholas Karlsen in Oslo emailed me to say that Aftenposten newspaper is reporting police believe it is possible there two more bombs that they haven't located yet.
4.25pm: Peter Beaumont, foreign affairs editor at the Observer, says a jihadist group is most likely to be behind the blast:
Photo: AP/Richard LewisIt has been known for some time that al-Qaida core and other related "franchises" – including in the most active in Yemen – have been attempting to develop operations. Which leads to a second question: why Norway?…

The answer to that is three fold. In then first instance, with the increased levels of security and surveillance in the UK and the US as well as other European capitals, Norway might have been seen as a softer target despite the recent breaking up of an al-Qaida cell in Norway.

A more detailed explanation of the problems that Norway has had with Al Qaeda were supplied a year ago by the Atlantic magazine in an article by Thomas Hegghammer, a senior fellow at the Norwegian Defence Research Establishment in Oslo, and Dominic Tierney.

That piece followed the arrest of three men in Norway and Germany for allegedly plotting a terrorist attack involving peroxide explosives. All of those arrested were were Muslim immigrants to Norway.

The first explanation," wrote Hegghammer and Tierney, "is Afghanistan. Norway has been part of the International Security Assistance Force (ISAF) in Afghanistan from its foundation in late 2001…. In late 2007, for example, Ayman al-Zawahiri, al-Qaida's
second-in-command, said that the group had previously threatened Norway because it "participated in the war against the Muslims…

A second contributory factor for why Norway may have been eyed in the past for potential jihadi terrorist attack is the fact that in 2006, a Norwegian newspaper reprinted a series of Danish cartoons depicting the Prophet Muhammad which prompted threats against the country. A third potential explanation is the recent decision last week by a Norwegian prosecutor filed terror charges against an Iraqi-born cleric for threatening Norwegian politicians with death if he's deported from the Nordic country. The indictment centered on statements that Mullah Krekar – the founder of the Kurdish Islamist group Ansar al-Islam – made to various media, including American network NBC.
4.14pm: The Norwegian state broadcaster now says two people are confirmed dead.
4.11pm: Oslo police also referred to "deaths and injuries" but did not specify numbers. So far one person has been confirmed dead as a result of the explosion, which police now say was caused by a bomb.
4.09pm: Oslo police have said the explosion was caused by a bomb, the BBC just said.
4.05pm: ABC News reports that the "was [the] result of a massive vehicle bomb, according to US government sources on the scene".
Swedish reporter Carl Kleberg has tweeted this:
Police stops reporter of #Norway's Aftenposten: "because there are still two bombs that we don't know where they are." #Oslo
3.59pm: An Icelandic MP has tweeted that seven people have been admitted to hospital in Oslo.
Eyewitnesses say there are many ambulances on the scene.

Mike Emery, working in Norway for a charity, emailed me:
According to NRK (Norwegian public service broadcaster) there is broken glass up to 1km from the blast site.

July is the holiday month in Norway and almost everyone goes on vacation. We have to hope that many people are on holiday. The blast happened after 3.15pm and Norway is on Summer Working Hours meaning people leave work at 3pm. Let's hope this is the case.
3.51pm: Here's another video showing the extent of the devastation wreaked by the explosion.