As someone who has been sounding the alarm ever since the AKP won its first election in 2002, I now warn: Elections taking place today are likely to be the last fair and free ones in Turkey.
With Turkey's leading Islamist party controlling all three branches of the government and the military sidelined, little will stop it from changing the rules to keep power into the indefinite future. And should the AKP manage to gain a 2/3s parliamentary majority, either on its own or in alliance with others, it will change the constitution, speeding up this process. (June 12, 2011)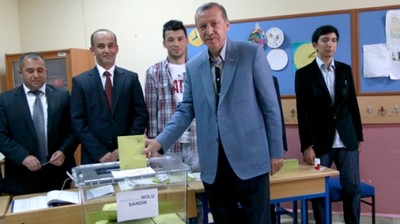 Recep Tayyip Erdo?an, AKP boss and Turkish prime minister, votes today.