Thanks to Elder of Ziyon for the H/T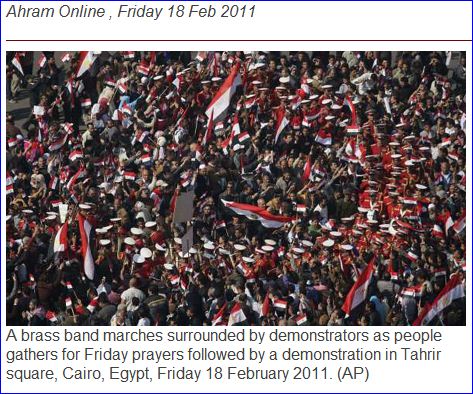 13:00PM Prayers are being held Omar makram mosque and Qasr El-Dubbara church around Tahrir Square. A special prayer will be held for the revolution's martyrs.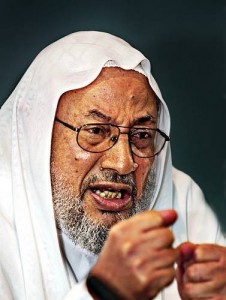 12:56PM Al-Qaradawi calls on the "brave Egyptian army" to open the Rafah crossing so that Gazans can receive the supplies they need. Turning his attention to arab leaders, he says: "Don't fight history, you can't delay the day when it starts. The Arab world has changed."
12:40PM Al-Qaradawi praises the army's statements on democratic transition and asks them to liberate Egypt from Mubarak's cabinet.
12:33PM Al-Qaradawi extols Egyptians to persevere with their revolution as it "continues to build a new Egypt" and should be "protect[ed] from hypocrites." He condemns the regime for being the source of sectarianism in Egypt while in "here in Tahrir", Christians and Muslims strove side-by-side for their revolution.
12:19PM Yusuf Al-Qaradawi gives the Friday sermon from a podium in Tahrir Square to the hundreds of thousands in attendance. He praises the January 25 revolution, describing it as an "educated" one. Al-Qaradawi adds that it was not only Mubarak Egypt's youths defeated, they also defeated injustice and oppression.
12:12PM Prominent Islamic scholar Yusuf Al-Qaradawi is preparing to deliver the Friday prayer sermon in Tahrir Square. According to OnIslam.net, Al-Qaradawi was invited to give the sermon by youth activists grateful for his support of the revolution to oust the ruling regime.
12:05PM Meanwhile, a pro-Mubarak rally is reported to be taking place in Mohendiseen attended by around 100 people.