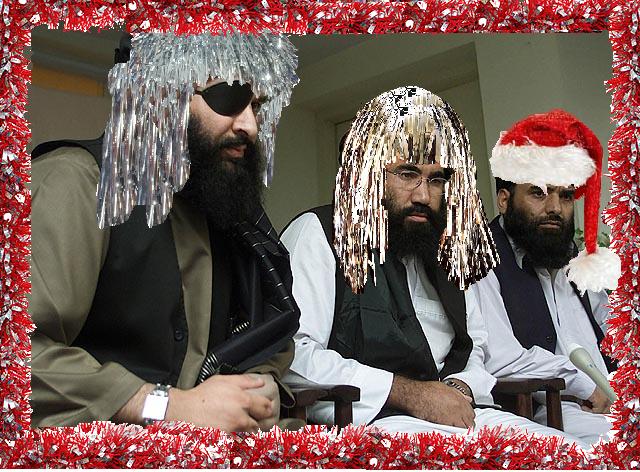 The Taliban: We would be there for
Christmas if we weren't so busy already.
The most important of European Muslim hate speakers will meet from Dec24 until Dec26 in Vienna. On this website the creme de la creme of European Muslim hate speakers are invited for their Christmas meeting at the mosque on Bruckhaufen 3 (street name) in the 21st district of Vienna.
Starring: Abu Dujana, Abu Abdullah, Abdellativ and Ibrahim Abu Nagie. They all have one thing in common: Each of them is tightly connected to the German website "The true religion". On this very generously designed site there are hundreds of videos showing converts at their conversion.
The converts' parents are called "the converts' enemies" by Ibrahim Abu Nagie. The German newspaper Bonner Generalanzeiger knows that Abu Nagie is not at alla whimp:
"According to dpa, Abu Nagies threatens muslims who have trouble sticking to the rules of the Quran with whipping or stoning,."
Sheik al-Araby is the ideal of the parallel society. According to the description in the "true religion's" newsletter he has been living for 23 years in Germany, speaks nothing but Arabic and teaches new imams (!!!):
"Sheik al-Araby is a wonderful speaker for our Arabic speaking brothers and sisters. But there are also German translations of his speeches available. Sheikh al-Araby has been imam of a mosque for 23 years and teaches new imams. He knows the quran by heart and is one of the few guys in Europe who does quran declarations. He is supposed to be the greatest quran scientist in Germany."
Hate speaker Abu Dujana, the main reason for the separation of Pierre Vogel and Abu Nagie, is not allowed to enter a berlin mosque anymore for far too radical preaching.
Abu Abdullah likes to start his videos with phrases like "Be prepared to die for it" and is considered a similar mind like that of Abu Dujana.
On the week-end Politically Incorrect discovered that these 4 guys are planning a similar meeting for New Year´s Eve in Bonn, Germany. Let's try everything in order not to let them into our country.
UPDATE: SOS Austria, the most important Austrian political blog, has taken over this case from us upon our wish and started an initiative. Start annoying politicians, writers, journalists, neighbours with this case in order not to let these people into our country!