1. Arizona school board member says district should reject hiring teachers with Christian values: 'Not…safe'
An Arizona school board member wearing cat ears during a meeting said she would oppose having a contract with a Christian university over the religious and Biblical beliefs they espouse, Fox News Digital found.

The Washington Elementary School District, which serves students in the Phoenix and Glendale areas, had an ongoing contract with Arizona Christian University for five years, enabling their student teachers to be placed in its schools for field experience. The contract opened up opportunities for recruitment and hiring.
(The reasoning is pure dialectics. She explains that Christians will be intolerant of people who think differently, or the people being taught may be offended by the Christian views. An excellent example of why dialectics is not hypocritical but results oriented language based war.)
2. UN says that censoring "disinformation" and "hate speech" will protect "free speech"
The UN is openly embracing the agenda of mobilizing to fight against perceived online hate speech and disinformation. The latest was to organize an event called, Internet for Trust.

The unelected and well-funded organization whose purpose primarily is to facilitate conflict resolution in the real world and provide peacekeeping and humanitarian assistance in war-torn areas, is now increasingly following in the footsteps of other unelected, though less formal elite groups, like the WEF.

Now, we have announcements from one of its agencies, UNESCO – that is supposed to promote world peace and security through international education, arts and sciences cooperation, and protection of world heritage in forms of monuments, etc. – crafting its very own "guidelines" to regulate "hate speech" and "misinformation."

According to an announcement, UNESCO has found a way to explain how (but not when or why) it started to believe it should have this power to regulate online communications by citing its mandate to promote free circulation of ideas through words and images.
3. Russia Suspends Visa Free Entry for Hungarian Diplomats
The Russian news agency TASS have reported on March 2 that the government in Moscow has suspended visa free travel for Hungarian diplomats. The move could dispel any myths about a "cozy" relationship between Budapest and Moscow, as often suggested in mainstream media outlets.

The report says that "the Russian government has suspended an agreement with Hungary allowing visa-free travel on diplomatic passports until Hungary addresses certain violations of provisions of the bilateral agreement, says a decree posted on Thursday to the official Internet portal of legal information.
According to the decree, the agreement, signed in 2001, is being suspended "with regard to Hungarian citizens holding diplomatic passports until Hungary rectifies the violations of its commitments under this agreement or until it is terminated."

The Russian Foreign Ministry was instructed to inform its Hungarian counterparts regarding the decision. There were no reasons listed why the sudden decision was made in the Kremlin, but the EU has already suspended visa-free entry for Russian diplomats to its territory as far back as August 2022.
4. If you think back on the last three years as you watch this video, you may experience the sickening realization that it is the speaker himself who turned a scientific issue into a political football.
NOW – Tedros: "The continued politicization of the [Covid] origins research has turned what should be a purely scientific process into a geopolitical football." pic.twitter.com/sNdHOFlZyk

— Disclose.tv (@disclosetv) March 3, 2023
5. A little well needed wishful thinking on Trudeau being ejected from power because of his CCP ties.
Thank you all for paying attention to these issues and considering them in ways other than the nearly mandated way by neo-communist governments across the West.
Tweet by Haseeem Malhotra. Comments welcome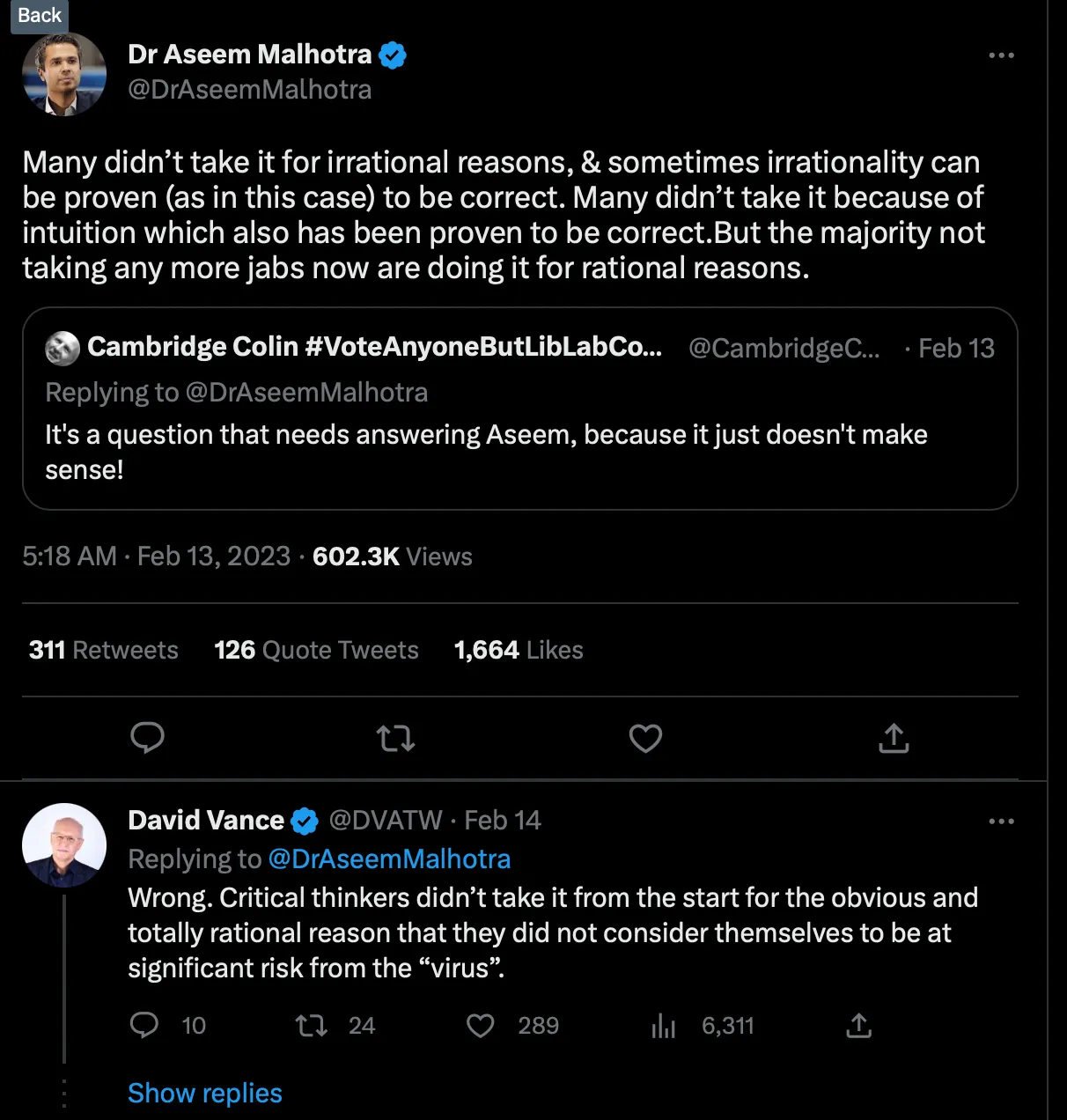 There are more rational reasons that just that as well. It was also rational to not take the shots because authority was lying about it in at least three ways.
It was not a vaccine. They had to change the definition of a gene-therapy to force it to be a vaccine, despite the fact that it didn't qualify as one either in action or content.
They said it was safe and effective despite being a brand new never-before used technology that had not even been tested as much as a normal real vaccine. That is technically two lies, as they didn't know if it was safe, or effective.
They made any effort to look for another treatment damn near illegal. Punishment for recommending another treatment, even very safe ones, excedded what the law would have done or does do to say, dealers of illegal recreational drugs.
So it is a little condescending to say that because he took the shots, those who did not are irrational. Those of us who did not, paid a price for it. There was a negative incentive to resist them. Which makes the choice more likely to be a conviction based on reason.
Opinions on this are welcome also: