Before we get in to the pasting of items of interest, a couple of things which for the moment I would call, speculation on gossip quality events.'
A couple of days ago, on February 15th, the Canadian federal Government dropped the mask mandates for the civil service officially. So ok. After three years of a totally nonsense policy that did no good and a lot of harm, and yes, everyone knew that masks do not prevent viral spread well before 2019, they appear to have quietly dropped the last bit of the mandate before they lost all authority with the few sane people left at the government.
But sources tell VladTepesBlog that in at least one department, The CRA, or Canada Revenue Agency, a department head at one level or another has decided to unilaterally enforce the mask mandate independently of government dropping the requirement. In fact, two independent sources explained this.
This reminds us of how during the 2+ years of Covid restrictions, the various governments from Federal, Provincial and municipal, managed to find ways of getting citizens to enforce these laws against each other, while creating a layer of separation between the authority and the policy. The government, I don't remember if it was Provincial or Federal, would send people into restaurants to act like customers and watch to be sure that vaccine passports were obeyed. Other measures were implemented to make the people turn on each other rather than have people angry at where the target should have been for that anger. The governments and the people above them, directing the policies we saw all over the WEF influenced countries.
WARNING: The following item contains sarcasm which reaches the legal limit. Those easily affected by more sarcasm than one can hear in a few words, may wish to skip to item 2.
1. The Commission to decide of Trudeau was out of bounds for declaring the emergency act came in with a judgment. The Trudeau appointed judge declared that Trudeau is the only Canadian born with no original sin. A halo was placed above him and he awaits worshipers from his hiding place of residence. As a result, a Convoy of people who are disappointed at the verdict has gathered in Manitoba in a kind of reunion of the 2021 protest in Ottawa.
Meanwhile, the CBC awaits the announcement of Stigmata from Justin's wrists and ankles. Several camera crews await the announcement in a manger at the Governor General's grounds where Justin has built a compound within a compound for his own personal safety. That, is how much he is loved.
2. This guy asks a great question. I have one of my own. Why no mask mandate in and around New Palestine?
Spent all day in the worst man-made ecological disaster in our lifetimes.

Did not see @GretaThunberg once.

Greta, how dare you? pic.twitter.com/Tf28WrTKjv

— Benny Johnson (@bennyjohnson) February 17, 2023
3. Sen. Rand Paul roasts a university official for hypocrisy over vaxx mandates. Interestingly, the related website is curiously down for maintenance
4. This might be a data point for the chem-trail thing. At this point one may have become a lot more open minded about the things we thought were nonsense a few years ago.
UPDATE: 
This item got a response from a veteran in aviation. Please consider this explanation:
Gee whizz, Eeyore – re: #4
It's the APU having a tantrum, oil getting into the turbine section.
The Auxiliary Power Unit is a small turboshaft mounted in the tail cone. It supplies power, air, hydraulics and starting, it may be air, ground, or anytime operable.
There are no chem trails. No airline accountant would ever permit thousands of pounds of non-revenue equipment to fly. There is no room or payload fraction for the chemtrail stuff.
There are not enough aircraft in civil or military fleets to mount such a program.
In forty years of aviating I have never ever once seen spray stuff, tanks, pumps and plumbing, except in agricultural aircraft, tankers and aircraft performing C of G trials.
No chem trails. Period.
The fuel additive brought up in some chem-trailer park narratives is Prist. It is an anti-fungal additive to kill fungus in water in the fuel – JP4 and Diesel are hygroscopic, and the fungus contributes to corrosion and other issues. It comes in a 4 litre bottle, or smaller.
It is not a 'geoengineering' chemical, what ever that is.
You do great at avoiding tinfoil country. Don't start down that road now. There are more than enough real conspiracies.
There are indeed! Thank you.
5. Redacted shows some of the evidence of what a total disaster East Palestine is.
Thank you all for paying attention. Here are a couple of pictures from today's protest at Parliament Hill in Ottawa, with videos to follow.
This sign is from a window in an office across from Parliament Hill in the Confederation Building, which is itself a part of Parliament Hill and contains some departments.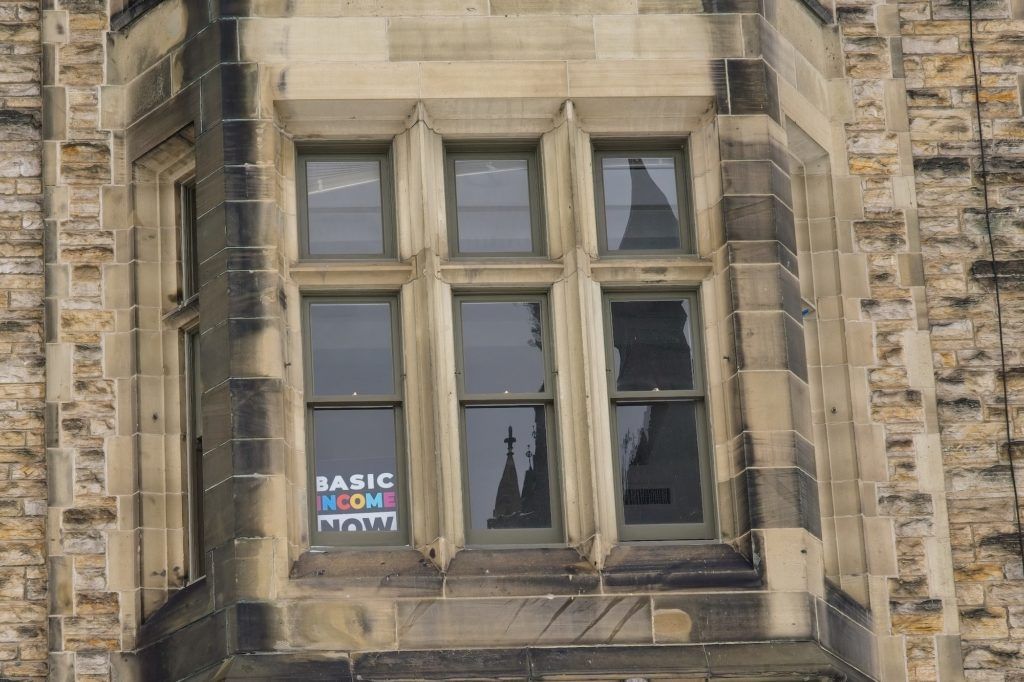 Below, the ANTIFA counter-demo that faced off against the mostly middle class, women and elderly people protesting for their liberties.
If you zoom in to the big red rude banner of ANTIFA, you can see little hammer & sickles on it.