1. At this site before, we have posted videos from far left extremists who emphasized that they were against marriage but pro gay marriage. They explained that it is not a contradiction because gay marriage was in fact, a powerful weapon against marriage itself. Marriage being one of the pillars that supports Western Civilization through healthy commitments to family, must be destroyed.
As was said about the following video by the commenter below:
Behold the quick withering of the marriage contract, and its greater institution, at the hand of a deconstructionist postmodernism via the sanctification of gay marriage, only for the purpose of accelerating this destruction. Pure dialectic attacks on the institution achieved this. So it is not so ironic how a system that encourages us to embrace the noble but now antiquated (in the eyes of the system) terms and conditions of marriage—…for better or worse, sickness and in health…—is the first to abandon them with the alacrity of divorce. There is no contradiction when the point is revolution.

There is a segment of society, however, that arrives at the same place as we who struggle to understand the concepts and deliveries of dialectic warfare, but without so much head banging. They arrive fully born and less conflicted by confusion and chaos.

People of faith meet us at the crossroads of our own paths. They stand to hold the devil to account. This means, precisely, that believing in God is irrelevant to standing at the crossroads. Rather, it means sharing with Christians a defiance to the abandonment our own beliefs at the gun barrel of the State. It means the uncompromising will to refute apostacy.
On the Respect for Marriage Act from The Federalist
2. Canada funds new tools to prevent diversity of medical opinions and the crushing of dissent to vaxx-mandates online. Note that they only plan to collect data for the past three years. Which means this is not in any way objectively about vaccines in general, but about one of them.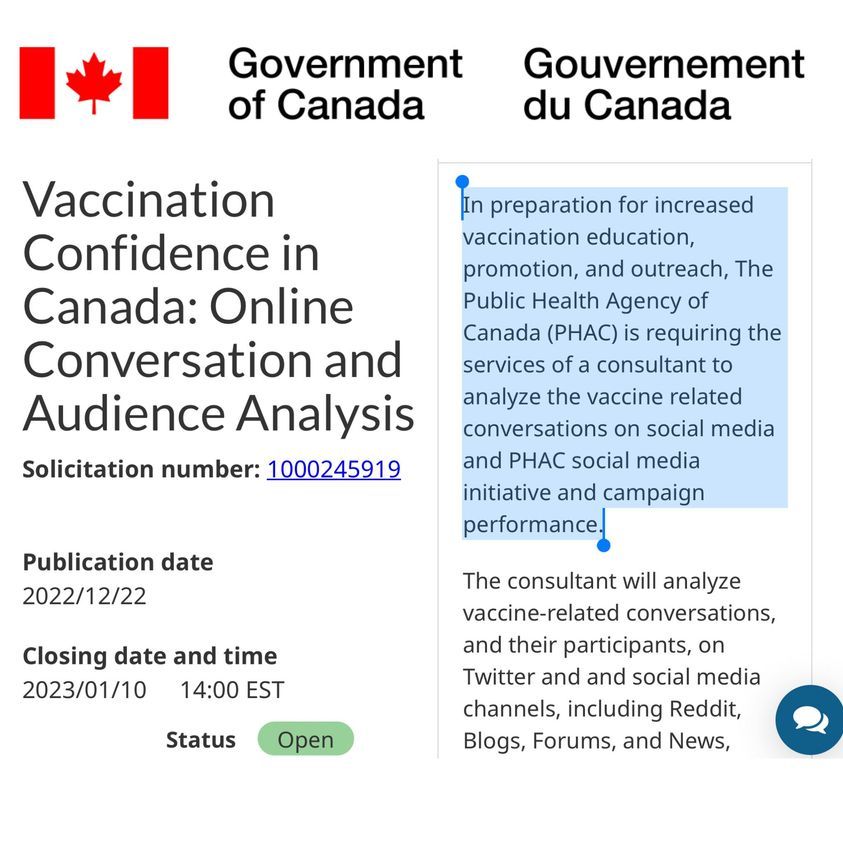 3. This appears to be an anonymous thread about employment of large numbers of Alphabet Agency types to social media corporations other than Twitter. If it is untrue, it's probably because it is understated, both in scale and influence. Read the thread at link above.
4. Definition of redundancy: In Germany you need to have a Covid shot to get the benefits of state euthanasia. This German article is from November, 2021
From Google Translate:
Anyone who wants to use professional euthanasia in Germany must be vaccinated against the corona virus. The association euthanasia announced that from now on medically assisted suicide may only take place under 2G rules.

From now on, euthanasia can only be claimed in Germany with a valid vaccination certificate. This was announced by the euthanasia association in a statement. On Twitter, the 2G rule in euthanasia and medically assisted suicide is met with a lack of understanding.

Euthanasia is one of the services close to the body: only with vaccination

Since euthanasia and the associated preparatory examinations are counted among the services close to the body, all those involved must comply with the 2G rule under German law. Both the treating person and the person being treated must therefore be fully vaccinated against the coronavirus or have recovered. "Assisted suicide and the preparatory examination of the personal responsibility of our members willing to die require human closeness," says the statement of the euthanasia association on November 19. "However, human closeness is a prerequisite and breeding ground for the transmission of the corona virus. As of today, the 2G rule applies in our club, supplemented by situation-related measures, such as quick tests before encounters in closed rooms."
5. Serbia places its troops on Kosovo border on combat alert as tensions escalate
Serbia on Monday placed its security troops on the border with Kosovo on "the full state of combat readiness," ignoring NATO's calls for calming down of tensions between the two wartime Balkan foes.
Serbia's Interior Minister Bratislav Gasic said he "ordered the full combat readiness" of police and other security units and that they be placed under the command of the army chief of staff according to "their operational plan."

He said in a statement that he acted on the orders of Serbian President Aleksandar Vucic so that "all measures be taken to protect the Serbian people in Kosovo."

It was not immediately clear what this order meant on the ground as Serbian troops have been on alert for a while on the border with Kosovo.

Officials claim alleged harassment of Kosovo Serbs by ethnic Albanians who are a majority in the breakaway province that declared its independence in 2008.

Earlier Monday, NATO-led peacekeepers said they were investigating a shooting incident in a tense northern region of Kosovo, urging calm as Serbia's top military officials inspected their troops on the border in a show of combat readiness.
Thank you all for considering these points of views.
And of course, no post is truly complete without an unexpected died suddenly:
Minnesota hockey player, 16, dies on Christmas Day after suffering a series of strokes, despite attempts to save him with emergency surgery
A high school hockey player in Minnesota died on Christmas Day after suffering a series of strokes caused by a rare disorder.

Cormick Scanlan, 16, died on Sunday in a St. Paul hospital, three weeks after suffering a stroke that led to emergency surgery in an attempt to save his life.

'Our hockey community has lost a great young man,' the St. Paul Capitals Hockey Association said in a Facebook post confirming Cormick's death.

The group said the teen had passed 'peacefully' and 'surrounded by family.' 

The teen first suffered a stroke on December 6, and was diagnosed with moyamoya disease, a rare progressive cerebrovascular disorder that causes a blockage to the main blood vessels entering the brain. 
One wonders if playing Hockey in a league may mean he had to take something that is also widely known to cause blockages in both veins and arteries. Wonder indeed.