1. Remember when there was a modicum of science in medicine?
Wonder when exactly the $cience of natural immunity changed for Fauci…? pic.twitter.com/5Y0feJeH0o

— $cienceDenialist (@NotaLibPoS) March 31, 2022
2. Canadian MEP very excited about vaxx but with the caveat that no one can help you if you contract AIDS
Bit if a Freudian slip there eh Christine?
"Get vaccinated. Natural immunity helps but won't be your salvation if you contract AIDS!!!"
HOLY FAWK pic.twitter.com/pPWkpSkfmw

— White Wabbit Warrior ? (Fringe Minority) (@wabbitwarrior) April 1, 2022
3. Alex Berenson does a little Schadenfreude dance over the Atlantic article attacking him. The Atlantic won't care though. They know they are a narrative propaganda rag for smart people.
4. So this guy again. He seems to sit somewhere between a lead henchman to Schwab's Bond villain persona, or maybe Grima Wormtongue from Lord of the Rings. But at least you can't accuse him of lying.
"Covid is critical because this is what convinces people to accept total biometric surveillance"

(Yuval Noah Harari, top advisor to Klaus Schwab)

— Joost Broekers (@JoostBroekers) March 31, 2022
5. A mega protest is planned for Bill Gates' planned speech in Vancouver on April 10, 2022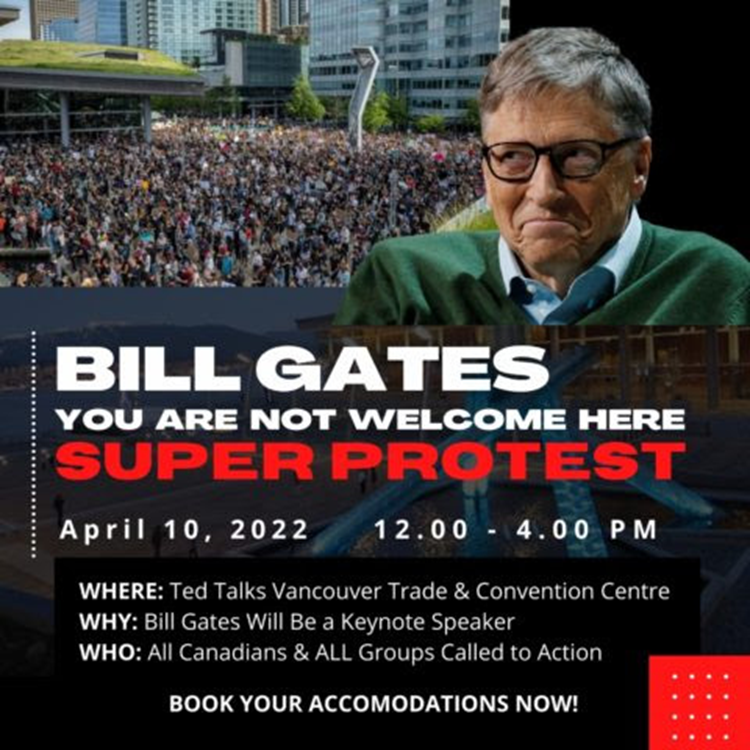 Great Canadian Convoy to Protest Bill Gates
For those that would like to "Convoy" the tentative plan on Sunday April 10, 2022, is to go for the day:

· TENTATIVE 7:30 AM – Depart Penticton. Location TBA.

· 8:45 AM – Quick stop in Princeton

· 10:30 AM – Quick stop in Hope

· 12:00 PM – Arrive Vancouver Convention Centre, where Bill Gates will be speaking

· 12:00 PM to approximately 3:30 PM – Protest!!!!

· 3:30 to 8:00 PM – Drive back to Penticton

Bring appropriate signs.
Thank you all who contribute to this site, and increasingly to the Mastodon pod we host.