1. Gibraltar cancels Christmas celebrations amid Covid spike
GIBRALTAR has cancelled official Christmas celebrations, amid an "exponential" rise in Covid-19 cases.

The country saw 124 new cases appear over the weekend, taking the number of active cases to 474.

Ms Sacramento said: "The drastic increase in the numbers of people testing positive for COVID-19 in recent days is a stark reminder that the virus is still very prevalent in our community and that it is the responsibility of us all to take every reasonable precaution to protect ourselves and our loved ones.

"The vaccination programme for 12 to 15-year-olds and the booster vaccination programme are now underway, and Gibraltar received 4680 more doses this week.

"Everyone who is eligible for a vaccine or a booster is strongly encouraged to take up the offer when they are called."

In a statement released by the Gibraltar government, a spokesperson said: "Given the exponential rise in the number of cases, the Government, for example, intends to cancel a number of its own functions including official Christmas parties, official receptions and similar gatherings.
(Islam has a highly systematized doctrine of deception to achieve its political goals. The most commonly known one is 'Taqiyya', which is sanctioned lying to unbelievers for certain outcomes, but also is a kind of lie. There are four kinds. Socialism also relies on deception and for the same reasons. Taking political control means taking over the soldier, as it were, and then you have the territory by default. In this case, we see a massive case of lying by omission. And that fact that is omitted, is that the population of Gibraltar has a vaccination rate of people who are DOUBLE vaxxed, of 139.5% of the population. Funny that the Express failed to mention that. It's almost like they don't want you to know! Why would that be?
2. So the CDC admits there is zero records of a person with natural immunity who has not taken the shots spreading the disease, and admits that the mRNA liquid doesn't stop transmission. So in true Perdue Pharma fashion, the solution will likely be to continue to vaccinate everyone constantly. 
In response to attorney's FOIA request, US CDC admits that it has no record of an unvaccinated person spreading COVID after recovering from COVID.

Lawyers smelling blood in the water. pic.twitter.com/ajdOuiIyjj

— Michael P Senger (@MichaelPSenger) November 12, 2021
3. No one does propaganda like the sociopathic left and Islam. That is because most Western people wouldn't blow cigarette smoke into a child's face you put on the Polish border near winter in order to make them cry for photos and videos, in order to create the appearance of total reality inversion. That the aggressors, the ones who push their kids into a fence pretending to be refugees, are somehow the victims of the people they intend to victimize.
Meanwhile at the Polish border. Blowing cigarette smoke into childrens faces to make them cry. Absolutely disgusting propaganda manufactured for foreign media to showcase to the world how "awful and inhuman" the Poles are for defending their borders.

Makes you sick. https://t.co/bLR5iGavqV

— Tania Groth (@TaniaGroth) November 16, 2021
4. A few more items from the Polish-Belarus border:
5. Turkey appears to be winning the race for currency collapse with value of Turkish currency unit dropping 4% in minutes.
folks, there's no stopping this train. pic.twitter.com/VCdQyBmnIt

— zerohedge (@zerohedge) November 12, 2021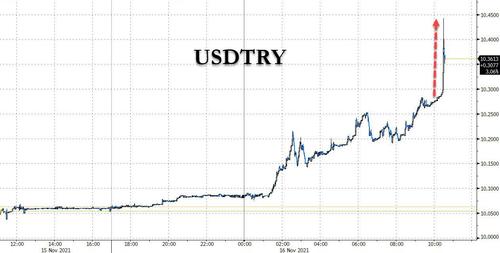 6. Protestors camp out in front of the Melbourne legislature
Thank you Johnny U., M., Tania Groth, rdawg, PC, Hellequin GB and MANY more on this platform and Mastodon who are doing the work of an army trying to undo some of the damage of narrative lies.