1. The entire country is locked down, and you will be barred for life from some of the few stores allowed to operate if you don't obey all the covid regs and act like you enjoy it.
In all of Canada 220 people have died with COViD outside of LTC homes! #onpoli #fordfailedthepeople https://t.co/6npF7ABaft

— Randy Hillier (@randyhillier) November 25, 2020
2. Does anyone know what the "Reichstag Fire" was exactly and care to explain it in the comments?
Car scrawled with messages crashes into gate of Merkel's Berlin office ahead of lockdown meeting (VIDEO, PHOTOS)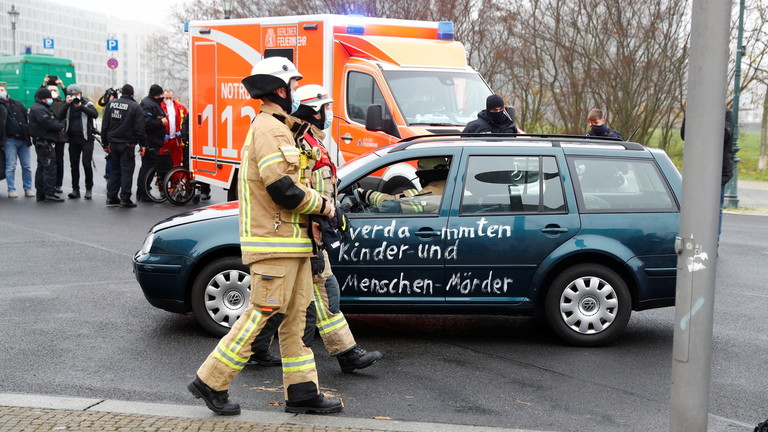 A car covered with messages has crashed into the gates of German Chancellor Angela Merkel's office in Berlin ahead of a meeting where the extension of Germany's coronavirus lockdown was set to be discussed.
Photographs from the scene reveal messages including "Stop Globalisation Politics" and "You damn killers of children and old people" were written across the side of the vehicle.

There were no immediate reports of casualties in the aftermath of the incident. Dozens of emergency responders attended the scene and armed police officers and police dogs inspected the Volkswagen estate following the crash.
3. British MP appears to have taken his disgust with the police arrest of an elderly protestor women into Parliament.
4. To be clear, pharma companies are more corrupt than most of us are able to imagine. They have highly paid teams to come up with ways to cheat for profit.
armies of bots & sockpuppets. https://t.co/nAclGbuxoT

— Amazing Polly is FREE (@99freemind) November 25, 2020
5. Our society is being divided between those who support totalitarian measures, often for the most selfish of reasons, and those that support freedom for others.
Is your heart still breaking for this guy as you send him to the gulag @fordnation you phony POS?

Rot in hell, you bastard https://t.co/oUPaBj5vPf

— SharonSisterUpstairs #NewBlue #PPC #SwitchYourVote (@Sharon75571311) November 25, 2020
Thank you M., Johnny U., Wrath of Khan, C., Malevolent Pixie and MANY more for your continued sanity.