1. Greece accuses Turkey of sending yet another wave of illegal muslims into Greece
According to a report from Greek newspaper Proto Thema, the Turkish border authorities were not in the area to stop the migrants from crossing into the European Union, but were on the lookout for border patrols and agents of the EU's border agency Frontex.
Greece Strengthens Border as Minister Warns of New Migrant Surge https://t.co/LxKYIf3NXs

— Breitbart London (@BreitbartLondon) September 8, 2020
(Long time readers of Vlad will remember that we have chronicled in detail many such invasions of Greece by Turkey with varying levels of admission that it was an actual Turkish initiative and various levels of Western press collusion. One recently where the Turks actually forced migrants on busses and dropped them off at the Greek border, and below, my favorite image from the 2015 Turkish invasion of Greece, where Al Azar Imams lead squads of religious muslims overland from Turkey to Greece.)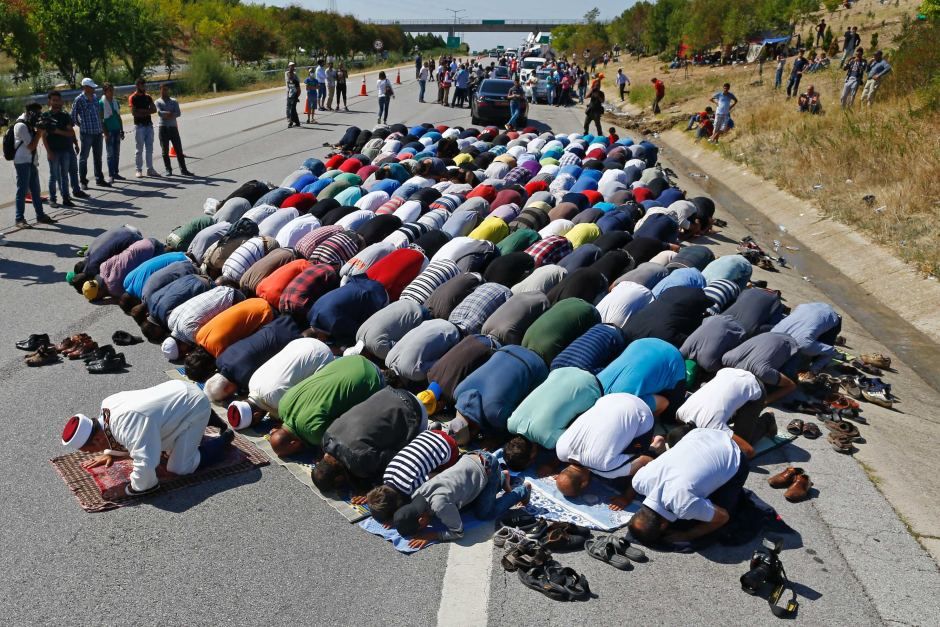 2. Portland Police Arrest Dem Staffer During Riot
(Those who watched our 2 videos on the DSA and the Project Veritas videos busting Bernie Sanders' staffers as radical communist revolutionaries won't be surprised at this. All those who are surprised, please do go watch those videos to find out to what extent the Democrat Party of the US actually IS ANTIFA/BLM and vice versa.)
Police arrested a top Democratic staffer in Oregon's state legislature this weekend for interfering with a police officer during the Portland riots.

The police arrested Kristina Narayan, who is legislative director for the top Democrat in Oregon's House of Representatives, along with 58 others during a riot that began Saturday night and continued into Sunday morning, according to a Portland Police Bureau report. Narayan has worked for House Speaker Tina Kotek since 2016.

On Saturday, officers blocked a crowd marching toward the East Portland Community Policing Center. Police declared a riot after somebody in the crowd threw a firebomb toward officers, which set fire to a member of the community. The rioters continued to throw rocks, fireworks, and mortars toward the officers.
3. Corona death numbers vary wildly
Former Vice President Biden said today that more than 6,000 members of the US military have died due to the coronavirus. The actual number is seven according to the @DeptofDefense https://t.co/AJmCelSpOD

— Ryan Browne (@rabrowne75) September 9, 2020
4. Scientists are worried that the Covid virus will disappear before they can really profit find a vaccine for it.
Can't make this stuff up ?? pic.twitter.com/HQ1EyIsANZ

— Frank McVeety (@Franktmcveety) September 10, 2020
5. MASS TEST BID  'Operation Moonshot': £100BILLION plan could see entire UK population tested for coronavirus in just a week
TEN million daily Covid tests will be dished out to get Brits back to the footie, theatre and their mate's house under new Government plans costing £100billion.

The entire population of the UK could be tested in a week under Downing Street's ambitious Operation Moonshot programme.

Boris Johnson vowed to roll out new tests which can deliver results in just 15 minutes.

He said a negative result would give Brits a "freedom pass" — allowing people to mingle like they did before Covid.
(Video at site. But it looks like no religious gatherings till Ramadan 2021. Certainly no Christmas and Im betting on a 3rd wave around Easter.)
6. President Trump did NOT distort any of the information he was given by Fauci on Covid
Dr. Fauci says President Trump did not distort the coronavirus information they discussed pic.twitter.com/QjDdH6LPCG

— Trump War Room – Text TRUMP to 88022 (@TrumpWarRoom) September 9, 2020
7. Indian news on the developing Chinese-India stand off is getting more intense and concerning. Please look in the Reader's Links posts for the past week and look for the various posts, especially from Richard on this border stand off. Here is a current video showing Chinese build up from the Indian perspective.
8. 'HILLARY CLINTON TO JAIL' – Devin Nunes Unload on hillary Clinton as new evidence emerge
9. Clintonitis is more contagious than Corona it seems
Apparently 14 people involved in phone-wiping. https://t.co/M4Wuy3gXfs

— J.E. Dyer (@OptimisticCon) September 10, 2020
10. Muslims migrate to Australia, file complaint with Human Rights Commission because food they're given isn't halal
The principle is always and everywhere the same: in Muslim countries, one must conform one's behavior to Islamic sensibilities. And in non-Muslim countries, one must conform one's behavior to Islamic sensibilities.
"'Mental torture': Muslim immigration detainees say they haven't been given halal food for more than a year," by Stefan Armbruster, SBS News, September 9, 2020 (thanks to The Religion of Peace):
Muslim immigration detainees in Brisbane have filed a complaint with the Australian Human Rights Commission saying they have not been given certified halal food for more than 12 months.

They are among more than 100 men detained in a Kangaroo Point hotel after they were evacuated from Nauru and Papua New Guinea for medical reasons.
Thank you Johnny U., M., Sassy, Richard,
This tweet is so damn funny its hard to believe it wasn't meant to be. The user has deleted it, so I guess it wasn't meant to be.
Also funny, BLM anti-racist idiots start flipping off a random oriental they think might be Andy Ngo
Lol isn't that the same woman who harassed a random Asian man she thought was you?pic.twitter.com/OXIGQyZFcu

— Brittany (@Brittany3l) September 10, 2020