1. A communist insurgent argues with someone who is an accidental (to a degree) controlled opposition. But it does show how normal it is for us all to think that certain words can only be used by people with certain melatonin levels and context is more or less musical.
WHITE #BLM Protester Uses The N Word & Then Blames Hip Hop For His Stupidity ? pic.twitter.com/0RwYALTIFN

— ???Steve????America First????MAGA??KAG (@SJPFISH) September 7, 2020
2. ANTIFA no longer getting a free pass to thug their way around the US anymore.
Pro-Trump and BLM protesters clash near Oregon Capitol pic.twitter.com/IBlrcAWMZ2

— RT (@RT_com) September 8, 2020
3. Great video. "Laws are rules put in place to stop people from acting on feelings". Insights are great but missing the fact of the communist manipulators behind all these events.
4. Greece Strengthens Border as Minister Warns of New Migrant Surge
Greek Deputy Minister of Migration and AsylumGiorgos Koumoutsakos has warned that Turkey may unleash another wave of migrants into Greece.

Mr Koumoutsakos said that over the past 15 days, the land border with Turkey in the Evros region had seen a new wave of migratory pressure, warning that Turkish President Recep Tayyip Erdogan could open the gates for migrants, as he did earlier in the year.

He added that he suspected the Erdogan regime would threaten to open the gates to Europe if sanctions are considered at an EU summit scheduled for the 24th and 25th of September,  newspaper Proto Themareports.
5. Suspect named in the multiple stabbing of what appears to be white people in Birmingham by someone identified as a Somali at one point but has a Scottish name
THE prime suspect in the Birmingham knife rampage was released from jail just five months ago, The Sun can reveal.

Zephaniah McLeod, 27, had been jailed for three years in 2017 but was released at the halfway point of his sentence.
5. Police get violent with anti-covid measures demonstration in Madrid
Global Uprising – Spain Fights Back!

Thousands Rally in Madrid against their corrupt Socialist Govt's tyrannical Corona restrictions.

Same pictures everywhere – bludgeoning peaceful people demonstrating against restrictions that infringe on their rights & harm their economy. pic.twitter.com/R4Hw7lJSF0

— Amy Mek (@AmyMek) September 8, 2020
7. Pittsburg: BLM/ANTIFA communist insurgents attack a black owned and operated McDonald's Franchise to liberate it for black people and get a side of fries.
Democrats and Sleepy Joe's Peaceful Protestors! https://t.co/weQBW7xKic

— Donald J. Trump (@realDonaldTrump) September 8, 2020
8. Scientists can't explain puzzling lack of coronavirus outbreaks in Africa
(Now what drug would be common on a continent where malaria kills a million people a year?)
The novel coronavirus has infected more than 26.35 million people, with just four countries accounting for over 15 million cases. They are the United States, Brazil, India and Russia — the same four that have been at the top for months. The US surprised the world when it rose to the top spot in multiple COVID-19 statistics, both for the total number of confirmed cases and the number of deaths. Since then, no other country has surpassed America.

But scientists who are studying the pandemic have also identified another surprise of the pandemic. Some expected the African continent to be affected most heavily by the virus, but that wasn't the case. South Africa stands out when it comes to the number of total cases, with nearly 631,000 infections. But fewer than 15,000 people have died of COVID-19. These figures are puzzling scientists looking to understand how the virus behaves and how it can be beaten.
9. Well wadaya know bout that
BREAKING: Wife of Jeffrey Goldberg, author of disputed, anonymously sourced hit piece on Trump in "The Atlantic," worked as a senior adviser to ex-Secretary of State Hillary Clinton & donated the max dollar amount to Hillary's 2016 campaign. She also gave $1,000 to Biden in March

— Paul Sperry (@paulsperry_) September 7, 2020
BACKGROUND: The author of "The Atlantic's" discredited hit piece on Trump was raised by socialist parents who sent him to socialist camps in the Catskills. Jeffrey Goldberg (seen here with Obama) later worked for a socialist weekly newspaper in New Yorkhttps://t.co/6yFTyRgpZf

— Paul Sperry (@paulsperry_) September 7, 2020
10. Rochester police chief, entire command staff retire suddenly following protests in death of Daniel Prude
After days of protests against the Rochester Police Department in light of the death of Daniel Prude, its top officer and command staff announced Tuesday they are retiring from the force.

Rochester Police Chief La'Ron Singletary said in a statement that he was honored to serve the city in upstate New York for 20 years and commended his staff. However, he said the protests and criticism of his handling of the investigation into the March 23 incident "are an attempt to destroy my character and integrity."

"As a man of integrity, I will not sit idly by while outside entities attempt to destroy my character," he said in a statement. "The members of the Rochester Police Department and the Greater Rochester Community know my reputation and know what I stand for."

His retirement will be effective Sept. 29.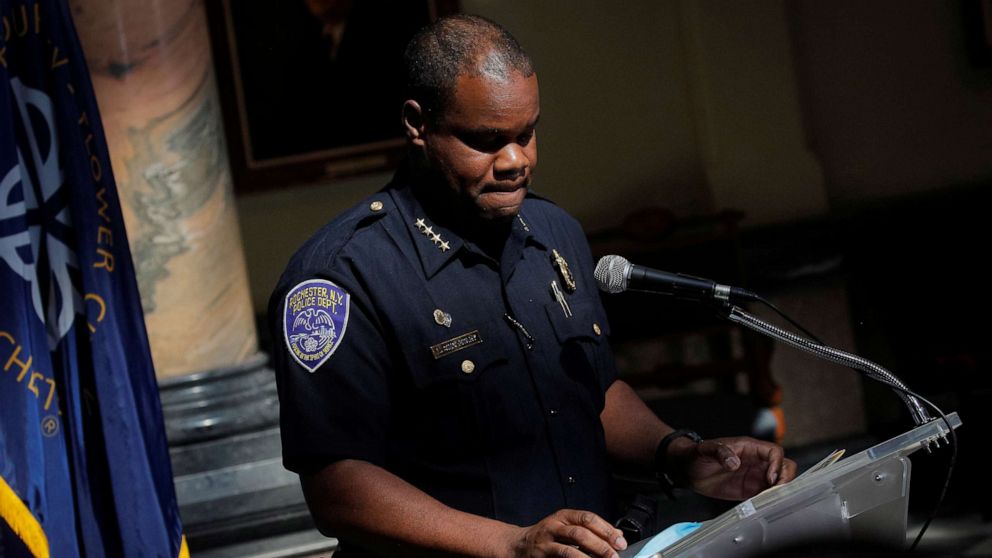 Thank you Richard, M., Wrath of Khan, ML., Johnny U., C., and all who send in materials today and regularly.