1. Another academic ostracized from academia for failing to comply with a communist narrative (in this case, the blank slate)
2. Maxime Bernier shows a stunning degree of a grasp of the obvious compared to nearly every leader alive today.
Another UN corruption scandal. Why are we sending Canadian taxpayers' hard-earned money to this dysfunctional organization?

Un autre scandale de corruption à l'ONU. Pourquoi envoyons-nous l'argent durement gagné des contribuables canadiens à cette organisation dysfonctionnelle? https://t.co/9tMD3rbrTl

— Maxime Bernier (@MaximeBernier) July 30, 2019
The story:
Swiss suspend payments to Palestinian refugee agency
The Swiss foreign ministry has decided to temporarily stop payments to the United Nations Relief and Works Agency for Palestinian refugees in the Near East (UNRWA) amid claims of misconduct among its top management.

The ministry was informed of the situation by the agency's commissioner-general, Pierre Krähenbühl, on Monday according to SRF public radio.

A confidential report by UNRWA's ethics office claims that members of top management have abused their authority, with charges including nepotism, discrimination and sexual misconduct. The report alleges that Krähenbühl claimed daily allowances despite being away from UNRWA headquarters in Jerusalem.

Krähenbühl, a Swiss national, has been at the UNRWAexternal link since 2014, has apparently pledged full cooperation with the investigating authorities.

Switzerland has been a member of the agency since its beginning in 1949 and has paid about CHF20 million ($20 million) in contributions for this year.
3. UK woman alleged of making a false claim of rape against a dozen Israeli males, was remanded in custody:
4. Iran was not able to intimidate women into stopping filming their defiance of hijab laws
Yesterday Iranian judiciary system said women who send me their videos will face up to 10 years in jail.

Guess what? I'm receiving more videos.Because women cannot be censored.

Here's a video of women from Urmia (Iran) #WalkingUnveiled against forced hijab#WhiteWednesdays pic.twitter.com/PMcSmVTmj6

— Masih Alinejad ?? (@AlinejadMasih) July 30, 2019
5. Triple talaq: India criminalises Muslim 'instant divorce'
India's parliament has approved a bill that makes the Muslim practice of "instant divorce" a criminal offence.

"Triple talaq", as it's known, allows a husband to divorce his wife by repeating the word "talaq" (divorce) three times in any form, including email or text message.

The Supreme Court declared the practice unconstitutional in 2017.

Supporters say the new measure protects Muslim women. Opponents say the punishment is harsh and open to misuse.

Men found in breach of the new law can be jailed for up to three years.

The bill was first tabled in 2017 but stalled in the upper house of parliament, where some MPs called it unfair.

India's governing Bharatiya Janata Party (BJP) supports the bill, while the main opposition Congress party opposes it.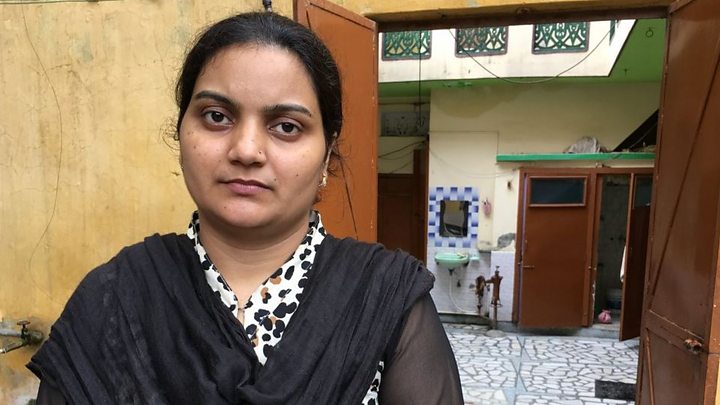 6. British prosecutors have had enough evidence to charge Isil 'Beatle' with murder for years, it emerges
British prosecutors have had enough evidence to charge one of the the infamous "Beatles" Isil fighters with murder since 2016, it has emerged.

An arrest warrant was issued for Alexanda Kotey, who held British citizenship, in connection with five counts of murder and eight counts of hostage-taking after the Crown Prosecution Service reviewed evidence against him in February 2016. 

Kotey and another member of the British terror cell, El Shafee El-Sheikh, are currently being held by Kurdish forces in Syria, facing trial and potential execution in the US.

Last year, The Telegraph revealed Sajid Javid, the Home Secretary, had abandoned the Government's blanket opposition to the death penalty to ensure the pair were sent to America.

At the time, ministers suggested this was justified by the supposed reluctance of the CPS to bring the terrorists before a British court. 
7. White House Eyeing Chinese Forces Gathered on Hong Kong Border
The White House is monitoring what a senior administration official called a congregation of Chinese forces on Hong Kong's border.

Weeks of unrest in the Chinese territory have begun to overwhelm Hong Kong's police, who have found themselves in violent clashes with protesters. China warned Monday that the civil disorder had gone "far beyond" peaceful protest after police deployed tear gas over the weekend.

The nature of the Chinese buildup wasn't clear; the official said that units of the Chinese military or armed police had gathered at the border with Hong Kong. The official briefed reporters on condition he not be identified.
8. ANTIFA planning more terror attacks: The Thinkery
9. Epstein in Danger of Being Murdered by "Powerful People" Before His Trial, Says Victims' Lawyer
A lawyer for one of Jeffrey Epstein's victims fears that a "hit" has been put out on Epstein's life that will prevent him from implicating powerful people who are complicit in the sex trafficking of girls and young women.
Spencer Kuvin doubts that Epstein's recently sustained jail injuries were a suicide attempt, telling the Sun, "I question whether or not it was a true suicide attempt that Mr Epstein was involved in in jail or whether or not there may be some powerful people who just don't want him to talk."

Kuvin questioned how Epstein could have choked himself, adding, "There's no doubt in my mind that no jail will protect you when there's powerful people that want to reach you – wherever you are."

Even if Epstein is kept away from the general prison population, "there are still people who can get to him, ultimately," warned Kuvin.

Kuvin speculated whether Epstein would "survive" to make his upcoming trial, comparing the situation to the 1959 Profumo affair, where socialite Stephen Ward was put on trial for procuring young women for the British elite but killed himself before the verdict was announced.
10. Police in Hong Kong chase down democracy protestors in what looks like a subway
Thank you Pym Purnell, M., Richard, Wrath of Khan, Johnny U., Gates of Vienna, and so many more. There is still more to come today. A very interesting video of one of our very favourites, A Mr. Curio of the AfD, which I hope to have ready tonight. Otherwise, early tomorrow.
Canada's real real replacement numbers
About that 'Fast and Furious' Obama era program…
Last but FAR from least: President Trump on 'The Squad'