1. US military may intervene in Vz. militarily if necessary: -Pompeo
2. Christian persecution 'at near genocide levels'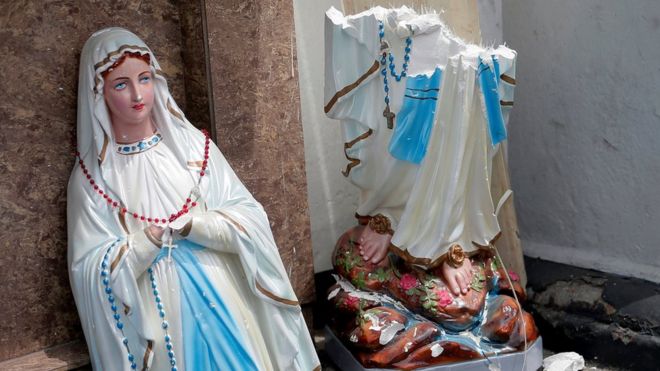 The persecution of Christians in parts of the world is at near "genocide" levels, according to a report ordered by Foreign Secretary Jeremy Hunt.

The review, led by the Bishop of Truro the Right Reverend Philip Mounstephen, estimated that one in three people suffer from religious persecution.

Christians were the most persecuted religious group, it found.

Mr Hunt said he felt that "political correctness" had played a part in the issue not being confronted.

The interim report said the main impact of "genocidal acts against Christians is exodus" and that Christianity faced being "wiped out" from parts of the Middle East.

It warned the religion "is at risk of disappearing" in some parts of the world, pointing to figures which claimed Christians in Palestine represent less than 1.5% of the population, while in Iraq they had fallen from 1.5 million before 2003 to less than 120,000.
3. Watch – Muslim terror school: Children in Philadelphia call for Jewish genocide
Young children at the Muslim American Society (MAS)'s in Philadelphia, call on the next generation of so-called Palestinian youth to embrace terrorism, to glorify suicide bombers and mass murder Jews.

But these children are not performing in Ramallah or Gaza. This hate-filled song was played in Philadelphia and proudly broadcast on Facebook.
Another Philly imam: "Jews are the vilest of people…"
4. Sri Lanka: Ban on face-veil risks stigmatizing Muslim women  
(And all this time I was thinking that wearing the face veil was actually what stigmatizes muslim women. In fact I still think that)
Responding to Sri Lanka's emergency regulations imposing a ban on clothing that conceals the face, Amnesty International's Deputy South Asia Director, Dinushika Dissanayake, said:

"At a time when many Muslims in Sri Lanka fear a backlash, imposing a ban that effectively targets women wearing a face veil for religious reasons risks stigmatizing them. They will be forced out of public spaces to stay at home and will be unable to work, study or access basic services. The ban violates their rights to non-discrimination, freedom of expression and religion.

"Where there are legitimate security concerns, the authorities can carry out identity checks when objectively necessary. It is important that the state provides measures that comply with human rights. Women have a right to choose how they dress, whatever their beliefs. Forcing women to take off the face-veil is coercive and humiliating."
5. Muslim in Australia found guilty of the casual murder of his neighbour in a jihad attack
6. Catholic philosopher: Why I signed the open letter accusing Pope Francis of heresy
May 2, 2019 (LifeSiteNews) – Catholics who have been paying any attention to the words and deeds of Pope Francis over the past six years are aware of the mounting problems of this pontificate. It is hardly necessary to go into details here; those who care to know either already know or can easily find out.

The Open Letter to the Bishops of the Catholic Church that was signed by a number of scholars and pastors, including me, furnishes clear evidence of heretical (not just erroneous) statements that may be found in the approved writings of Pope Francis, as well as evidence—in the form of repeated acts and omissions of governance—that he is fully aware of what is he promoting.

Many people have been asking: What's the good of taking a step like this? Will it not further polarize the situation? Will it not offer excuses to the Bergoglio party to intensify their confinement and persecution of Catholics? Is it not overwhelmingly likely to be ignored? Can anyone do anything about a wayward pope—mustn't we just wait until God sorts it out for us? And besides, aren't the signatories lacking in sufficient theological qualifications?
7. Australian prime minister rejects candidate's Islam posts
Australia's prime minister said his Liberal Party rejected the anti-Muslim views of an electioncandidate who on Friday became the third to lose the conservative party's endorsement in as many days over social media postings.

The scandals surrounding candidates have become distractions for Prime Minister Scott Morrison and opposition leader Bill Shorten as they attempt to focus voters on policies ahead of the May 18 election. Candidates for both the Liberal Party and the center-left Labor Party opposition quit on Friday over their online pasts.

Morrison had stood by Jessica Whelan, a Liberal candidate for the House of Representatives in Tasmania state, amid accusations on Thursday she made anti-Muslim posts on social media. Morrison said screenshots of Whelan's comments appeared to have been doctored and a complaint had been made to police.
(Maybe someone should introduce him to Fraser Anning)
Thank you Yuckie, Oz-Rita, M., Wrath of Khan, EB., Richard, ML., SB., and all who sent in materials. There is more to come today including part II of the interview with the former prisoner in Qatar.
Today's Ottawa Pic. A man sits outside on a corner of Bank St. Just outside the no free speech zone near an abortuarium. His signs, front and back, both ask for freedom of speech and points out its importance.
To understand why he is there and what the no-speech zone is on a public corner, watch the following video: