As often stated on this site, there is a policy of not getting too much involved in "insider baseball" of any country's politics in order not to alienate any readers who agree with the main issue of this site, namely Islam and communism. Even so, its difficult not to cross my own boundaries from time to time with things like global warming. Because frankly, global warming is a commie plot. But that kinda talk tends to frighten off a lot of otherwise really good people that would like to support the effort to protect Western civilization from Islamic influence but really believe in Global Warming.
But actually, global warming as a theory is a commie plot. Recent revelations about George Soros funding Al Gore to bang that drum is damn close to proof of that. Still, lets stick with the program.
Very sharp people post materials about the crisis of corruption and systemic senility in US government institutions daily however, and an election looms large on the horizon. One which seems to offer the slim chance of getting the Ikhwan (Muslim Brotherhood) influence out of the executive branch, which has enjoyed stunning influence in the white house for the last eight years and, if rumours are to be believed, will be controlling the secretary of State if Clinton is elected in the form of Huma Abedin.
So it is difficult to not plow over that line from time to time.
Here is hoping the people that recognize Islam is a serious problem but still believe in anthropogenic Global Warming can forgive me. For those that want to read about that, this site has a dedicated page. 
1, US signed secret deal with Iran to lift sanctions eight years AHEAD of the terms of the nuclear deal.
2. Wikileaks exposes Clinton's weapon sales to the Islamic State.
As an aside, that proves the Gates of Vienna theory from pretty much the day it happened.
Now, he's announcing that Hillary Clinton and her State Department were actively arming Islamic jihadists, which includes the Islamic State (ISIS) in Syria.

Clinton has repeatedly denied these claims, including during multiple statements while under oath in front of the United States Senate. […]
Frankly, I am still not 100% sure on this story. I suspect it may be, premature. Waiting for the Wikileak to be directly linked. So far all links appear to be copies of one source.
But this on the other hand, is certifiable:
3. Washington (AFP) – The US government on Saturday ended its formal oversight role over the internet, handing over management of the online address system to a global non-profit entity.
Yes, the Internet will likely be governed by a supranational organization heavily influenced by sharia countries, China and North Korea. This means that its utility as a vector of information will be over. It will be pure directed propaganda, or certainly it will move in that direction.
4. On an Obama admin official communique, the word "Israel" was struck off after the word Jerusalem. So that it would read that Obama gave his remarks in Jerusalem, but not in Israel. Obama has again played to a fictional narrative of Islamic supremacy in his government's attempts to erase the Jewish fact of the genesis of Jerusalem as a city, and now as its role as the capitol of Israel.
5. US ammunition found in Al Nusra occupied Syria
6. EXCLUSIVE – Michael Savage Reacts to Being Pulled From Radio Following Hillary Health Segment: 'Pure Sabotage'
(Yes something was really and truly wrong there.)
7. Iran builds attack drone similar to captured US model, local media say
Iran's Revolutionary Guards have built a new attack drone which is similar to a US unmanned aerial vehicle that was captured five years ago, Iranian media reported on Saturday.

The semi-official Tasnim news agency said the "Saegheh" ("Thunderbolt") drone was similar to the RQ-170 Sentinel spy drone. The country's state-run Press TV said the long-range drone could carry four precision-guided bombs. Neither report gave figures for the drone's range.

"This long-range drone is capable of hitting four targets with smart precision-guided bombs with high accuracy," state news agency IRNA quoted the head of the Revolutionary Guards' aerospace arm, Amir Ali Hajizadeh, as saying.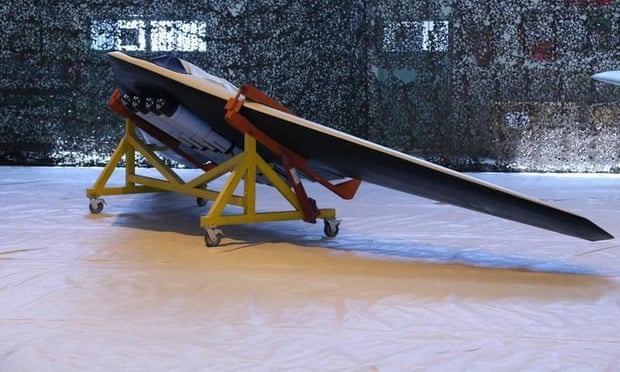 Thank you very much Ilona Szilágyi, Johnny U., Richard, M. Wrath of Khan and really many people over the past few days.
For more of the same, please check the daily links post for the past few days.