1, UN backs down on investigating Saudi atrocities in the face of possible fatwa
Muslim allies of Saudi Arabia piled pressure on U.N. chief Ban Ki-moon over the blacklisting of a Saudi-led coalition for killing children in Yemen, with Riyadh threatening to cut Palestinian aid and funds to other U.N. programs, diplomatic sources said on Tuesday.

The United Nations announced on Monday it had removed the coalition from a child rights blacklist – released last week – pending a joint review by the world body and the coalition of cases of child deaths and injuries during the war in Yemen.

That removal prompted angry reactions from human rights groups, which accused Ban of caving in to pressure from powerful countries. They said that Ban, currently in the final year of his second term, risked harming his legacy as U.N. secretary-general.

Speaking on condition of anonymity, the sources said Ban's office was bombarded with calls from Gulf Arab foreign ministers, as well as ministers from the Organisation of Islamic Cooperation (OIC), after the blacklisting was announced last week. One U.N. official spoke of a "full-court press" over the blacklisting.
Related: UN Blacklists the KSA. For a few minutes.
It's no surprise Saudi Arabia was upset when it found its U.S.-backed military coalition in Yemen on the latest United Nations blacklist , released on June 2, of states and armed groups that committed "grave violations" against children in the course of armed conflict from January to December 2015.

The Saudis didn't have to be upset for long, though.

After public criticism by Saudi Arabia's ambassador to the U.N. — and, presumably, a healthy dose of closed-door diplomatic pressure — a spokesperson for U.N. Secretary General Ban Ki-moon announced Monday afternoon that the Saudi coalition would be removed from the list, pending a review.
Saudi Arabia Threatened to Break Relations With U.N. Over Human Rights Criticism in Yemen
(Just in case anyone thought the OIC didn't matter)
2. REPORT: Migrants Burn Down Asylum Centre After Not Receiving Ramadan Wake Up Call
Should we list here, what makes this outrageous? Or should we list them in the comments?
A massive fire at Düsseldorf's major international trade fair grounds yesterday has been followed by reports that the blaze was set deliberately by migrants who were angry because of Ramadan.

Officially, some 160 migrants were resident at hall 18 of the Messe Düsseldorf conference centre, but it was a facility plagued by racial conflict which had seen violence spark before. Düsseldorf's Express newspaper reports these conflicts were not between European German staff and their guests, but between the predominantly Arab residents, and a minority of Afghans who sided with the security staff running the facility — who were mainly Iranian.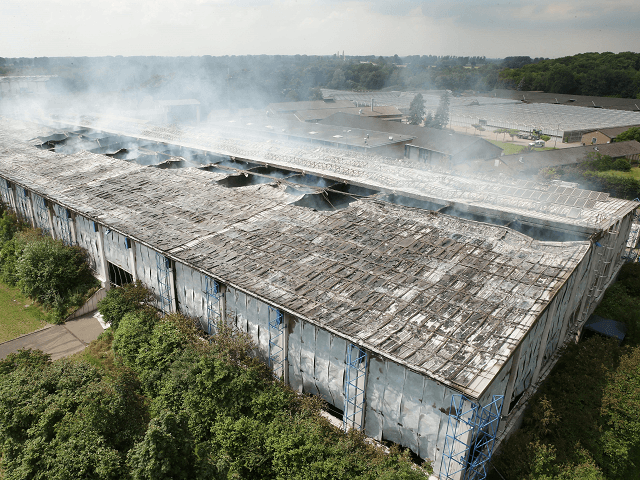 3. 'He is from Windsor': Canadian identified as leader of ISIL affiliate in Bangladesh
Militant website via AP

In this photo released on May 4, 2015, by a militant website, which has been verified and is consistent with other AP reporting, ISIL militants pass by a convoy in Tel Abyad town, northeast Syria.

After the near-decapitated body of a 68-year-old Hindu priest was found in western Bangladesh on Tuesday, the local ISIL affiliate claimed responsibility in a communiqué that vowed to "cleanse" the country of "filth."
It was the latest in a wave of sectarian killings in Bangladesh — many of them attributed to a regional franchise of ISIL that is reportedly led by a Canadian and former southwestern Ontario resident named Tamim Chowdhury.

"He is from Windsor," said Prof. Amarnath Amarasingam, a post-doctoral fellow at Dalhousie University's Resilience Research Centre. "People who knew him say he was a quiet guy. Not much else is known about him at the moment."
4. Three dead, many injured in Tel Aviv Terror attack
Thank you M, Wrath, and all. lots more to come today, nearly ready to post.