(There may be one or two duplicate items from an earlier post. Apologies if thats the case)
1, Obama admin: Sometimes the press needs to be misled
(I wonder if anyone in the overpriced traitorous media mouthpieces for the Obama admin feel even slightly sheepish about their slavish obedience to this administration. Right Scoop story here)
2. British anti terror drill, for which an apology had to be issued for screaming aly aly akbar cause thats what muslim terrorists always do so we have to pretend they don't.
3. It appears that the 10 bomb thing in the Czech Republic was a hoax.
Czech police arrested a man suspected of making FALSE bomb threats against more than 10 sites around the country, CTK news service said
4. 8 men charged in multiple high-profile Calgary shootings from 2015
Barakat Amer, 20, of Calgary, 
Tarek El-Rafie, 24, of Calgary
Abdul Rahman Ali Amer, 19, of Calgary,
Talal Mohamad Amer, 23, of Calgary
Bader Amer, 21, of Calgary
Haitham Ramadan, 24
Saro Pireh, 19, of Calgary
Shaheen Assad Pireh 18, of Calgary,
(Charges at site)
5. Erdo?an seeks injunction against German media chief who laughed at poem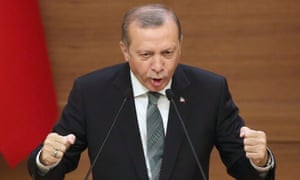 The Turkish president, Recep Tayyip Erdogan, is seeking an injunction against the chief executive of the German publisher Axel Springer.

The president's lawyer, Ralf Höcker, said Erdo?an was taking legal action due to Mathias Döpfner's support for a poem read out by comedian Jan Böhmermann on German television in March.

In an open letter published inGermany's Welt am Sonntag newspaper in April, Döpfner expressed solidarity with Böhmermann, saying he had laughed out loud at the poem and "wholeheartedly" supported what the comedian had said.
(I think its safe to say that communists and Muslims seem to cooperate so well because both of them would find it reasonable to punish people who even sympathize with their critics to the extent possible. And this is why a free people must have an army if they wish to stay free, and as individuals as well)
5b. Court rejects Erdogan's challenge against Bild boss
(Let's follow the career of this judge and see how it goes after this)
Erdogan had sought a court order to stop the media group's chief Mathias Döpfner from repeating support for a TV satirist who crudely insulted the Turkish leader.

The legal action came after Döpfner published an open letter in one of the group's newspapers, in which he backed Jan Boehmermann — the satirist who in a poem accused Erdogan of bestiality and watching child pornography.

But the court dismissed Erdogan's application on the basis of the "constitutionally guaranteed right of the defendant to the freedom of expression".

"When a potential conflict arises between the fundamental right to the freedom of expression and the personal rights of the plaintiff, it is admissable for Doefpner to publicly express an opinion in this controversial
6. Sweden-bound migrants pulled out of Danish waters
Two of the migrants were in hospital after authorities pulled them from icy waters off Denmark on as they tried to reach Sweden to ask for asylum, Danish police said.

The rescued migrants were part of a group of four who attempted crossing the strait between Denmark and Sweden, where the water is around 8C.

"There were two who were taken to hospital after the rescue operation," police spokesman Henrik Svejstrup told local Danish broadcaster TV 2 Lorry.
7. BREAKING: Car bomb kills three and injures 45 in Turkey
(Erdogan of course, appears to be more concerned about German burger joints)
THREE people have died and 45 wounded after a bomb-laden car detonated near a police vehicle in Turkey.
8. Fascinating false front "Spanish NORK Friendship assn"
(I really think the flag of North Korea would serve better if it was an image of an empty shelf. Or has Venezuela already trademarked that one. The brief scene of around 35 books was funny. There is no way to tell what they are but almost certainly they are glorification of the despots of NORK, possibly in Spanish)
9. The facts of Hamas and Israel and children's education.
Thank you Kathy, M., Wrath of Khan, Dagawker, Richard, and many more. 
Soon, a very interesting video from French media.