1. Australia: Major blaze at Islamic center
The question remains: Is this an insurance job, an attempt to blame white racists so the government will build a nice new mosque as a gesture or both?
2. European Union Military Police Rehearses For Civil War In Germany
(You know you can walk to the bookies with bets on the meaning of this if they use non-German troops for this 'rehearsal')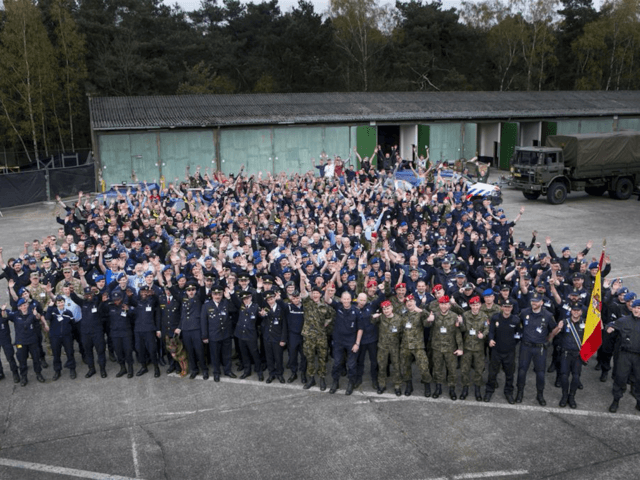 Around 600 members (pictured) of various European police and military forces have carried out a European Union (EU) funded training exercise, in preparation for major civil unrest and even war.
The exercise took place in North Rhine-Westphalia on the 15th of April, and is part of the EU's ongoing Lowlands Gendarmerie program.

So-called 'Gendarmeries' are a military force charged with police duties among civilian populations, and all seven European countries that maintain such "robust" units are joined together in the European Gendarmerie Force (Eurogendfor).
(Can't imagine why Merkel would set this up. Its not like German leaders ever turn against huge segments of their own people)
3. Montreal teen arrested on terror-related offences, again
(I guess Islamic terrorism is already a catch and release crime in Canada now so they can save jail space for the really important crimes. Like Islamophobia and using your own bathroom)
A Montreal teen was arrested this week on terror-related offences for the second time.

The 17-year-old was picked up by RCMP officers Tuesday night in Montreal North accused of public mischief and making terrorist threats.

He met with investigators and was released on a promise to appear.

The case will be handed over to the Crown Attorney Office.

According to Radio-Canada the teen is one of the 10 Collège de Maisonneuve students arrested in May 2015 at Trudeau Airport while trying to leave the country to join jihadists in Turkey and Syria.
4. UK to start committee to hide the cause of blossoming antisemitism 
(The UK being silent about the fact of violent Islamic antisemitism in those countries is one thing. Its certainly repugnant and a lot of other horrible things but it is not nearly as offensive as what this most certainly will be. At no point will they talk about the fact that pretty much all violent antisemitism in the UK is from Muslims. At no point will they admit that it is taught in tax payer supported and tax free mosques and Islamic schools. At no point will this 'study' do anything real to stop any of the real causes of the outbreak of massive and severe violent antisemitism in the UK, which is Islamic doctrine and its followers. This, is offensive. Pretend you don't notice, thats one thing. But pretend its a problem you are doing something about when in fact you make it worse by 300,000 more muslims a year and you are tantamount to funding and promoting violent antisemitism yourself. Because in FACT you are)
Labour leader Jeremy Corbyn is to announce an independent inquiry into anti-Semitism and other forms of racism, his party has said.

The inquiry, to be chaired by Shami Chakrabarti, former director of campaign group Liberty, will "consult widely" with the Jewish community and other minority groups, Labour said.

He will also propose a new "code of conduct" on racism at Labour's national executive committee next month.
(The fact that its a Jeremy Corbyn initiative means you should take Imodium before reading anything this committee produces. More here at Sky)
5. Far left wing violent radical extremist punch Trump supporter for suggesting that Trump be allowed to speak.
6. Vicar hit in face by bottle in suspected hate crime
A retired vicar was hit in the face with a bottle in a suspected hate crime.

Rev Peter Zucca, of Shawclough , was assaulted while wearing his cassock as he went to cross the street – and police are treating the incident as a hate crime.

The 73-year-old was on Spotland Road after leaving Ashworth Street Surgery when the bottle was thrown.

He did not see the attacker, but was told by a witness who came to his aid that the person who threw the bottle appeared to aim it deliberately. […] "A lady came to help me. I was very shaken up. She told me the car was full of Asian lads and one of them had taken aim as he threw it."
7. New Rochdale grooming gang fears as Asian man spotted 'luring kids into black car'
(Can't wait for Gavin's 3rd video. Apparently he has some suggestions)
GETTY

Parents in Rochdale have been warned by police
Several schools in the town were advised by police to write and send texts alerting parents after a man was seen trying to entice youngsters into his vehicle.

Greater Manchester Police (GMP) received several reports in the past two weeks alone that an Asian man, driving a black Seat, was approaching pupils and trying to encourage them to get in his car.

He tried to engage them in conversation by asking for directions, police said.
Thank you M., Richard, Wrath of Khan, Jan W., Gavin B., @PymPurnell and all. Much more to come as, well as always. It would be great to say, 'no thats about it for today. But when I stop posting it isn't because there is nothing left to post. Its because of exhaustion or time spent doing some other aspect of this. So yeah, more to come. For those with intestinal fortitude enough to handle more reality as it presents itself, check the daily links posts.
Ezra Levant of The Rebel has an excellent initiative he asks people to sign. A petition against Erdogan's Turkish totalitarianism. When the petition reaches 10,000 signatures he promises to personally deliver it to the Turkish embassy in Ottawa.
I really hope there will be video of that.
Here is a cool story. An 11 year old boy shot a home invader very likely saving his own life and members of his family.