1. Bulgarians seem serious about protecting their shores from Islamic invasion
2. Meanwhile in Greece, an invading army of mostly Muslim men try and smash down a barricade erected to prevent them from moving to the other side of it.
A group of refugees tried to break through a barricade of police buses by using a train carriage they had commandeered at Idomeni train station, Monday. After a stand-offf with the Greek police, the protesters agreed to move the train carriage back to its original position.
(Notice how they seem to be collecting rocks and stones of a certain shape and size on the boardwalk i this video)
3. German Intelligence Chief Makes Surprising Admission: Analysts Didn't Expect Terrorists to Sneak Into Europe With Migrants
(I think the Germans need to reconsider the name of that service. How about, 'German PC   vorsätzlich unwissend services? Does that work?)
The head of Germany's domestic intelligence agency said in an interview published Sunday that security officials had misjudged the Islamic State group's ambition to sneak terrorists into Germany under the guise of asylum seekers.

In an interview with the German newspaper Welt am Sonntag, Hans-Georg Maassen, head of Germany's Federal Office for the Protection of the Constitution, or BfV, admitted there had been a "misjudgment" regarding the Islamist group's strategy.
4. BBC: Erdogan poem: Turkey demands German action over 'obscene' satirist
(This fellow needs to form a support group with the various Canadian comics up against the self titled, "Human Rights Commissions" along with Michael Richards (Kramer) and maybe Pee Wee Herman and maybe someday when we have freedom again they can make a movie)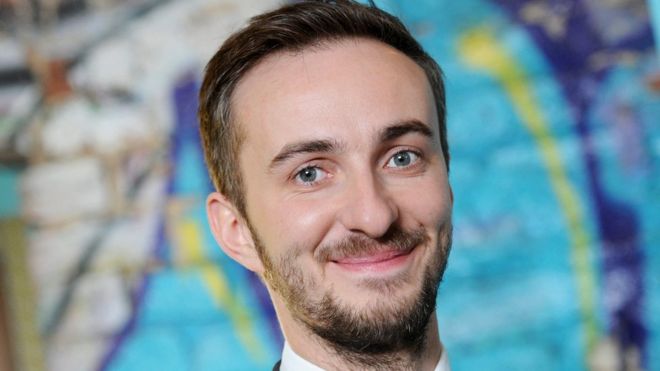 Turkey has made a formal request to Germany to prosecute a TV satirist for reading an obscene poem about President Erdogan, officials in Berlin say.

Jan Boehmermann made clear before he read the poem that it contained allegations that breached German rules on free speech.

Germany prosecutors launched a preliminary inquiry, as insulting foreign leaders is considered illegal.

Broadcaster ZDF has said it will stand by Boehmermann.

"The programme will carry on as before," it said, insisting that collaboration with Boehmermann would continue.
(German rules on free speech. Isn't that what is called, an 'oxymoron'? complete transcript of the poem below and the video which is banned everywhere can be seen here)
Incredibly dumb, cowardly and repressed, that's Erdogan the president.
His breath smells wretched just like Doner, even pig farts smell better.
He is the man who beats girls and wears rubber masks while doing so.
His favorite thing is to f**k goats and to oppress minorities.
To kick Kurds, to hit Christians, and to watch kiddie porn,
and even at night, instead of sleeping, he thinks of fellatio with a hundred sheep.
Yes Erdogan is fully and completely, a president with a small d**k.
One can hear Turks whistle, the stupid pig has shriveled balls.
From Ankara to Istanbul everyone knows, this man is queer, perverted, verminous
and (…)
His head is as empty as his balls, he's the star of every gang bang party
until it burns to take a leak, that is Recep Erdogan the Turkish president.
5. Gang member jailed for attack outside Keighley K2 nightclub
(This is a ver important story and speaks loudly to the real motives behind the various rape and grope attacks on Western European women. Read and think carefully on this one)
A 25-year-old man has been jailed for his part in a gang attack on a man outside a Keighley nightclub.
Mohammed Rasab was among a group of men who launched an attack on Daniel Donnelly during an early hours incident near to the K2 nightclub last May.
Bradford Crown Court heard yesterday how a group of men in a car had been shouting abusive comments towards some women outside the club, in Church Street, and Mr Donnelly later exchanged words with the occupants of the vehicle.
Prosecutor Niall Carlin said the car was driven away left, but when it returned a group of men got out and Mr Donnelly was dragged into the road.

"Rasab was seen to kick him in the face and stamp on his head while he was lying on the ground," said Mr Carlin.

Mr Donnelly was knocked unconscious in the attack and suffered injuries including a nasty cut to his left eye.

Rasab, of Devonshire Street, Keighley, was identified from CCTV footage and was jailed for 20 months after he admitted a charge of affray.

The defendant looked shocked as Judge Jonathan Durham Hall QC told him he was going straight to prison.

His barrister Andrew Dallas had urged the judge to suspend any prison sentence after telling the court that Rasab had rebuilt his life after a previous jail sentence and he was due to be married in July.
Thank you Pym Purnell, M., Wrath of Khan, Kathy, Gates of Vienna, Oz-Rita and all who did translations and sent in materials and made worthy comments. More to come today indeed.
I got a most intriguing tweet from Pym today. A link to a video purported to be of an Islamic State van in London. When I got to the link it was removed. I hope to be able to find and post it soon if it still exists anywhere.