1. PEGIDA Protesters Defy Ban, Clash with Police in Calais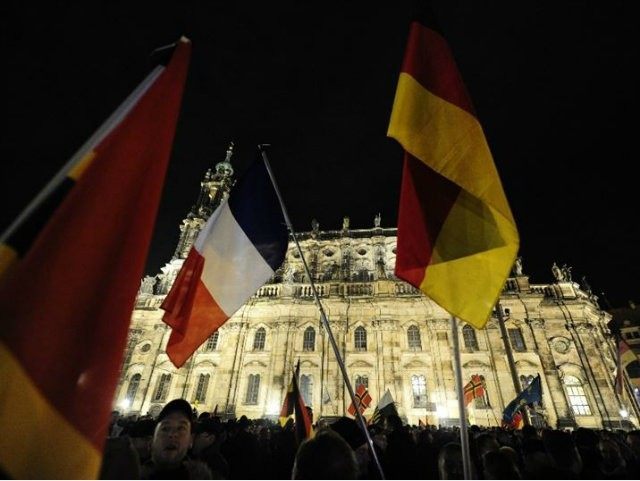 Anti-migrant protesters in the French port city of Calais Saturday clashed with police as they defied a ban and rallied in support of a Europe-wide initiative by the Islamophobic Pegida movement.

Around 150 protesters gathered in central Calais carrying signs such as "This is our home," waving the French flag and singing the French national anthem, an AFP correspondent at the scene reported.

Police issued warnings for the demonstration to disperse and then fired tear gas to break it up, arresting around 10 people, the correspondent said.
2. Some interesting pictures from PEGIDA UK
3. American backed Freedom fighters against Assad
Original title: Appeal from Sheikh Abu Anas Alknakra to the mujahedeen after the fall of the villages of the northern Aleppo countryside
4. Dresden PEGIDA is always the most impressive
5. The headline here is that police clashed with PEGIDA supporters in the Netherlands. Information has come in from Denmark however that the media, at least there has been deceptive on that front, reporting arrests in the PEGIDA demonstration but artfully avoiding saying that all the arrests, and I mean all of them, where of the ANTIFA people there to cause trouble for PEGIDA. That isn't to say this is the case in the Netherlands, but if one reads this site for the past fw days worth of posts, there is clear and overt colusion between leaft leaning governments and media in many European nations to distort, omit or invent facts to support a narrative other than the telling of factual events.
RT's COPY:
Clashes erupted between police and supporters of the Patriotic Europeans Against the Islamisation of the West (PEGIDA) in Amsterdam, Saturday, as part of a Europe-wide protest against the so-called 'Islamisation of Europe' by the anti-Muslim 'Fortress Europe' coalition.

Thousands of PEGIDA activists and far-right nationalist groups held banners reading "Close the borders" and "Rapefugees not welcome" as well as chanting anti-islam slogans. The protest was countered by a large group of pro-refugee activists who chanted "Nazis out" and held banners reading "Refugees welcome."

The Europe-wide protests follow the signing of the 'Prague Declaration' agreement between anti-Islam groups across Europe during a meeting in Prague in late January. The 'Fortress Europe' coalition resulted from the meeting and expresses a commitment to oppose "political Islam" and reject the European Union, defending the right of all European nations to guard their sovereignty and borders.
6. Tunisia Unveils Anti-Jihadi Fence on Libyan Border
Tunisia's defense minister has visited an anti-jihadi fence that's being built on the country's border with Libya to stop Islamist militants from entering Tunisian territory.

Defense Minister Farhat Horchani inspected the first completed part of the 196-kilometer (122-mile) fence Saturday, which aims to counter the threat from jihadi militants and render the entire border impassable by vehicles. Horchani said the project came about with financial assistance from Germany and the U.S.
7. Daily Mail at least attempts to report on the PEGIDA marches and the message in Europe (But sticks to the 'far right wing' hyperbole)
Violent scuffles broke out across Europe today as thousands of people taking part in far-right anti-Islam protests clashed with pro-immigration groups and riot control police.

Police in Dresden, Germany, saw about 2,000 protesters at a rally organised by the group Patriotic Europeans against the Islamisation of the West, making it the biggest of a coordinated series of demonstrations across European cities.

Known by its German acronym PEGIDA, the group emerged in Dresden two years ago and has become a magnet for far-right and anti-immigrant sentiment.
Scroll down for video 
8. Prague demo, PEGIDA or equivalent meets counter protest
9. PEGIDA Birmingham
10. Need a bigger emergency brake, Prime Minister? Astonishing aerial image shows huge expansion of Calais Jungle now home to 7,000 migrants waiting for their chance to cross the Channel
From the air it appears as an urban sprawl, fanning in all directions, gobbling up every available scrap of land.

With its schools, theatre, nightclub, shops and restaurants, the migrants' camp known as the Jungle has now become a thriving Calais suburb, albeit a ramshackle one.

As our aerial pictures show, the camp on the edge of the French port has expanded beyond recognition in six months.

Last summer it was home to about 3,000 people awaiting their chance of a new life across the Channel in the UK. Now its population, made up of 22 nationalities, edges towards 7,000. But while there are some vestiges of basic infrastructure, conditions in the camp remain dangerous and unsanitary.
Thank you M., Richard, Wrath of Khan, Oz-Rita, and so many.
This has been an exceptionally busy day although not all the output is visible here. But much is going on in several arenas. Congratulations to all the PEGIDA participants. It is very important to note that if PEGIDA fails, the next set of options are all bad, on all sides. I heartily recommend that all real liberals march with PEGIDA now, and put pressure n governments to preserve equality before the law and whatever the closest thing to Jeffersonian liberalism is.
Also apologies to anyone who took the time and effort to send in materials that I missed or didn't credit. And remember all, check the daily links post for all the material that is sent in. There is a great deal of valuable news that doesn't make the main stream (especially not in Canada, as CBC barely even does news anymore) as well as links to choice editorials from some of the best sites out there.
More to come. Also check Gates of Vienna for PEGIDA materials not posted here.
Coming up next: Quite a speech from the president of Finland.