1. Dutch protest for another day, a proposed muslim barrack in the Netherlands
Hundreds of anti-refugee activists staged a rally in Geldermalsen, Tuesday, to protest against the impending arrival of refugees to the small Dutch town.
2. Afghan police officer drugs and kills 10 colleagues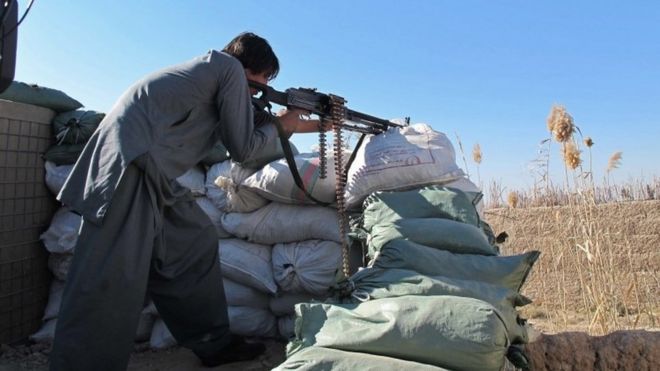 An Afghan policeman, suspected of collaborating with insurgents, drugged and then shot dead 10 of his colleagues in the southern province of Uruzgan, officials say.

He then stole their weapons and set their outpost on fire.

Police are now hunting what they believe to be a Taliban infiltrator.
3. UK-bound migrant is SHOT as smugglers battle each other in a gunfight at the Dunkirk immigration camp 
A UK-bound migrant was wounded by gunfire from suspected people smugglers at a notorious migrant camp near Dunkirk today.

Police were called when trouble broke out at the notorious Grande-Synthe shanty town in the late afternoon.

'Three migrants were badly wounded in all, including one by a bullet,' said a local police source. 'It is thought that people smugglers were involved in the violence'.

Police were called when trouble broke out at the notorious Grande-Synthe shanty town in the late afternoon

The other injuries were caused by a knife, and by gas sprayed from a police-style canister, added the source.

He added: 'The trouble broke out at around 4pm, and it was finally broken up by police. The three injured migrants were rushed to hospital at Grande-Synthe. None of the injuries were life threatening.'
4. FBI Thwarts Mass Shooting Planned At Masonic Temple in Milwaukee
(ATTN Free Masons: Don't ever forget that the muslims hate you as much as they hate Jewish people when you decide to indulge in moral relativism)
Federal Bureau of Investigation arrested a Milwaukee man who planned a mass shooting, according to a release by United States Attorney's Office of Eastern District of Wisconsin.

Samy Mohamed Hamzeh, 23, has been charged with possessing machine guns and a silencer.

In October 2015, Hamzeh planned to travel to Jordan, enter the West Bank and conduct an attack on Israeli soldiers and citizens living in the West Bank.

Hamzeh later abandoned those plans and began to focus on conducting an attack in the United States.

During recorded conversations, Hamzeh explained that he wanted to commit a domestic act of violence on a Masonic Temple in Milwaukee.

Hamzeh had been under investigation since September 2015.

On January 19, Hamzeh took a guided tour of the Masonic temple, during which they learned meeting schedules and where people would be located during meetings.

Hamzeh learned meeting schedules and where people would be located during meetings. In a recorded conversation after they left, Hamzeh discussed his plans.

Hamzeh reaffirmed his intention to commit an armed attack on the temple and discussed in further detail how they would carry out the attack.

Hamzeh said that they would need two machine guns so that they each would have one and also said that they would need three silencers.

Hamzeh also, said, "I am telling you, to go without a silencer gun, you will be exposed from the beginning."
(Video at site)
5. 3 injured in French refugee camp shooting & stabbing
Police have been deployed to a refugee camp near Dunkirk in northern France after three asylum seekers were injured in brawl, local media reported, citing officials.
Three asylum seekers were injured in a refugee camp near Dunkirk in Grande-Synthe, which is accommodating over 2,500 refugees at the moment, the district officials said on Tuesday.
6. Remember all those hidden camera videos which exposed Planned Parenthood as breaking the law on selling fetal tissue in massive quantities like pork bellies? Well finally after all this time, indictments have been laid. Against the filmers)
Two anti-abortion activists behind the filming of videos on fetal tissue procurement by Planned Parenthood were indicted by a Texas grand jury on Monday, while clearing the women's health group of any wrong-doing.

The videos released last summer led Texas and other Republican-controlled states to try to halt funding for local Planned Parenthood operations, with Republicans in the U.S. Congress also pushing for a funding cut.

The grand jury reviewed the case for more than two months and its decision was a result of a probe launched last year under Texas Governor Greg Abbott, a Republican, who accused Planned Parenthood of the "gruesome harvesting of baby body parts."
7. Islamic State setting up terror training camps in Europe, police agency warns
(I thought there was one already for decades. I believe it is called, 'Bosnia')
Terror group Isil has set up secret training camps across Europe to prepare fighters to carry out "special forces style" attacks in the UK or other EU countries, Europol has warned.

The international police agency said apart from bases in Syria, the barbaric organisation had "smaller scale training camps in the EU and Balkan countries".

They would include survival training and sports activities to help jihadists prepare for "combat and interrogation resistance".
8. Danish teen fought off her attacker – now she'll face fine
(The real acid test of natural law in the state will be if she is convicted and sentenced. The indictment is bad, but not something to be outraged about. If she is convicted and jailed or in any way has her life made worse, then it is a reason for pitchforks and torches in the streets. Perhaps worse. The right to self defense is a natural right)
The teenager told police that she was attacked in central Sønderborg on Wednesday at around 10pm by an English-speaking man in dark clothing. She said the man knocked her to the ground and then unbuttoned her pants and attempted to undress her.

The girl was able to save herself from further assault by using pepper spray on the attacker, but now she may be the one who ends up in legal trouble.

"It is illegal to possess and use pepper spray, so she will likely be charged for that," local police spokesman Knud Kirsten told TV Syd.

Numerous readers wrote in the comments section on

TV Syd's story about the incident

that they would be willing to pay the girl's fine, which will most likely be 500 kroner.
(This may seem like a subtle point but it is not, and will have implications for all of us soon enough. Notice that the charge is, 'contempt of religion'. Except every single mosque at every single service preaches contempt for all religions except islam. That is, any mosque that reads from the koran. The reason for the non-discrepancy has to do with the islamic notion of abrogation. They believe that islam and the appearance of mohamed, 'abrogated' all earlier 'prophets' and religions. And therefore, religion = islam and only islam. Why does this matter to us all? Read the Cairo declaration on human rights and islam and UN resolution 16/18 on defamation of religion and you will understand. We are being tricked into not opposing these things vigorously because we think they will be equally in the interests of all believers. Nothing, but nothing could be farther from the truth)
Writer Fatima Naoot (Photo: Courtesy of Fatima Naoot Facebook page)
Writer Fatima Naoot was sentenced on Tuesday to three years in prison and fined LE20,000 (over $2550) after being found guilty of contempt of religion, the second public figure to receive a jail term in less than a month for charges related to blasphemy.The jail sentence is effective immediately, meaning the ex-candidate for parliament is set to be arrested and incarcerated. Naoot, however, will be able to lodge an appeal from behind bars.

In October, she described in a post on her Facebook account Eid Al-Adha's tradition of slaughtering sheep as the "greatest massacre committed by human beings."
10. Police officers flee angry mob in Swedish refugee center through back door
A police patrol of 10 officers was forced to flee a refugee center in Sweden after being surrounded by a mob of violent migrants. Law enforcement officials had arrived to relocate a 10-year-old boy after reports of his repeated rape at the facility.
One of the officers described what had happened in a police report obtained by the Vestmanlands Läns Tidning newspaper.

"Even more people appeared behind us. I was mentally prepared to fight for my life. We were 10 police officers in a narrow corridor. And I hear someone yell that there is an emergency exit," the officer said.

The incident took place in the Signalisten asylum in Västerås last Wednesday but police didn't provide any information to the press until Monday this week.