1. 15 Year Old Boy Was Stabbed To Death By Arab Migrant Because He Was Protecting Young Girl From Sex Assault
(Chivalry is indeed dead. The question now is, who killed it?)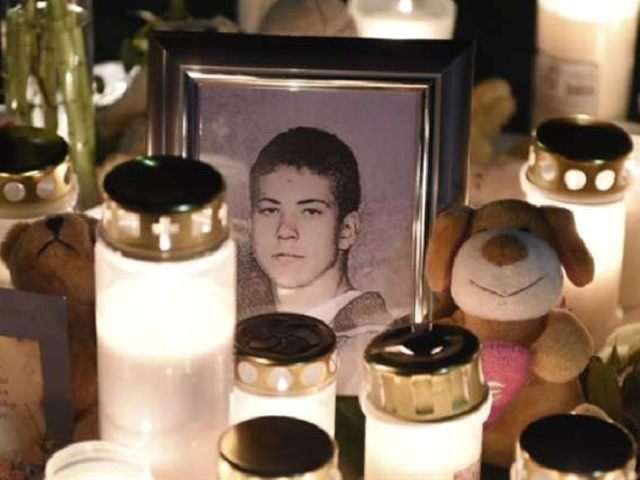 The parents of 15 year old Lithuanian boy Arminas Pileckas have blasted Sweden and the Swedish media for cowardice in the face of the migrant threat, and for covering up the murder of their son.
Arminas Pileckas, a native of northern European state Lithuania was living in Sweden with his parents when he was brutally murdered on Monday by an "Arab" — reportedly Syrian — migrant classmate.

It is reported that Arminas intervened to protect a female school-mate from being sexually assaulted in December, only to have the Syrian he defended her from stab him in the back and through the heart on the first day of the next term.

While the killing of a European on his first day back at school by a migrant pupil has received minimal press coverage in Sweden, it has been practically ignored across the rest of Europe, a state of affairs his father has called a 'cover-up'.
(That would be because it most certainly is one. If he was a muslim killed by a European for noble reasons it would be on every station and paper till all Western Governments submitted to more benefits and a million more migrants. Like the dead baby on the beach. Except that child was killed by his father while committing about 4 simultaneous crimes for which he would do no less than 10 years had he been white and non-muslim.
2. Austria Suspends Schengen, Imposes Border Control Amid Refugee Crisis
(Sometimes, when conditions are just right, and you wish really really hard, a tiny crack in the fabric of imagination opens up and a little bit of reality can pour through)
The Austrian government temporarily suspended the Schengen agreement, imposing full border control measures on everyone entering the country, Austrian Chancellor Werner Faymann told the newspaper Oesterreich in an interview.
Everyone who is coming to us would be carefully checked at the border," Fayman told Oesterreich.

Chancellor Faymann said that from now on Austria would "similar to Germany" have a more strict border control and deport people who, lacking the proper refugee identification, out of the country.

"At border control points everyone has to show a valid ID to Austrian authorities," Faymann said, adding that if the EU cannot provide the security at its external borders, countries should start controlling their own national borders, according to the Austrian newspaper.
3. Police conduct massive raids in Düsseldorf's 'Maghreb' neighborhood
Authorities have conducted a massive raid in a Düsseldorf neighborhood, considered a hub for North African gangs. The raid comes soon after around 1,000 men molested and robbed women in Cologne on New Year's Eve.
Nearly 300 police officers rounded up suspected criminals while conducting searches in Düsseldorf, the capital of the German state North Rhine Westphalia, on Saturday evening.

Police looked for suspects in restaurants and eateries in the area around the city's railway station, also known as the "Maghreb" neighborhood due to the high number of North Africans living there. According to a recent police report, around 2,200 suspected thieves from the region currently live in Düsseldorf.
(Nice crisp video for nighttime)
4. This appears to be a march by a German version of the French 'Identitaire' group.
5. EXCLUSIVE: Journalists Attacked In Calais Migrant Camp, Pro-Immigration Activists Urge Them To Remove Evidence From Internet
Two Dutch film makers have been attacked in the infamous Calais Jungle camp by migrants wielding pepper spray and a knife. Members of the Calais Migrant Solidarity group have urged them to remove the clip from the Internet, stating menacingly: "You are not doing yourself a favour by putting it online as I think this is not what you came for to Calais…"

Ms. Engels released the clip, taken while filming her new documentary, "Calais: Welcome to the Jungle," via her YouTube account.
6. Two muslim women (I think, for all I know its Mohamed Jenner) try and sell the facecloth
7. Hungary: Two police officers injured at Kiskunhalas refugee reception centre
(Looking for a Hungarian translator for a related article. Video below)
8. Bill Maher argues with leftists about islam
9. More on the stoning of the transvestites
Thank you Wrath of Khan, Oz-Rita, EL., M., Nash Montana, PePi, and all who sent in materials. 
Here is a wonderful story about a Saudi family that moved to Canada, mostly Ottawa it seems, and made a fortune for themselves in the pharmaceutical industry and branched out into real estate, enriching Canada in many ways.
Also, Obama had a few things to say about how a dog should wear pants. I may have contributed a comment under that probing bit of critical analysis by the NYT.
Also, a day or so ago, we posted an article about a group characterized as a 'far right wing extremist' group, classic CVE in action, of a Finish vigilante group called the Soldiers of Odin. Here is an article that actually lets them describe themselves. They will of course be made illegal because there must now be two sets of laws. One for muslims and one for the indigenous people. Attempts to apply equality to all under the law will be treated as violent extremism and stopped everywhere.