1. Major Anti-Islamisation Protest Planned Following Mass Migrant Rape Scandal
A heavy police presence met a small, spontaneous protest in Cologne last night following the mass sex assault against German women by migrant males on New Year's Eve.
Locals are standing up against the loss of their city to migrant gangs, and the politicians who apparently treat citizens with contempt for opposing the change.

German counter migration movement the Patriotic Europeans Against the Islamisation of the West (PEGIDA) have called a mass protest for this Saturday afternoon at the square outside the railway station where the attacks happened.

Announced within the past few hours, the march is likely to attract thousands, and not just of long-standing PEGIDA members, but also of ordinary Germans and the citizens of Cologne. […]
"For many, the realisation that the German mainstream media and government have been apparently colluding in the cover-up of migrant sexual violence has provided a sudden and rude political awakening.[…]"
2.  German Chancellor Angela Merkel's office sealed off due to 'suspicious package'
(Who else thinks the dangerous package was the book of Basic Law for the Federal Republic of Germany)
Police closed off the main entrance to Chancellor Angela Merkel's office in Berlin on Wednesday after a suspicious object was reported, but they found nothing dangerous.

A sniffer dog alerted officials during a routine check of mail arriving at the chancellery on Wednesday morning, but explosives experts declared it safe later in the day.

Ms Merkel remained in the building in downtown Berlin, which was not evacuated, and chaired a regular Cabinet meeting Wednesday morning.
3. Facebook account belonging to female activist kidnapped and murdered by ISIS was secretly run by the terror group for months after she died so they could trap others
The execution of a female journalist in ISIS's 'capital' Raqqa was kept secret for months so jihadists could use her Facebook account to trap other activists.

Ruqia Hassan Mohammed, 30, was accused of being a spy and murdered by ISIS in September, but her family were only told of her death last week.

It has now emerged that ISIS jihadists hacked her Facebook account, and maintained it for months after her death in a bid to trap other opponents, according local activist group.
4. With no trace of irony, Shiia muslims demonstrate in front of the Saudi embassy in Washington DC on the 5th to protest the execution of a Shiia cleric claiming he had the right of free speech.
5. More than 100 GOP lawmakers call for firing of Mizzou professor who called for 'muscle' to remove student journalist from protest
(Speaking of irony, its funny how fast anti-fa, anti-violence 'feminists' call over strange men to apply force to remove anyone they don't agree with)
A Mizzou professor was taped yelling out loud 'I need some muscle over here' while trying to kick out a student journalist from a protest this past fall.

It emerged this week that over 100 Republican legislators in Missouri have signed a letter calling for the professor in question, Melissa Click, to be fired and her tenure application rejected.

Click appeared in the video taken at the University of Missouri-Columbia in November 2015.

Referring to student journalist Mark Schierbecker, the assistant communications professor was taped saying: 'Who wants to help me get this reporter out of here? I need some muscle over here.'
(Video at site)
6. American video report on the Assaults in Germany NYE. Cologne being only one of several.
(The same fellow has an interesting video about Canadian prime minister, Justin Trudeau)
7. Tommy Robinson: Pegida UK figurehead 'to be charged with assault' days after launch of anti-Islam group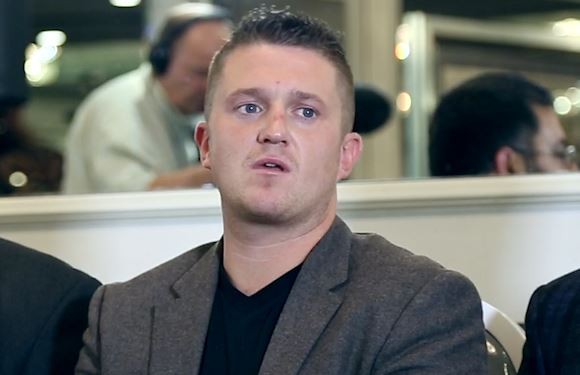 Tommy Robinson says he expects to be charged with common assault in the coming days after claiming to have been told by officers he had to present himself at Luton Police Station. The former leader of the far-right English Defence League (EDL) – who launched the UK branch of European anti-Islam protest group Pegida just days ago – was arrested in August on suspicion of attacking a fellow prison inmate, but had originally been told no further action would be taken.

The alleged assault occurred while Robinson was serving his last days in prison for a 2014 conviction of mortgage fraud. He says he acted in "self-defence" after Muslim inmates at Peterborough prison allegedly attacked him with a cup of boiling water containing sugar.
8. Victims of the Cologne New Year's Eve migrant sex abuse gangs have told of the harrowing attacks they were subjected to this weekend, as it emerges a total of 118 Germans have now come forward to police to report having been assaulted
The men then moved in and, despite their screaming out, began to molest the group of girls. Getting through their thick winter clothes, the girls told the television station about being touched on the legs, back, buttocks, and upper body. She said they protested, but the men didn't appear to understand German. "They were all foreigners," said Michelle.

In tears after their ordeal, the girls later realised after their escape that they had been stripped of their mobile phones, purses, cigarettes, and electronics. They were unable to find a police officer to report the incident to.

German newspaper Bild reports the testimonies of other young victims. Using pseudonyms to protect the idenities of the young women involved, the paper reports the words of 18-year-old Annika who said of her first-ever trip to Cologne: "It was scary. Mainly because a nobody helped. I feel so dirty. So used."

"They all looked foreign. They managed to separate us in the crowd and got close to us… we tried to fight off their hands…. everywhere I looked I saw girls crying and being comforted," she said. Annika also added that her friends' purses had all been rifled during the ordeal; and when she found a police officer later to report the assault, he just told her to go to a police station.
9. Germany: Scuffles break out as protesters try to blockade AfD conference
Around 300 protesters attempted to block the entrance to an Alternative fur Deutschland (AfD; Alternative for Germany) Epiphany conference meeting, in Stuttgart on Wednesday. Minor scuffles broke out between police officers and activists outside the venue, leading to several arrests
10. Greece: Shia protesters march on Saudi embassy to decry Al-Nimr execution
Thank you Buck, M., Richard, Nash Montana and a host of others. Its very busy at this desk this week. The pace of change is dizzying. 
Mosques are dangerous in more ways than just the beachhead aspect
Snow falls off mosque roof severely injuring people in Turkey