1. Bulgarians celebrate their liberation from muslim slavers. 138th anniversary of freedom
Hundreds of soldiers, commemorators, and protesters gathered together in Sofia, Monday, to mark the 138th anniversary of Bulgaria's independence from the Turkish Ottoman Empire. Politicians, priests, and locals participated in the annual march and prayer at the Saint Nedelya Church.
2. Islamic State Video: Is this the mother of IS Moe? Jihadi Jr?
Is this the mother of the ISIS child soldier? And is the toddler in the background of this footage the so-called 'Jihadi Junior'?

A child in an IS video has a striking resemblance to a British woman in Syria's son – featured in footage obtained by Channel 4 News and first broadcast in 2013.

An ISIS video released this weekend purports to show the execution of five people that I.S. militants claim are "British spies".

At the end of the film that is currently being scrutinized by British security services, a young child speaking in English threatens "the unbelievers".

The child is being widely reported to bear a striking resemblance to<strong> the son of British woman Grace 'Khadijah' Dare, it is being reported. She is originally from Lewisham in London and in the footage refers to herself as 'Maryam'.</strong>

It's not possible to immediately verify whether the two children are the same person, but they appear bear a striking physical resemblance, and they would now be roughly the same age, it is being reported.

Ms Dare, and her husband Abu Bakr, were featured in footage exclusively obtained by Channel 4 News in 2013 from the film-maker Bilal Abdul Kareem, an American Muslim convert who's living among western jihadi fighters and their families inside Syria, documenting their lives.

In the footage from Idlib province, Ms Dare shoots a Kalashnikov for the camera, and then fires off a revolver.

In the footage she says that she would like to fight, to become what she calls a martyr.
3. Woman accused of adultery and prostitution is buried up to her neck and stoned to death by Al-Qaeda in Yemen
A woman has been stoned to death in south-east Yemen after being accused of adultery and prostitution by an Al-Qaeda Sharia court.

The married woman was reportedly killed in a public execution in the city of Al Mukalla, which has been under the control of Al-Qaeda in the Arabian Peninsula (AQAP) since April last year.

Al-Qaeda militants 'placed the woman in a hole in the middle of the courtyard of a military building and stoned her to death in the presence of dozens of residents', according to an eyewitness report.
4. 'It's definitely him': Grandfather confirms 'Jihadi Junior' filmed in latest sick ISIS execution video IS six-year-old son of British female extremist who fled Lewisham for Syria
(So the most important thing to do here is, continue to deny the source of the problem, cover for the ideology that drives the enemy and see if we can beat allied losses from WW1 by endlessly sending them out of the trenches towards enemy machine guns)
The child soldier who has threatened the UK with new atrocities in a chilling ISIS execution video is the son of a notorious jihadi bride from London, according to her own father.

The young boy, dressed in military fatigues and a black bandanna bearing the white mark of ISIS, declares that 'We will kill kuffar [non believers]' in depraved new footage which sees five shackled men in orange jumpsuits brutally murdered by a masked executioner.

It has been confirmed that the child, who is just six-years-old, is the young son of Grace 'Khadijah' Dare, who grew up in Lewisham, south London, to Nigerian Christian parents and converted to Islam as a teenager.

Her father Henry Dare, also known as Sunday, has said that his grandson is 'definitely' the boy in the ISIS video.
5. Rebel Media video on Erdogan's recent statement of his ambitions to change Turkey's governmental system into something more resembling Hitler's Germany.
6. REVEALED: 1,000+ Migrants Brawl, Rape, Sexually Assault, And Steal At ONE German Train Station On New Year's Eve
(Autostart noisy video at link identical to the one below)
Just five arrests have been made by German police after central Cologne was transformed into a war-zone on New Year's Eve, as an estimated 1,000 migrants celebrated by launching fireworks into crowds and sexually assaulting German women caught up in the chaos.

The sordid details of the horrifying sexual assaults and attacks made against ordinary Germans by large gangs of migrants in Cologne in the early hours of Friday morning are just now emerging.

Far from a small number of sex assaults reported to have been made by German speaking men in initial reports on New Year's Day, dozens of women are now reported to have been molested and "raped", while dozens more men have been assaulted and robbed.
(Funny how this rather giant event seems not to be in any papers anywhere. Canada, which is slowly importing 25,000 of these exact same people, don't seem to have this story anywhere at all)
7. Charlie Hebdo anniversary edition goes to print
(From what I have read, and it hasn't been very much actually, it appears that this edition is a bit of an exercise in moral relativism, seeming to blame religion for the attack as opposed to who actually did it and why. I hope to be corrected on this)
8. Sweden imposes ID checks at Danish border to stem migrant flow
9. PEGIDA launches in Britain with vow to fight 'Islamification of the West'
(The Express must have gone to some lengths to find an unflattering photo of TR for this piece)
The UK branch of the far right German campaign group PEGIDA will mark its introduction into the political sphere with a march throughout Newcastle later this month.

The new group, which has been set up by former English Defence League (EDL) leader Tommy Robinson, announced the planned protest with a message saying: "Let's show the Islamists we show no fear."

It will be followed in February by another event, billed as a "peaceful silent walk" to take place in Birmingham.The walk is being organised in conjunction with PEGIDA branches across Europe and is centred on the theme "Save Our Country, Save Our Culture, Save Our Future".
10. ISIS throw 15-year-old boy off a roof for being gay… but the terror chief who raped him is let off 
A 15-year-old boy was thrown off a roof to his death by ISIS militants after being accused of being homosexual. The ISIS chief who raped him, Abu Zaid al-Jazrawi (believed to be pictured), was spared a death sentence
A teenage boy has reportedly been thrown off a roof by ISIS militants in Syria after he was accused of being homosexual, but the Islamist who raped him was spared a death sentence.

The 15-year-old boy was pushed to his death off a high building in Deir ezzor province in Syria.

The ISIS commander who raped him is believed to be Abu Zaid al-Jazrawi, who previously appeared in a video showing child soldiers executing prisoners in a sickening twist on the game of hide and seek.

Al-Jazrawi was reportedly flogged and sent to fight on the frontline in Iraq as punishment.
(This auxiliary link on the story is interesting because on the one hand, it points out the real problem if this type of event, the lack of any kind of due process etc., while also trying to exonerate islam by claiming it never has happened before in history. Actually it happens every day in most islamic states. They just don't think of it as news. Afghanistan kills boys and men for being gay without a second thought)
11. Village's Muslim 'angel' is vandalised and taken down after threats that the burqa-clad statue was not in keeping with Christmas
A controversial Muslim 'angel' installed as part of a community event had to be pulled down after it was vandalised following threats the burqa-clad statue was not in keeping with Christmas.
Artist Penelope Walford used a 6ft-tall mannequin and a curtain to make the controversial angel, which was dressed in a burqa, as part of the St Helens Village of Angels event on the Isle of Wight.
She was inspired by her fear of rising Islamophobia after the Paris terror attacks and the UK's decision for airstrikes against ISIS.
However, just a few days after displaying her work as part of the community event, the burqa was ripped off the statue and the artwork was taken down.
Miss Walford, of Bembridge, Isle of Wight, said: 'I decided to make her after the Paris terror attacks and the decision for us to bomb ISIS.
(Miss Walford may want to try making one of Hitler as a ballerina, Mao as a mime at a department store and Ghengis Khan as a doctor-without-borders to help drive civilization into a total tail spin)
12. Czech leader claims Muslim Brotherhood behind migrant wave
 (An effort will be made to find a video of this speech and translate/title. Perhaps the US congress and Canadian government can get a hint from it)
Czech President Milos Zeman, known for his anti-migrant comments, on Jan. 4 claimed the current wave of more than a million newcomers to Europe was the work of Egypt's Muslim Brotherhood.

"I believe this invasion is being organised by the Muslim Brotherhood, using financial means from a number of states," the outspoken  71-year-old leftwinger told the public Czech Radio.

Zeman said he had received the information regarding the Muslim Brotherhood — an opposition force in Egypt where it has been outlawed as a terrorist organisation — from two sources, "both Muslims and leading Arab politicians".

He said the record migrant crisis is due to Europe's obliging stance towards migrants on the one hand, and to "the efforts of the Brotherhood to meet its goals" on the other.
13. Greek Minister: Now An Influx of Algerian And Moroccan Migrants Is Coming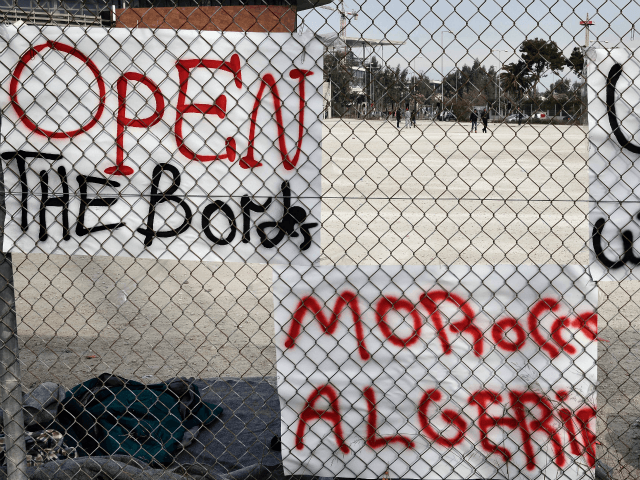 Greece's Commissioner for Migrant Ioannis Mouzalas has warned of a new influx of Algerian and Moroccan migrants as the continent's immigration crisis continues to worsen.

Speaking to the country's Eleftheros Typos newspaper, Mr. Mouzalas, formerly an obstetrician-gynecologist warned: "We have a new phenomenon: Moroccans and Algerians… coming in large numbers".

Greece is one of the main countries to bear the brunt of the migrant crisis, with its shores, as well as those of Cyprus and Italy, being amongst the key routes into the continent.

He said that the new migrants, who are unlikely to qualify for asylum or refugee status, would have to be returned to their home countries.
Thank you M., Buck., Wrath of Khan, Daffers, and all who sent in materials. It appears to be quite a year already and its only 4 days old.
A few ongoing stories below:
India: Shiia muslims protest against the Saudi execution of one of their own
Saudi Arabia defends its decision to execute the Shiia cleric under the strictest application of the sharia
*This interview has a simulcast translation which was provided by Saudi TV* In a rare interview with the BBC, the Saudi Arabian government has defended its decision to execute a leading Shia cleric on Saturday. His death sparked angry protests in Iran and other countries including Pakistan and Bahrain.
Diplomatic relations between Saudi Arabia and Iran have now been severed.
Saudi justice ministry spokesman Sheikh Mansour Al-Ghefary spoke to the BBC's chief international correspondent Lyse Doucet and said the cleric was executed because he was guilty of violent crimes.*
Donald Trump unveils potential campaign advert