1. Ten examples of Koranic incitement to violence: Rebel media, Robert Spencer

2. RT video on Corsica with spin on events that needs addressing:
3. CAIR Surrenders: No Appeal of Order Dismissing "Muslim Free Zone" Lawsuit
Today, a Florida federal court order dismissing a lawsuit filed by CAIR Florida against our client, the Florida Gun Supply, became final and is no longer appealable because CAIR failed to file its notice of appeal by yesterday's deadline.

In the lawsuit, CAIR alleged that Florida Gun Supply's refusal to equip Islamic terrorists is religious discrimination in violation of Title II of the Civil Rights Act.

On July 29th, CAIR Florida filed the lawsuit against Florida Gun Supply because its owner declared in a YouTube video that his retail gun store is a "Muslim Free Zone" following the Chattanooga, Tennessee terrorist attack in which five service members were gunned down.

The owner of the gun store, Andy Hallinan, refuses to equip the next San Bernardino-type terrorist with dangerous firearms.  Consequently, pursuant to its official, written policy, Florida Gun Supply will not serve "[a]nyone who is either directly or indirectly associated with terrorism in any way . . ."
4. A Danish paper has revealed that a secret plan to deploy a large number of security personnel to the Danish-German border right after the New Year is in effect. The cause has to do with a new Swedish policy to heighten inspection of documents at their own border. This is derived from reading a google-translate, but hopefully a quality human-translation is underway.
The largest mobilization in recent times by Danish police are currently being prepared for a massive control of all border crossings throughout Denmark.

According to Ekstra Bladet information, the majority of police operational strength involved in overseeing that supposedly can begin Monday, January 4th.

An anonymous police officer said today Tuesday to Ekstra Bladet that he has been informed that more than half of the operational strength of 6,000 man is in play.

Since before Christmas, police have been on so-called seven days notice, which means that there is a week of preparation time before the demand for effective control.

The reason is the Swedish government's decision to introduce identity checks at the border from 4 January.
5. Germany's costly migrant spending plan
6. USA: Mosque Linked To Muslim Brotherhood Has Received Millions In Federal Grants
A Kansas City mosque owned by an Islamic umbrella organization with deep ties to the U.S. arm of the Muslim Brotherhood has received millions of dollars in federal grants over the past several years, according to a federal spending database.

The Islamic Center of Greater Kansas City has received $2,739,891 from the Department of Agriculture since 2010, a Daily Caller analysis has found. The money largely went to the mosque's Crescent Clinic to provide services through the Women, Infant and Children nutrition program, known as WIC. […]

Property records show the mosque is owned by the North American Islamic Trust (NAIT), which acts as a financial holding company for Islamic organizations. It offers sharia-compliant financial products to Muslim investors, operates Islamic schools and owns more than 300 other mosques throughout the U.S.

Founded in 1973 as an offshoot of the Muslim Brotherhood-backed Muslim Students Association, NAIT's most controversial connection is to the 2007 and 2008 Holy Land Foundation terror financing cases. Along with other Muslim Brotherhood-linked organizations like the Islamic Society of North America (ISNA) and the Council on American-Islamic Relations (CAIR), NAIT was named a co-conspirator in the federal case but was not indicted.
7. Bulgaria: Police arrest more than 100 refugees near Pazardjik
8. World's First Lesbian Bishop Calls for Church to Remove Crosses, to Install Muslim Prayer Space
(What a great idea! A lesbian Bishop! That will show how progressive the Church is!)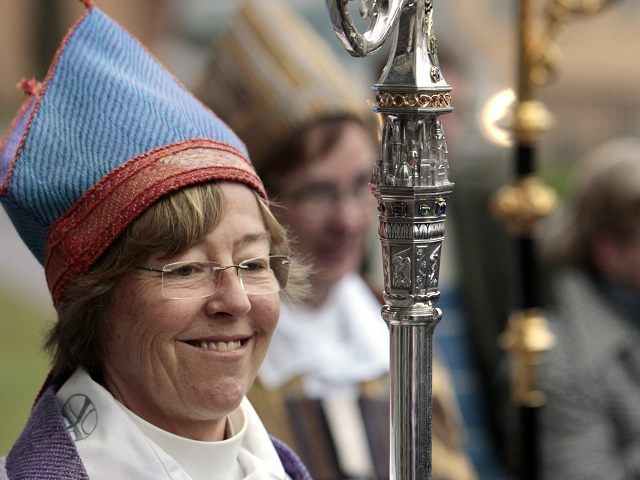 The Bishop of Stockholm has proposed a church in her diocese remove all signs of the cross and put down markings showing the direction to Mecca for the benefit of Muslim worshippers.

Eva Brunne, who was made the world's first openly lesbian bishop by the church of Sweden in 2009, and has a young son with her wife and fellow lesbian priest Gunilla Linden, made the suggestion to make those of other faiths more welcome.

The church targeted is the Seamen's mission church in Stockholm's eastern dockyards. The Bishop held a meeting there this year and challenged the priest to explain what he'd do if a ship's crew came into port who weren't Christian but wanted to pray.

Calling Muslim guests to the church "angels", the Bishop later took to her official blog to explain that removing Christian symbols from the church and preparing the building for Muslim prayer doesn't make a priest any less a defender of the faith. Rather, to do any less would make one "stingy towards people of other faiths".
9. Japan Only Accepted 11 Syrian Refugees Out of 7,500 Last Year
10. A bad news clip on the events in Corsica which have resulted in 2 arrests. At least some of the report does deal with the Islamic events against greater society and does discuss the need for 'better integration'but then go on to make it about evil white people and claim the cameras caught people making Nazi salutes while never actually showing anything remotely like a Nazi salute but do show one guy pumping his arm frantically while chanting. This is pretty feeble propaganda making and certainly not reporting. It should also be noted that the flag with the decapitated Moore head is the actual flag of Corsica and for a very good reason. The various news videos focus on it like it was a KKK banner.
11. Police Arrest Suspect in Northeast Philadelphia Propane Tank Thefts
(No name given however. Two videos at site)
Police have arrested a suspect wanted in connection with the thefts of several dozen industrial propane tanks from two locations in Northeast Philadelphia.

Police say their investigation led them to a lot on the 2600 block of Wheatsheaf Lane where they found two vehicles as well as several tanks. One suspect in the thefts is currently in custody. Police have not yet released his identity however.
(The article goes on to say they have identified a second suspect in the theft. So they may not have released the name of the one to avoid spooking the second and fair enough. But we better know a name by the end of the week I would think)
Thank you Nicolai Sennels, M., ML., PePi, and many more. There is a good chance that my internet will be at full health by tomorrow at some point and we can expect regular posting. Lets just home in the meantime this wonderful trend of not letting jihadis attack us all over the place continues with frequent arrests and increased situational awareness. What is that old joke?
'non carborundum Illigitemi  est' I think it went. 'Don't let the b*stards get you down' for the new year.
Here is An Andrew Bostom article as it appears in Breitbart: Jew hatred, fundamental to Islam
And once a month, I sit in with some great and dedicated counter-jihad people on their CJ blog talk radio program for an hour or so. I was a bit late today but made it in around 40 mins into the show and blew off some steam over a few issues. For anyone who would like to listen, this link should work, but my internet isn't healthy enough to really check properly.