I am still dealing with a peculiar problem with connectivity here which has slowed down production of certain materials a great deal. When and if it gets fixed there should be a decent backlog of great materials. Meanwhile, there is still news.
1. Turkey announces troop withdrawal from Iraq after Obama appeal: ministry
Ankara (AFP) – Turkey on Saturday said it would "continue" to pull its troops out of northern Iraq after US President Barack Obama urged President Recep Tayyip Erdogan to do so in order to de-escalate tensions with Baghdad over the deployment.

"Taking into account the sensitivities on the Iraqi side… Turkey will continue the process it has already begun to withdraw its troops stationed in Mosul province," the foreign ministry said in a statement.

The Iraqi government earlier this week demanded the "complete withdrawal" of Turkish troops from its territory after Turkey deployed soldiers and tanks to a military camp near the city of Mosul.
2. So the US is both not trying to do a regime change and is trying to do a regime change. Schrodinger's foreign policy.
3. Many news sites reported on how a large group of Canadians sang a song of welcome to the newest tranche of Syrian migrants to come to Canada within the past 24 hours. Here is a link to the actual lyrics of the song that inspired the composition they sang in English and in Arabic.
Here is the actual song. Notice it is A capella. Quite revealing in its own way as Islam forbids music other than for promoting islam and jihad.
Here is a link to the Canadian version of the song inspired by the original above.
Remember, the song was inspired by an Islamic song which is about the conquest of Yathrib by Mohamed and his army.
4. Protestors in the Czech Republic on the issue of Islam marching into their country and culture and the elites who seem to encourage it
5. The £100m ghost camp for refugees that YOU pay for: Built with UK foreign aid billions for 130,000 fleeing war in Syria, but so grim only 15,000 stay
The huge Azraq refugee camp appears over the horizon like an alien version of a music festival. Thousands of white metal huts are scattered around the rocky landscape and ringed by barbed-wire fences. Closer up, near the guarded entrance, a huge sign reads 'Thank You' to Britain, the European Union and ten other nations for providing the £100 million it cost to build and run the place.

This desolate encampment is in the Jordanian desert, 55 miles from the Syrian border. It opened in April last year, intended to be the world's second-biggest and best refugee camp – an instant city designed to house up to 130,000 Syrians fleeing their nation's devastating civil war.

In Britain, Ministers assured Parliament that this camp shows taxpayers should have no concerns over Britain's response to Europe's worst refugee crisis since the Second World War. Yet their complacent reassurances are wrong. For although millions of Syrians have been displaced by the cruellest of conflicts, the showcase unit holds about 15,000 people – a fraction of the number it was designed to take.
6. Propaganda video about an alleged Israeli airstrike on a Hizb'allah base in Samir Kuntar in Damascus. Link to Arabic article here. Video below
7. Here is a link to a tweet from the Israeli PM, Netanyahu. He requests like minded people retweet it.
8. China accuses US of serious provocation by flying bombers
BEIJING (AP) — China's Defense Ministry said Saturday that the U.S. committed "a serious military provocation" by recently flying two Air Force B-52 bombers over a Chinese-controlled man-made island in the South China Sea, a mission that the U.S. appeared to indicate had strayed off course.

The Defense Ministry accused the U.S. of deliberately raising tensions in the disputed region, where China has been aggressively asserting its claims to virtually all islands, reefs and their surrounding seas. It also reiterated that it would do whatever is necessary to protect China's sovereignty.

As is China's usual practice, the Foreign Ministry took a more diplomatic tone, saying the situation was stable.

The U.S. takes no official stance on sovereignty claims in the strategically crucial South China Sea, through which $5 trillion in international trade passes each year. However, Washington insists on freedom of navigation and maintains that China's seven newly created islands do not enjoy traditional rights, including a 12-nautical-mile (22-kilometer) territorial limit.
9. Best campaign commercial of all time? You decide
10. I do not like to admit that this cartoon is correct. But it is correct.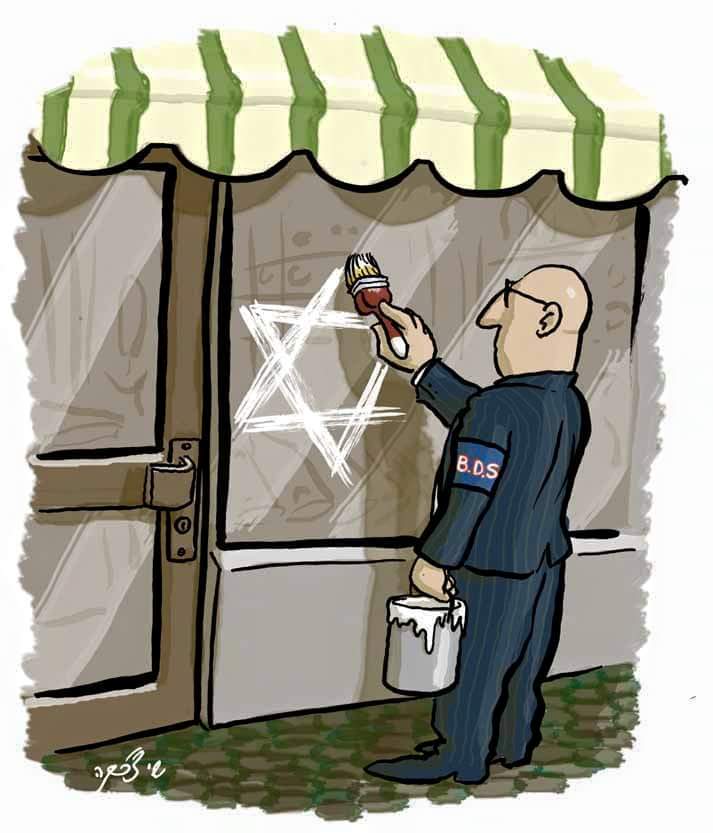 The fact is, everyone who claims to not be antisemitic but against Israeli policy is utterly oblivious to factual and demonstrable examples of the issue they claim to be opposed to but 100X worse elsewhere. The response by those who have one is, 'we have to start somewhere'. This is a lie. They should start where the issue is the worst. If they oppose slavery pick any Islamic nation and start by demanding they free their slaves, whatever name they use there. If they oppose apartheid, then go to Saudi Arabia and demand they give non-muslims equal rights and allow non-muslims into the cities of Meca and Medina. If they oppose walls that separate people, then talk to the Egyptians and Jordanians who built walls against the very same people for the very same reasons the Israeli's built theirs. This list of phony justifications for BDS could be quite lengthy but it is more than phoney. its just the new face of antisemitism. Because frankly that is the only variable that separates Israel from the places that do it all for real, and do it with much greater frequency and amplitude,
Thank you CB Sashenka, M., Wrath of Khan, Kathy, Maria J., and all who contributed links today. Its endless isn't it? Damn.