1. NCCM ordered to provide all documents related to Hamas in its lawsuit against Stephen Harper
(Just being voted out of office isn't enough for you if you stood against islamic manifest destiny)
On May 26, 2014 the National Council of Canadian Muslims (NCCM) has commenced a lawsuit against Stephen Harper, then Prime Minister of Canada, Jason MacDonald, then his Director of Communications, and the Crown for defamation in relation to a media statement made by Mr. MacDonald about the NCCM on January 16, 2014 alleging that NCCM has ties to Hamas.

On December 2, 2015, Judge Liza Sheard ruled in favour of the motion brought by the defendants seeking an order for the plaintiff to deliver a further and better affidavit of documents.

The documents the NCCM is ordered to provide relate to its relationship and dealings with Council on American Islamic Relations (CAIR), and to decisions, actions or communications by or on behalf of NCCM or its predecessor CAIR-CAN, made or taken by its director and board members relating in any way to any of the organizations identified by the defendants as having ties to Hamas including CAIR, the Muslim Association of Canada, the Jerusalem Fund for Human Services and IRFAN-Canada.
2. ISIS army of scientists set to wage chemical and biological war on West: Experts warn weapons of mass destruction 'have been carried undetected' into European Union
ISIS has recruited experts with chemistry, physics and computer science degrees to wage war with weapons of mass destruction against the West, a shocking European Parliament report has claimed.

The terror organisation, according to the briefing document, 'may be planning to try to use internationally banned weapons of mass destruction in future attacks'.

The document, which was compiled in the aftermath of the deadly attacks on Paris claimed that ISIS has already smuggled WMD material into Europe.
British police forces have already been training to deal with a potential chemical or biological warfare attack
3. ACLU board member suggests shooting Trump supporters – because Trump is a 'hate-speech felon' *UPDATE*
4. Another massive display of resistance by the Polish against the increasingly obvious leftist process of deconstruction of classical civilization world wide. Huge turn out, clear speeches.
5. Here is a comment I think that bears reading along with the links.
(The comment and the links therein if considered along with the reports of the dozens of stolen propane tanks and mass cell phone purchases may give a more complete picture or they may not. The geography is correct though)
6. Migrants Gang Rape Women, Lefties Protest In Support Of Migrants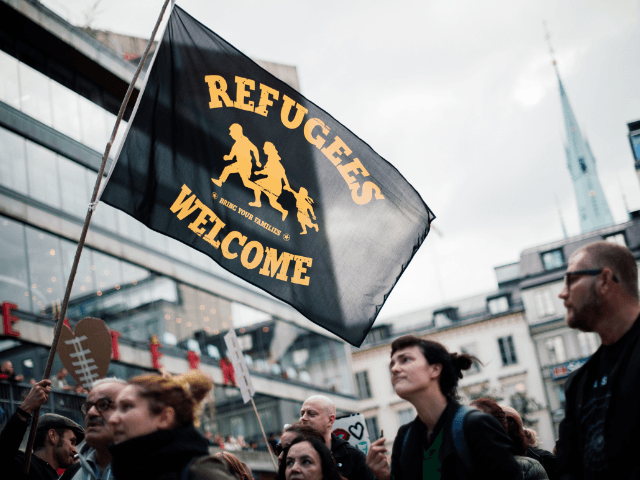 After an Algerian and a Syrian living in the same migrant centre were jailed for raping a Swedish women multiple times, concerned locals held an anti mass-migration protest. Only then did an infuriated local social justice group hold their own demonstration… in support of more migration.

The horrific crimes occurred near the Blick Mälaren accommodation, a converted hotel, in the small town on Strängnäs near Stockholm – Just one of hundreds of such centres popping up across Sweden, which has absorbed nearly two per cent of it's population in migrants this year alone, causing the famously "open" nation to close it's borders in November.
7. California man accused of mosque-B-Q
8. Suburban Dallas mosque draws protest, counter-protest demonstrations
RICHARDSON, Texas –  About 20 people, half of them armed with rifles, rallied outside a suburban Dallas mosque against Islamist violence and Syrian refugee resettlement.

The demonstration organized by the Bureau of American-Islamic Relations drew a counter-demonstration by about 50 people. An Associated Press photographer reported that while there were frequent discussions between both sides, they were peaceful and intervention by the dozen police officers wasn't needed.

The protesting group included members of the "Three Percenters" who consider themselves patriots protecting the homeland from Muslims. They previously organized armed protests outside a mosque in Irving, another Dallas suburb.
9. ISIS draws up MP HIT LIST after giving go ahead for airstrikes in Syria
Serving MPs have been told to increase security in their homes and constituencies amid fears they and their staff could be singled out for attack.

It is known Islamic State (IS) has a political assassination unit aimed at Government officials and the Syrian bombing campaign has moved the spotlight on to the UK.

With 300 jihadis returning to the UK and now free on the streets, security chiefs have warned of a direct threat.
10.  Shiites: Nigerian Soldiers Kill 12, Besiege Islamic Movement
Soldiers besieging the home of the leader of a Shiite movement accused of trying to assassinate Nigeria's army chief have shot and killed at least 12 people, the Islamic group said early Sunday.

About 30 people have been wounded in the ongoing attack that began late Saturday in the city of Zaria in northern Nigeria and continued into early Sunday, Zeenah Ibrahim, the wife of the group's leader, told The Associated Press in a phone call interrupted by the sounds of gunfire.

Army spokesman Col. Sani Usman said the Shiites on Saturday afternoon attacked the convoy of Gen. Tukur Buratai.

"The sect numbering hundreds, carrying dangerous weapons, barricaded the roads with bonfires, heavy stones and tires," Usman said in a statement. "They refused all entreaties to disperse and then started firing and pelting the convoy with dangerous objects … in a deliberate attempt to assassinate" the army chief.
11. CAIR does a stunning exorcize in dishonesty in this video of inverted victimhood
12. Tube attack hero who shouted 'You ain't no Muslim bruv' reveals he is NOT a Muslim and now fears ISIS revenge attacks
The man who shouted at a suspected terrorist during the Leytonstone tube station stabbing, coining a phrase that later went viral, has told how he just had to say what he felt at the time.

Named only as John, the bystander was heard in video footage of the incident in east London last weekend, shouting 'You ain't no Muslim bruv' as an attacker wielding a knife stabbed a man.

The phrase ended up trending on Twitter and Prime Minister David Cameron hailed it as having 'said it all much better than I could have done'.

John has revealed that he is not Muslim and now fears ISIS revenge attacks on the streets of London, he told The Sunday Times.

'I saw the guy,' he said. 'I was like, well you ain't a Muslim … That's my views, and I had to let him know that, because he looked to be a terrorist. I don't believe in all that.'
(I am personally grateful that the Daily Mail actually understood the significance of the fact that the man was merely an echo chamber of the narrative and not in fact a muslim calling'takfiri' on a 'misunderstander of islam to report this post hoc fact. Something no one bothered to do at the time. The soviet union is doing fine it just moved West for the next century)
Thank you Shabnam A., Richard, M., WTD., PP., Oz-Rita, PP., and many more. It is possible I lost track of people for a few reasons. One is I have an organizational deficit and two is post that get built over a long period of time tend to be harder to keep track of. But thank you all.
I would ask here a strange thing of you all, and seemingly a mutually exclusive set of things as well. The first is to understand that one of the consequences of this period and similar periods of history is that ideas can be bigger than the bonds between family or friends. This is a nauseating thought quite literally. But there is no way around it and neither should there. For clarity, the Nazi example works. If the Nazis were invading and some of the family felt that they are who they say they are and the other half believed N.A.Z.I.T.V. and the New York times, there can be a rift in that bond. Acceptance of this may help keep the vitriol down and may then ironically help save the long term bond threatened by this difference of opinion.
The second is that we do not let the actions of muslims threatening the peace of the world at this time, dampen our good spirits for these holidays for Christians and Jews and all who hold the solstice period as a time of love, family, feasting friends. In fact perhaps we can instead look at the backdrop of the knowledge of what Islam would force us to live under and use it like the Jewish ritual of having the child ask questions on why the self deprivation on one night. That is, we can look at what we really did build for ourselves and what our ancestors sacrificed to build for us, and realize what kind of materials they had to work with. That this paradise we have and are losing fast perhaps is amazing. A miracle compared to what most of the world likely was for so long and for how long it was like that. Perhaps a certain amount of joy and deeply held gratitude for what we still have and how we got it can sustain us. And perhaps that is why the leftists with their pernicious weapons of political correctness are working three shifts to take it away from us. If you feel bad about what you have and how it came to be, its very easy to take away.
More to come.