1. Looks like one European mosque managed to make themselves the victim without doing any actual damage to themselves, successfully deflecting from the Paris attacks
(As no one is sick and nothing has been said about the substance I will assume my analysis is correct for the moment)
2. EXCLUSIVE: Calais Trucker's Close Brush With Death as Migrants Hurl WOODEN STAKE Through Cab Window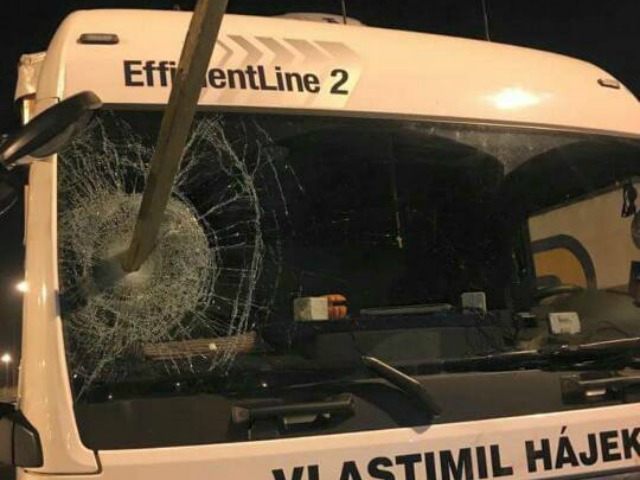 (I tried for a couple of minutes to come up with a Van Helsing joke and gave up.
3. France's National Front leader calls Canada's refugee plan 'madness'
Marine Le Pen, the controversial leader of France's far-right National Front, is scoffing at Canada's plan to welcome 25,000 Syrian refugees with open arms, calling it "madness."

"There. I've said it. Madness," she said in an interview with the fifth estate. "There are other ways to do it," she went on, adding that the "danger is real — false passports.

"A real passport given to Islamic fundamentalist in the influx of immigrants to enter the country with the intent to commit terrorist attacks. It's a danger. And that's what happened in Paris," she claimed.
4.  "No Christians or Persecuted Minorities Allowed"
Standing before the cameras in Turkey, President Obama found his safe place to indict half his countrymen for raising the issue of religion in their concern over his plan to open America's gates to tens of thousands of Muslim "refugees" from Syria. Subjecting refugees to a religious test runs counter to American values, said Mr. Obama.

The Harvard Law School graduate got it wrong, again. As Andrew McCarthy notes, the immigration law explicitly requires religious considerations. How could it do otherwise? Religion is a prime reason why people are persecuted and expelled from their homelands.
(Thanks to a number of readers, we have a working link for this story, the original link I received, had been removed)
5. Terror alert after Arabic graffiti is found daubed on fuel tank panels of easyJet planes at French airports weeks after Russian jet was blown up
EasyJet staff are on high alert after Arabic graffiti was found daubed next to fuel tanks on four jets parked at French airports.

Airline workers have been warned to take extra precautions around Europe after the messages were found on supposedly secure parts of the planes.

The finds, made at different French locations within the past week, have sparked fears that something more dangerous than writing could be planted on a plane in future.
Are Muslims who live in Canada living in a state of war with their host country?  Should they see other Canadians as the enemy?
The Ottawa Public Library (St. Laurent Branch) is currently holding books by Mohamed el-Ghazali, one of the most extreme of Islamcist writers who preaches violence and hate towards non-Muslims and Muslims who do not live according to his extremist view of Islam.
One of the books has the title "One Hundred Questions about Islam."  The book has several insights such as:
 If you are a Muslim living in a non-Muslim country, then you are in a state of war against your host country.
 If you are a Muslim living in a non-Muslim country, then you are living with the enemy.
 Only a caliphate is an acceptable form of government.
 If you kill the takfir (non-Muslim/apostate) then you will go to paradise.
 Women cannot work.  Nor can they leave the home without permission.
 You must kill those Muslims who leave the faith.
 Christians have no rights and cannot be allowed to construct churches etc.
7. Germany: Refugees protest poor living conditions at Lutzow camp
Thank you M., Wrath of Khan, PP., Buck, Shabnam, CB Sashenka, and many more. Today is gonna be an interesting day. The post up next is quite interesting at a few levels. A video out of Russia about Turkish-Islamic State relations. Its a little chaotic, even more than usual today so please be kind if I miss names or there are some aesthetic or spelling errors. Trying to get the content out at expense of form today.