1. The Crushing mass of 3rd world migrants, refusing asylum in one Euro nation, in order to get to Sweden or Germany
(Not the behaviour of a desperate people is it?)
2. Croatia: Thousands of refugees arrive at winter camp in Slavonski Brod
3. Iraqi immigrant is finally jailed after 14 YEARS for sex attack on woman in a park just days after he arrived in the UK
An Iraqi immigrant who sexually assaulted a woman just days after arriving in the UK has been jailed 14 years later.

A jury took just minutes to convict Baktiar Mahmoud of the sickening assault which took place in Derby in 2001.

The Iraqi Kurd was finally snared 14 years later thanks to dogged police work after he was arrested for an unrelated offence earlier this year and DNA matches were made.

Now officers are circulating the 40 year-old's details to see if he is responsible for any other attacks across the UK.

Mahmoud was jailed for nine years for the attack near Markeaton Park which led to major manhunt.
(The 4 paragraph article is just a verbose version of the headline above. No description or name is given, meaning the perp is likely a black muslim. As a rule, white Christian violent attackers are outed immediately as representing white Christians and their photo is everywhere.)
An off-duty Hatzolah volunteer ambulance worker was stabbed in Crown Heights, Brooklyn on Tuesday, Nov. 3. (Credit: xSternal)
(In this article about a conspicuously Jewish man attacked with a knife in NYC, there is also no information whatsoever about the attacker. Not even if he is in custody or at large. I think the Jewish term is, 'bupkis')
6. Man, 24, charged with series of sexual assaults on young women across south London
A 24-year-old man has today been charged with a string of sexual assaults on young women after nine attacks in 22 days in south London.

Mehdi Midani, of no fixed abode, will appear at Camberwell Green Magistrates' Court this morning.

Midani was arrested on Monday night by detectives investigating nine 'linked' sex attacks within a 1.5mile radius in the Clapham and Brixton Hill areas of London in the past month.

Scotland Yard said today they have now charged him with six counts of sexual assault and two counts of exposure.
(Photo of this muslim raping a woman on her doorstep)
7.. 'They'll all be living on €500-a-month benefits': Tensions rise in German village where migrants will soon outnumber locals seven to one – as first batch of arrivals moan, 'There's no PlayStation, it's boring'
A Neo-Nazi official has warned crime will rocket with the influx of migrants to a tiny German village where the population will be outnumbered by seven to one by the arrival of 750 refugees.

Tension is rising in Sumte, in eastern Germany, where the 102 villagers are bracing themselves for numbers to swell by 700 per cent in the next few days.

The first wave of 100 migrants arrived under the cover of darkness yesterday evening with more expected to 'overwhelm' the village in the coming days.
A man accused of launching a Lee Rigby-style execution on Remembrance Day has said he was only buying a kitchen knife as a gift for his mother.
Giving evidence for the first time, Nadir Syed denied that he had adopted the online nickname 'John' in tribute to the ISIS executioner 'Jihadi John.'
He told the jury at Woolwich Crown Court that he had taken to using the name after John Rambo, the character played by Sylvester Stallone, who he described as a 'guy deployed by the US army to different countries.'
Syed, his cousin Yousef Syed, and Hasib Hamayoon are said to have planned an attack in November last year after listening to a 'chilling' ISIS fatwa.
Nadir and Hamayoon allegedly bought 11in chef's knives in order to prepare for the attack and posted a series of comments and images of beheadings on an encrypted chat forum.
Nadir said he first became interested in the Victorinox cooking knives when his grandmother was away and he had to cook for himself.
(I wonder how long he has been planning to use that particular defense)
9. Holidays AREN'T coming! Coca-Cola Christmas truck is 'not welcome' in Leicester say town leaders who fear it is 'the wrong thing' for the city's children 
(The Daily Mail article doesn't really say much about this. But one of our most observant tipsters send this in because the particular politician, a certain Keith Vas, a Labour MP who is orchestrating this, is known for being a one man welcoming committee for muslim illegals. Looking for links on him now like this one or this one and therefore may have motives which could be more anti-Christmas than they are healthy drinks for kids)
10. Migrants Riot At Belgian Asylum Reception Centre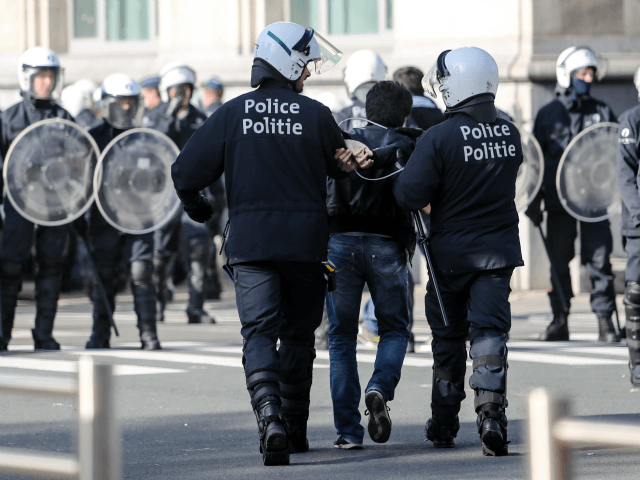 Up to 70 migrants were involved in a violent clash at an asylum reception centre in Belgium yesterday. The was the latest in a series of such incidents which have taken place across Europe during the ongoing migrant crisis.

The centre, based in Arendonk in the Belgian province of Antwerp, is a temporary processing unit for those applying for asylum in Belgium. The centre's director, Joan Ramakers, said the cause of the fracas was trivial but once it began it snowballed rapidly and police were needed to restore order.

Although there were no serious injuries on this occasion, a staff member was taken to hospital for a check up reportsThe Brussels Times. Mr Ramakers said:
Thank you Nash Montana, M., Buck, Dan F. Carpe Diem and many more.
The 'Fog of War' has really begun to form, especially in Syria. Some by design and some as just what happens in chaotic armed conflict, and for which the expression was coined.
One Montreal reader sent in a number of links showing that US satellite data shows that the Russian passenger jet which was destroyed in the Sinai.
http://www.telegraph.co.uk/news/worldnews/europe/russia/11974107/Russian-plane-crash-latest-news.html
http://www.express.co.uk/news/world/616032/ISIS-Russian-jet-Egypt-Terror-Monitor-jihadis-claim-responsibility
http://www.abc.net.au/news/2015-11-03/russian-airliner-crash-looks-like-an-explosion-military-analyst/6908220
My only comment is, that if US intel can give us that much info about what happened on that civilian jet then they damn well know exactly what happened to that missing Indonesian airliner. As was written on this site at the time of its disappearance, if the NSA knows where every cell phone is and how many cute puppy pictures are on each one, they damn well know the disposition of every jumbo jet in the air at any given time if for no other reason than they have probably 50 cell phones on and in use at any given time.