1. Ms. Fereshteh Naji, an active anti Iran regime Iranian American from DC was brutally attacked by masked Iran regime mobs in DC at 6 AM yesterday morning. She was rushed to hospital and is under observation.
2. Here is a car photographed in Ottawa today advertising extremist Shiia tendencies
Our Farsi translator tells us the following about this decal:
The sign said:"Asad Haidar" or "Haidar the Lion" which is a nickname for Ali Ibn Abi Talib, the first Shiite Imam and the double sword in the picture is called Zolfaghar, which supposedly was the legendary sword of Ali Ibn Abi Talib. So basically the car must belong to a fanatical Shiite"
(It is interesting how nearly all islamic insignias are abut committing genocide and/or have pictures of weapons, isn't it?)
3. Netanya terrorist was shouting 'Allahu Akhbar'
Site of Netanya stabbing
Gilli Yaari/Flash90
Further details about the Netanya attack have been released later Monday night, in the wake of the third stabbing of the day.

Initial reports indicate that the stabber, a 22 year-old man from the northern Samaria town of Tulkarm, first attacked a couple, stabbing a 71 year-old man in the back; the victim was later transported to Laniado hospital in critical condition.

Witnesses told Walla! News the terrorist was shouting 'Allahu Akhbar.'
4. Ezra discusses the small German town which is about to be absorbed by hundreds and hundreds of muslim invaders. (The only thing wrong is that most media has not updated to the fact that the town only accepted 500 of them. But this difference I don't think effects Ezra's points much, if at all. Daily mail article on the arrival of the 500 here)
5. PEGIDA Dresden tonight
6. Somali Extremists Kill 15 Government Soldiers in Ambush
(Extreme what. Extreme Somalis? How could they be more extreme than a soldier for the government of Somalia. A soldier for a nation is about as extreme as you get for a national.  Perhaps he was an extreme something else of some kind)
At least 15 government soldiers were killed in an ambush by fighters from the Somali Islamic extremist rebel group al-Shabab, one day after the same group of extremists killed a dozen people in an attack in the capital, a military official said Monday.

The ambush happened late Monday near Walaweyn, a town in the Lower Shabelle region, about 93 kilometers (57.79 miles)south of Mogadishu, said Col. Ahmed Muse of the Somali military.

The rebels seized three military vehicles during the attack, he told The Associated Press by phone from Walaeyn.
(Islamic extremist rebel group al-Shabab! OH! Ok then)
7. Nigeria's Boko Haram reveals rocket-making factory
(No wonder NASA wants to make connections with the Islamic World. Making rockets seems to be the only thing muslims are interested in doing)
Islamist militant group Boko Haram has released photos apparently showing a rocket-making factory in north-eastern Nigeria.

The group has used rocket-propelled grenades in the past and many Nigerians have been asking where the weapons have been coming from.

The photos seem to indicate that members of the group have the technical know-how to manufacture weapons.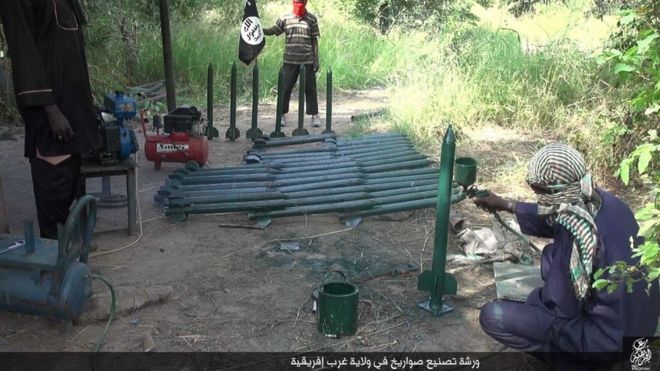 Thank you M., Wrath of Khan, Nash Montana, Gates of Vienna, ML., Joe Stalin, and all. Will get to the Saudi embassy demo footage tomorrow when it comes in.
And remember: