1. Four-Year-Old Child Stoned In Germany For Kicking Migrant's Football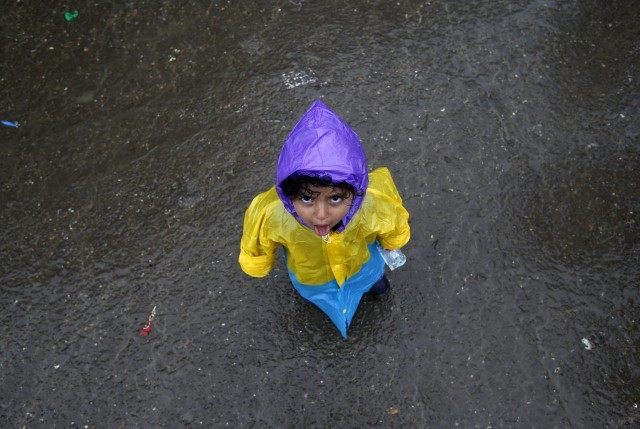 (Let's all hold our breath till the CBC publishes this story shall we?)
A four-year-old boy has been hospitalised after having a stone thrown at him by a resident of a troubled German migrant centre which has seen riots and Islamist violence.

The young boy, who has not bee identified, suffered "massive bruising" after he inadvertently interrupted a football game taking place at the state of Thuringa migrant centre in Suhl, Germany. The child entered a gymnasium looking for his brothers when he kicked a football, enraging another migrant.

The child was then beaten around the head "several times" with the ball until a supervisor stepped in to end the violence.

Unluckily for the small boy, his assailant then caught up with him again after the game, and threw a rock at his head. Admitted to hospital for serious injuries, police said the boy had "massive bruising", reportsFocus.de.
2. In policy shift, Obama to send U.S. special forces to Syria
The United States will deploy dozens of special operations troops to northern Syria from next month to advise opposition forces in their fight against Islamic State, a major policy shift for President Barack Obama and a step he has long resisted to avoid getting dragged into another war in the Middle East.

The planned deployment, along with the U.S. decision this week to include Iran in diplomatic efforts to end the conflict, represents the biggest change in the United States' Syria policy since it began a bombing campaign against Islamic State targets there in September 2014.

Announcing the measure on Friday, the White House said the troops would be on a mission to "train, advise and assist" and would number fewer than 50. Spokesman Josh Earnest declined to give details about their exact role.
(A commenter at Vlad today suggested this was an American human shield to protect Islamic State (Al Nusra front) muslims from Russian attacks. Given the consistent nature of Obama's decisions and speeches, and that he quite clearly said in his book, "if things turn in an ugly direction I will stand with the Muslims" it is less crazy an idea than it sounds)
3. Large numbers of pro-German and Pro invasion people clash in Germany
4. Anyone want a deal on a slightly used life jacket?
(Is that a 'journalist' wearing a Palestinian scarf?)
5. Food distribution in the Islamic utopia of Raqqa, looking very much like the food distribution in the communist utopia of the USSR except fewer lines.
6. Publisher of secular books killed, 3 wounded in Bangladesh
(So just being secular now gets the same death penalty as outright blasphemy against the two giant turds of Islam, Mohamed and his sock puppet Allah. Ready to fight for your freedoms now boys and girls?)
DHAKA, Bangladesh (AP) — A publisher of secular books was hacked to death and three other people were wounded in two separate attacks Saturday at publishing houses in Bangladesh's capital, police said.
More here at the Guradian, Hindustan Times, BBC. The Hindustan Times has the most detail. (Blogger and writer Avijit Roy hacked to death in Feb. 2015 in Dhaka, Bangledesh; his books were published by the just-slain publisher, Faisal Arefin Dipan, also in Dhaka)
7. German tourists in Morocco: The moment of the arrest of the perpetrators of the brutal attack against German tourists in Fez (I do't get this video but maybe others will)
8. Islamic State claims responsibility for Russian plane crash in Egypt
(The Islamic State claims responsibility every time a Jewish person gets a cold. So its hard to know. We are well into the fog of war at this point)
CAIRO: A militant group affiliated to Islamic State in Egypt claimed responsibility for the downing of a Russian passenger plane that crashed in Egypt's Sinai Peninsula on Saturday, the group said in a statement circulated by supporters on Twitter.

Egyptian security sources earlier on Saturday said early investigations suggested the plane crashed due to a technical fault.

The claim of responsibility was also carried by the Aamaq website which acts as a semi official news agency for Islamic State.

Russian plane crashes in Egypt, killing all 224 onboard

"The fighters of the Islamic State were able to down a Russian plane over Sinai province that was carrying over 220 Russian crusaders. They were all killed, thanks be to God," the statement circulated on Twitter said.
9. Locals caught between army and militants in Sinai
In Sinai, the Egyptian army is battling an Islamist uprising with links to the "Islamic State" group. Amidst the crackdown, the local population is suffering, as Naomi Conrad reports.
In an air-conditioned café in central Cairo – one of the many uniform international chains that beckon brightly from street corners on the city's traffic-choked roads – Saed Ateek , a slight man with a broad smile and slightly receding hairline, shrugged nonchalantly: Well yes, he did know at least one of the leader of Sinai Province quite well.
(Yes its much better since Israel gave up the region to Egypt)
10. F*** the actors and the artists and anyone who shoves their opinions on paying audiences who did not come to hear your damn opinions. And that is even if I agree with them. Would people get up and applaud if your accountant suddenly started telling you what they think about politics for two hundred bucks an hour?
11. Syrian MP: US Decision to Send Troops Is Act of Aggression
(Hard to argue with that. Autostart video at link)
Russia warns of Proxy war with US.
12. Dozens of dead and wounded filling the streets of the city (DOUMA near Damascus) and the wounded and the martyrs salvage 2015.10.30
(The best thing to do is, let in a few hundred thousand of these guys here. It would solve the problem of dealing with this horror over there as it would then be here as well and no one would care that it was over there as they are too busy trying to get the few valuables they have left out of their burning hovels in the middle of the winter here. Lets watch Germany this February and see how it will look)
Thank you CB Sashenka, M., Wrath of Khan, Richard,
According to these articles, the percentage of missing 'refugees' is something closer to fifty
Its strongly advised to read the daily links post comments today. Saturday used to be the slow day but not this one. There is a pile of geopolitically significant links supplied by the regulars here. Also the Clips for the Counter Jihad team is putting together a number of videos now that are surprising and concerning, not the least of which is about a dispute between German police and the German military, who want to put tanks at the Austrian border while the Police do not. That will be ready ASAP. Its a big team who does all this and everyone has their own technical limitations. Sometimes things get done like lightening and other times it can get gummed up. I hope this afternoon though for that one.