1. In New Video ISIS Calls Prison Raid A Failure, Executes Prisoners
ISIS released a video Friday with a direct message for President Obama, claiming the U.S. military raid to free 70 hostages last week failed to dent the might of the Islamic caliphate, and that ISIS losses were far fewer than among those who'd launched the attack.

"Obama, you have learned a new lesson," a masked ISIS fighter speaking English said to the camera, standing in front of a bound hostage who was beheaded at the end of the 15 minute video. "Six of the soldiers of the caliphate faced 400 of your children, they killed and injured them by Allah's grace. You are probably surprised by this…you did not gain anything. You returned to your bases with losses and humiliation."
(A direct link to the video is available in the comments for whoever would like to see it. The English starts somewhere around 11 minutes. Its the usual banal islamic sprayer and snuff video that is now so common that while its still horrifying in its intent and the suffering that is inflicted upon those they torture and kill, its impossible to sit through just for all the chanting and quoting of what has to be the crappiest book in all of human history. If someone made a religion out of HP Lovecraft at least it would have some element of literary value and a great deal more religious as well)
2. Estonia: Torch-wielding anti-refugee protesters gather on Latvian border
(The only thing left is the pitchforks and we have the revolution we all expect, and at this stage is probably deserved)
3. Hungarian Border Fence So Effective Illegal Immigrants Are Now At Pre Migrant-Crisis Levels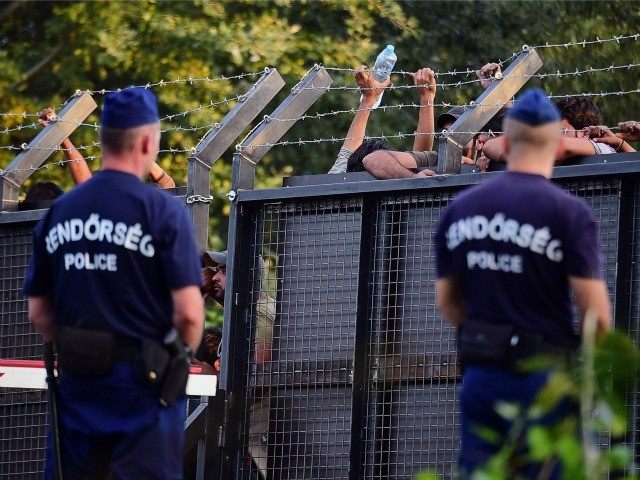 The Hungarian border fence has been a remarkable success, according to new figures made public by Viktor Orban's homeland security chief this week.

The new border fences, which closed off Hungary from Serbia in September and continued around the border, finally cutting the country off from unwanted incursions from Croatia earlier this month have been so successful the number of illegal migrants has dropped off the charts.
Hungary Illegals October

The miracle fence: Hungarian police figures for illegals arriving this month have been so low since the 18th, they no longer even figure on government charts / Police.hu

While last month up to 10,000 migrants a day illegally crossed into Hungary, now border controls have been fully implemented, that number has fallen to dozens per day. Dr. Gyorgy Bakondi, chief adviser for homeland security to prime minister Viktor Orban was on hand to give viewers of a popular Hungarian evening television chat show this week a low down of just how successful the fence had been last night.
(Any Israeli could have told them that)
4. Swedish politician says country 'facing collapse' due to mass influx of refugees
(In the land of the blind, the one eyed man is king. And in the land of the politically correct, the man who can say what is going on in front of his eyes is a prophet of the future. Right until he is jailed for 'racism')
A leading Swedish politician says the country is facing a refugee catastrophe, which will lead to the "country collapsing." The bold claims were made by Foreign Minister Margot Wallstrom, who adds the EU needs to do more to take the strain off Stockholm.
The northern European country expects to accommodate around 190,000 by the turn of the year, but this is putting a strain on the country both economically and socially. Wallstrom says that Stockholm needs more help and intends to put pressure on European Union member states to take a greater share of the burden the continent is facing from the refugee crisis in the Middle East and Africa.
5. 'I came to defend Israel,' says immigrant cop who shot attackers
A young French immigrant serving in the Border Police was praised by commanders and local leaders on Friday after shooting two Palestinian assailants as they tried to stab her and a second policeman in the West Bank.

The head of Samaria Regional Council, Yossi Dagan, who arrived at the scene and spoke with the corporal, said that the officer had told him: "This is why I came to Israel. To defend the nation."
6. Two anti-Islamic State campaigners beheaded in Turkey – activist
7. Swedish TV reporting on 'poor refugees' gets photobombed by Muslim with throat-cutting gestures
(I sent this to a Swedish speaker to see what this is. My suspicion is that it is not a muslim who does the gestures but a regular Swede who is sick to death of the narrative on the 'poor poor refugees and the evil evil white Swedes who won't just roll over and die for them'. I hope to have an answer by morning.
8. Any threat to Saudi Arabia will evoke strong response from Pakistan: army chief
(Now isn't that interesting)
Chief of Army Staff (COAS) General Raheel Sharif reiterated on Friday that any threat to the sovereignty and territorial integrity of Saudi Arabia will evoke a strong response from Pakistan.

"Pakistan and Saudi Arabia enjoy strong and brotherly relations which have a long history of deep rooted cooperation," the army was quoted as saying in a statement by the military's media wing Inter Services Public Relations (ISPR).

Pakistan stands with Turkey in fight against terrorism: army chief

General Raheel's comments came during his visit to the National Counter Terrorism Centre, Pabbi near Jhelum, where he witnessed the culmination of "Pak-Saudi Joint Training Exercise Al-Shibab".
9. Norwegian author criticizes Sweden for being so PC they won't even discuss the consequences of mass uncontrolled immigration to their nation for fear of seeming less than perfect
10. It just cost a trucking firm in the US $240,000.00 USD to hire two muslims because they refused to do the job for which they applied.
(And that is why no one should hire a muslim)
11. Risk of refugees freezing to death: Bavarian police
(If one man drowning his own child caused a massive push to force Europeans to commit cultural suicide, imagine what will happen when the pictures of the first frozen baby hits the papers)
He added that the risk was increasing that the refugee groups would begin moving into Germany of their own accord, walking the three kilometres along an unlit main road

Two nights ago, 1,000 people did exactly that.

On Wednesday night, officers were able to avoid that scenario repeating itself, in part by housing people in a workshop cleared out specially by a local business owner – at least offering 300 people a roof over their head.

At the border itself, the Red Cross handed out tea, vegetable soup and fruit.

But few of the refugees accepted the proffered blankets, preferring to hang on to their place in the queue.

All eyes will be on a meeting Angela Merkel has called with state leaders this weekend to deal with the problem.
12. Muslim in Germany shows gratitude to German social worker
(WARNING: Very harsh language!)
Thank you Johnny U., M., Wrath of Khan, Oz-Rita, and all who sent in materials. There is quite a few more videos coming soon from Czech news and Germany and more news from France.