1. Antarctic sea ice hit 35-year record high Saturday
2. Former defense secretary Robert Gates speaks on the change in military morale under president Obama
Sen. Ted Cruz asked Gates, "Do you share my concerns about declining morale in the military, and if so, what do you see as the cause of these challenges?"
3. Nigeria bombs leave at least 37 dead in Maiduguri and Yola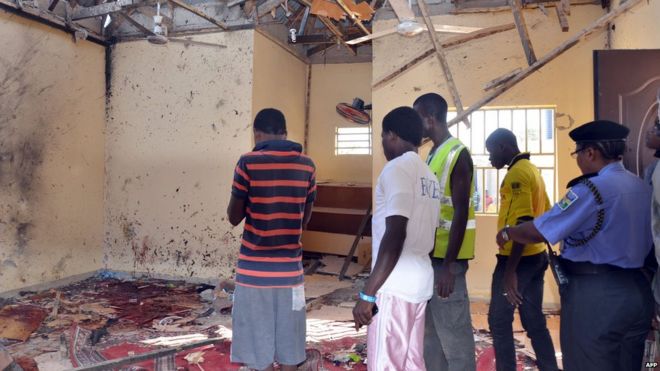 Two bomb attacks in north-eastern Nigeria have left at least 37 people dead and more than 100 injured, officials say.

At least 30 people died when a bomb targeted a newly opened mosque in the town of Yola.

Earlier, seven people were killed in a suicide bombing in Maiduguri.

No-one has claimed responsibility for the bombings but the Islamist group Boko Haram has carried out many attacks in the area.
4. Iranian Shiites want to demonstrate in Germany to get Germans on their side against ISIS but shock people on the streets by their large numbers (Facebook video)
5. Indonesia's Aceh introduces strict anti-gay law
(People who argue with us about Islam typically use Indonesia as some kind of proof we are wrong. They seem more quiet lately though)
Gay sex between Muslim men or women, both locals and foreigners, can now be punished with 100 strokes of the cane.

The law, passed in 2014 but only now being enforced, has faced opposition by rights groups.

The strictly Muslim province has become increasingly conservative in recent years and is the only one in Indonesia allowed to implement Sharia law.

Under the new laws, adultery also carries a possible penalty of 100 strokes. Those who accuse someone of adultery without proof could themselves face 80 lashes.
6. Mortar Rounds Kill 3 at Anti-Islamist Protest in Libya
Medical officials say mortar rounds struck an anti-Islamist demonstration in Libya's second-largest city, Benghazi, killing three civilians and wounding at least nine.

The officials say Friday's shelling of nearly 1,000 protesters was the second deadly attack on an anti-Islamist rally this week. […] Friday's protesters were chanting against U.N.-brokered talks with Islamists and the special U.N. envoy for Libya.
7. Speech of Viktor Orbán at the EPP Congress
(Excerpt…)
[…] We are in a deep trouble. The migration crisis is able to destabilize governments, countries and the whole European continent. We need a strong and clear-cut answer, timetable and action plan of EPP. The Hungarian delegates welcome the resolution of the congress, declaring that the Spanish approach is the right one.
 
Dear Friends,
The danger we have been facing demands open and honest speech. First of all, dear Friends, what we have been facing is not a refugee crisis. This is a migratory movement composed of economic migrants, refugees and also foreign fighters. This is an uncontrolled and unregulated process. I would like to remind you that free choice of a host country is not included in the international law. I also want to underline that there is an unlimited source of supply of people; after Syria, Iraq, Pakistan, Afghanistan, Africa is now also on the move. The dimension and the volume of the danger is well above our expectations. […]
8. Shiia muslim festival gets blasted (probably by Sunni muslims) in Pakistan
More on this, or on another bomb killing 20 in Pakistan here 
Thank you Wrath of Khan, M., Richard, Carpe Diem, Maria J.,
and at least two more videos from Czech news to come and likely German as well. The divide between high information, and narrative programed citizens grows.