1. Islamist terror cell liquidated in Moscow, around hundred apprehended
2. Seven men charged following investigation into sexual offences against children
Seven men, including one from Newport , have been charged following an investigation into child sexual offences in Bristol.
The charges follow a series of warrants which were executed at four locations in Bristol and an address in Newport in May.
The offences are alleged to have happened in the Bristol area between 2009 and 2013 against seven girls, who were aged between 12 and 15 at the time.
Two of these girls are being supported by Barnardo's Against Sexual Exploitation (BASE).
The Crown Prosecution Service has now authorised the following charges:
Mohammed Dahir Osman AKA Iman, 28, of Newport, has been charged with five counts of rape and been released on bail to appear before Bristol Magistrates' Court on 20 October.
Abdirahman Galal AKA Ramsey, 25, of Redcliffe, Bristol, has been charged with three counts of rape of a child under 13.
Mohammed Ismail Dahir AKA Kamal, 23, has been charged with eight counts of rape.
Sakariya Hassan Sheikh AKA Zak, 22, has been charged with 24 counts including rape, sexual assault, trafficking and supply of class B drugs.
Abdirashid Abdulahi, AKA Older Abs, 22, has been charged with four counts of rape.
Nasir Ibrahim Mahamoud AKA Ace, 22, of Barton Hill, Bristol, has been charged with four counts of rape and one count of receiving stolen goods.
Nuridin Mohamoud, AKA Ahmed, 21, of Bristol, has been charged with one count of rape and one count of false imprisonment.
3. Man accused of attacking flight attendant, threatening to blow up flight gets house arrest
(When does he get to meet the dictator of Sudan, get invited to the White House and named muslim of the year?)
A man accused of punching a flight attendant and threatening to blow up a flight en route from New York City to Palm Beach County was released on $50,000 bond Monday afternoon.

Alija Kucuk, 29, of Queens, must remain on house arrest with a GPS monitor at his cousin's Boca Raton home.

He will be allowed to work at his cousin's used car business in Fort Lauderdale and must obey strict rules, a judge warned him during a hearing Monday morning in federal court in West Palm Beach.

"The charge that's against you is very serious …," U.S. Magistrate Judge William Matthewman told Kucuk. "People shouldn't have to put up with people going wild on an airplane and attacking a flight attendant. It's very scary."
4. Nothing Orwellian about this whatsoever. It needs its own adjective. Obamafied perhaps.
5. Shiia islam. Where its the men who have Borderline Personality Disorder and cutting yourself is considered a sacred act
6. Slovenia appeals to EU for help as refugees overwhelm the country
7. Swedish artist in hot water again with the law for a drawing which is probably against the unwritten, ephemeral and in flux laws of Swedish art but for which you spend very real time in jail.
(This site has covered Dan a couple of times. When he spoke at a PEGIDA rally in Malmoe, for which he was arrested for touching a banner which had a message that wasn't 100% with Swedish immigration policy, and a direct interview we did with Mr. Park as well. Dan spent 6 months in jail for his drawings which were said to be racist, although in fact they were made to mock racism. But even if they were racist, 6 months in jail for a thought crime is simply unacceptable in a free nation.)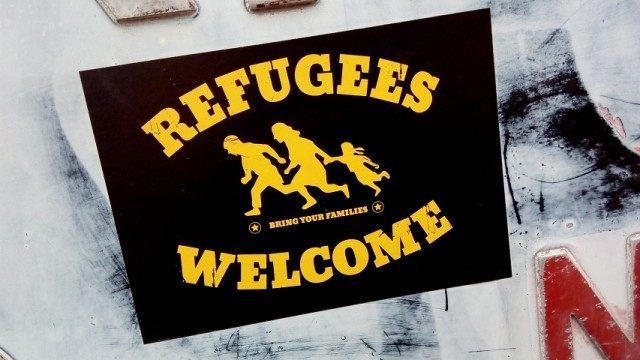 Artist Dan Park had mocked up flyers satirising the now-familiar Refugees Welcome trope, a symbol adorning protesters placards, stickers and posters all across Europe. Substituting the fleeing family, itself a gross misrepresentation of the majority of so-called refugees who are fighting-age men, the flyer instead shows gun-toting Muslims and a child wearing a suicide bomb belt.

Putting his flyers into home post boxes in the Danish town of Silkeborg, Mr. Park had hoped to direct "as much attention as possible" to the issue of terrorists sneaking into Europe, disguised among the migrant hordes
8. VIDEO: Preschool Muslim Girl Holds Knife, Says: 'I Want To Stab A Jew
9. Sydney church our Lady of Lebanon targeted by ISIS threats
CHURCH-goers in Sydney's west have been left shaken after a stranger shouted death threats from a car bearing the Islamic State flag.
The car drove past Our Lady of Lebanon Church at Harris Park on Tuesday and witnesses claim it had a flag similar to those brandished by Islamic State jihadists hanging out the window.

A priest from the church told AAP the people in the car threatened to "kill the Christians" and slaughter their children. "They were strong words and people were scared of what they saw," he said.
Thank you Richard, M., Buck, Blazing Cat Fur, and many more who's twitter feed I data-mined for some of these. Tempo, intensity and official denials of reality are up ticking steadily.