1. The Islamic State uploaded three videos of them decapitating terrified people for mostly trivial reasons today. I could post the links and perhaps I will or someone can in the comments of this post. But what I personally believe is more important than watching islamic snuff video is why they do it, which, as I mentioned three times so far in the past week, was better explained on Se5E1 of Homeland than it has been on any documentary or scholarly article from the MSM, which has usually done more to detract from the facts and reality than do anything to describe it.
2. Great comedy sketch about Merkel from German TV. The first few seconds aren't titled but you get the point. Then it is. I wish SNL had this much humour left in it.
(SNL just does fake comedy now that looks like a Pravda broadcast from the Cold War days where even when they appear to be mocking the regime its really an attack on the West and liberty so as not to upset the real power)
3. Germans march against the population replacement
4. Four Iraqis charged in alleged Swiss ISIS cell
Swiss authorities have charged four Iraqi nationals with planning a terrorist attack in Europe on behalf of the Islamic State group.

Though details of the planned attack were sketchy, Switzerland's attorney general confirmed on Friday that IS "was to claim responsibility (for) these plans if successful".

The four Iraqis, ranging in ages from 29 to 34, face charges of participating in or supporting a criminal organisation and preparing a terrorist attack. They also are accused of multiple counts of depicting violence and illegally staying in the country.

"Given the international dimension, various countries are affected by this case," authorities said in a statement. "The Office of the Attorney General is accordingly in contact with the law enforcement authorities of various states. The cooperation with the US Department of Justice is particularly close."
5. IS release videos praising Palestinian stabbing attacks
'A victory is coming to the Mujaheddin of al Aqsa, you are the ones who start but we will continue it'

The media wing of the Islamic State released two videos Sunday in support of the wave of stabbing attacks carried out by Palestinians attackers against Israelis in the West Bank and Jerusalem.

The first video, titled "Project Behead the Jews" stated that the current situation on al-Aqsa is "dangerous." Accusing the Jews of destroying it by spending $2 million towards the "Judaisation of Jerusalem," excavating tunnels under the al-Aqsa mosque and stealing Islamic documents.

Muslims fear Israel is seeking to change the status quo regarding Jerusalem's Al-Aqsa mosque compound, located in east Jerusalem, a site sacred to both Muslims and Jews, who refer to it as the Temple Mount. Jews are allowed to visit, but not pray there to avoid provoking tensions.
6. Switzerland heads back to the middle from the far left after recent electoral victory for reason and democracy. 
(Ignore the original title. Its just another example in the endless parade of examples of how the language has been hijacked by the Alinksy method. Clearly there is nothing far right about not wanting your country utterly destroyed and remade in the interests of people who hate you, and are utterly alien to your history, culture and individual rights)
ZURICH (Reuters) – The anti-immigration Swiss People's Party (SVP) won the biggest share of the vote in Sunday's national parliamentary election, projections showed, keeping pressure on Bern to introduce quotas on people moving from the European Union.

Success for the Swiss People's Party (SVP), coupled with gains made by the pro-business Liberal Party (FDP), led political commentators to talk of a "Rechtsrutsch"—a "slide to the right"—in Swiss politics.

Immigration was the central topic for voters amid a rush of asylum seekers from the Middle East and North Africa to Europe.
7. Cameron Will Ban 'Extremists' From Internet And Revive 'Snooper's Charter'
(As is the new normal for the West, the cure is worse than the disease, as whoever is in control gets to define extremism. Extremism is not the problem and it never has been. Orthodox islam is, and orthodox socialist/communist thought is and its iterations via the Frankfurt school. An extreme buddhist, Christian, Helenist, libertarian, they just aren't a problem and especially so if you are not a totalitarian thug in which case the Libertarian may be a problem thankfully.)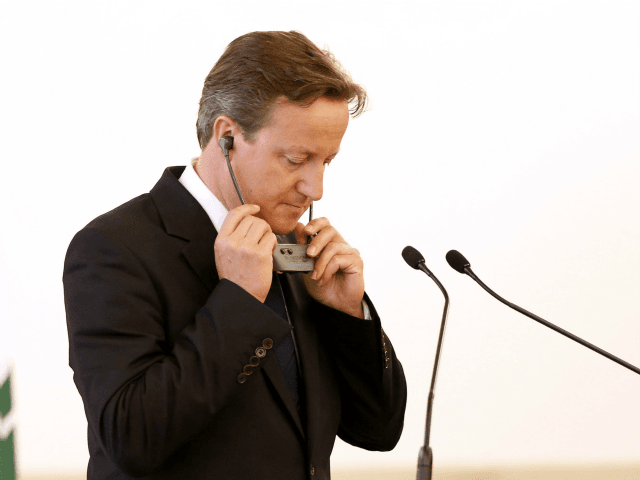 Getty
In a speech tomorrow, the Prime Mister will announce a ream of new measures to fight extremism, including banning extremists from the Internet and from working with children, and closing some mosques. The government will also revive the so-call "snooper's charter."

The measures will include blacklisting groups that "foment hate," which public sector organisations will then be forced to boycott, and the use of "extremism disruption orders" on those deemed to be trying to radicalise young people online, and banning them from going online or communicating on social media.
(Remember that in order to appear 'balanced', itself an absurdly loaded term, the British government banned a few people who were teaching koranic Islam from speaking in the UL, but also banned Pamela Geller, Robert Spencer, and an AM radio talk show host that didn't even have any plans or even an idea of visiting the UK, Michael Savage. This is how policies like the one above play out. They won't name the enemy, so the new tools can be pointed at anyone they want, anytime they want for any reason they will never have to explain)
8. Iraq: Isis releases drone video showing beheading of man executed for insulting 'Allah' in Anbar
(They are making a big deal that this was filmed from a toy quadcopter. The real big deal is they are killing a man because he is alleged to have said something negative towards a fictional character who has the assigned attributes of total moral inversion and quite real evil.)
The Sunni terror group, Islamic State (Isis), has released a new execution video shot using a camera mounted drone showing the brutal beheading of an Iraqi man in Anbar province.

The man was sentenced to death by beheading for the crime of "insulting Allah", reports said.

The professionally-edited high-quality video is believed to have been shot in Ramadi, an Isis stronghold and the provincial capital of Anbar. It shows a young man believed to his early 20s being brought to a town square. He is blindfolded and is seen wearing red pyjamas and a white tee-shirt.
9. Israeli Ambassador: Tell the truth about whats going on.
Thank you Gates of Vienna, M., Wrath of Khan, Maria J., Nash Montana, and so many more who diligently scour many different language and country's news sites and send in material that helps adjust our views toward actual real events and motives.
Most likely more to come today.