Forward: Point De Bascule did a great feature post on the Coughlin talk in Ottawa. You can view it here.
1. Iran ballistic missile test condemned by US
(And yet the US funded it. Will wonders never cease)
The US has condemned a recent medium range ballistic missile test by Iran as a "clear violation" of UN sanctions and a sign of the country's disregard for its international obligations.

The nuclear weapons-capable missile was launched on 10 October.

US ambassador to the UN Samantha Power said that her country was "deeply concerned" by the test firing.
(Yes they were concerned the missile might not work)
2. The terrifying moment Palestinian disguised as a reporter stabbed an Israeli soldier before being shot dead, as violence mounts
In these distressing images, a bloodied Israeli soldier lies wounded beside a knife-wielding Palestinian who was shot dead after disguising himself as a member of the Press.

Amid rising tensions in the region, the man dressed as a news photographer and then stabbed and wounded an Israeli soldier.

As soon as his guise was uncovered, the man in black jeans and trainers was shot dead by Israeli troops.
3. Palestinians set fire to Jewish shrine; Israeli soldier stabbed
(Video at link)
JERUSALEM (Reuters) – Palestinians set fire to a Jewish shrine in the occupied West Bank, and an attacker disguised as a journalist stabbed an Israeli soldier on Friday as tensions ran high after more than two weeks of violence.

Shortly after the arson attack on the tomb of biblical patriarch Joseph, Palestinian protesters threw stones over the border of the Gaza Strip at Israeli forces who fired back, killing two and wounding scores of others in the crowd, Palestinian medical officials said.

The worst outbreak in bloodshed in months has killed at least 37 Palestinians, including attackers and children in assaults and confrontations, and seven Israelis in stabbings and other attacks on buses and in the streets.

The latest round of violence has been partly fueled by Palestinian anger at what they see as increased Jewish encroachment on the Al-Aqsa mosque compound in Jerusalem, holy to both Muslims and Jews.
(Some pretty brutal spin there at Yahoo. The facts say it was a kind of false flag at al Aqsa where muslims quite deliberately provoked jews for a reaction that could be sold as a sacrilegious act, when in fact the Jews agreed not to use their own most sacred spot on Earth to avoid annoying the savages)
4. UK: Pro-refugee demo paralyses London's St. Pancras station
(Ending publicly funded universities would also end the fantasy indoctrination that these students suffer from. When people have to pay for things themselves, they tend to want utility)
5. This appears to be the outside view of the shooting posted earlier from the inside the mouse view.
6. Video on the Croat border crossing closure. Its a few hours out of date as the border has been closed for a couple of hours now.
7. Germany: Communists and what might actually be the Nazi variety of leftists march in Cottbus
8. Dozens die in double suicide bomb attack on Nigerian mosque
Dozens of worshippers were killed after two suicide bombers blew themselves up in a mosque in the north-eastern Nigerian city of Maiduguri, said witnesses.

"All the people in the mosque died. Not a single one escaped," said Muhtari Ahmadu, a trader near the scene on Thursday.

"We counted 42 dead bodies outside the mosque," added Amadu Marte, a vigilante supporting the security forces in the fight against Boko Haram, which has carried out repeated attacks in the region.
(There go the 42 peaceful muslims we kept hearing about)
9. Ahmed the clock faker meets with North Sudan president, the genocidal maniac and supporter of slavery of black people, Omar Al-Bashir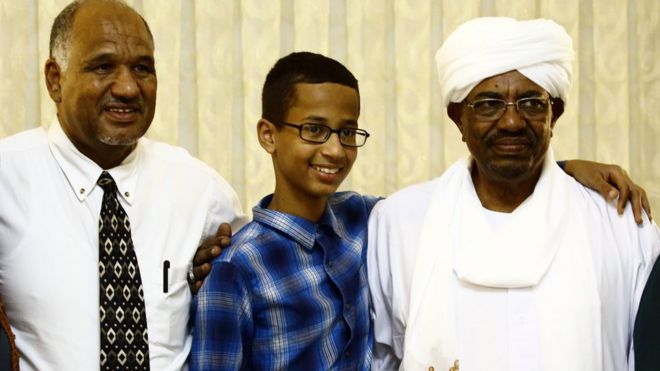 (In all seriousness, I genuinely and truly hope that North Sudan offers Ahmed a job as their chief scientist and supreme military commander)
The Texan teenager was pulled out of class and handcuffed because a teacher mistook his clock for a bomb.
(BBC lies like a prayer rug as usual. The facts are well known. He was handcuffed for being belligerent and the charge was a mock bomb, or a device that was intended to look like a bomb. It clearly was that and he clearly was belligerent)
10. Some secular Turkish political party actually had the stones to put up a billboard with a drawing of Mohamed dragging his 6 year old rape-slave about. There was some blowback in Turkey. But at least they had more guts than the Daily Sabbah who won't even show the billboard without a heavy blur on it.
11. Islamic State resident decides she doesn't really like it so much and prefers the UK.
12. CAIR Demands Tennessee 7th Graders Learn 'Muhammad Is The Messenger Of God'
The Council on American-Islamic Relations (CAIR) is calling on people in Tennessee to oppose a bill that would prevent public schools from teaching the principles of Islam and every other religion until students reach the 10th grade.

Tennessee state legislator Sheila Butt, a Republican, proposed the bill late last week in response to a grassroots campaign across the state by parents — primarily evangelical parents — against what they perceive as an inappropriate focus on Islam in history and social studies courses in taxpayer-funded middle schools.

House Bill 1418, if it becomes law, would prevent the teaching of all "religious doctrine" until students reach the last three years of high school.

CAIR labeled Rep. Butt's bill "an anti-Islam bill" which is "tied to Islamophobic claims" in a statement sent to The Daily Caller
Thank you Buck, M., Johnny U., Wrath of Khan and many more. It seems to have started doesn't it?
The things we all hoped wouldn't happen if a few rational decisions got made a few years ago. Or even simpler, if a few irrational decisions didn't get made a few years ago.