1. Unrest in Germany:
Heidenau New riots at night at refugee camp
2. Huge explosions at US army base in Japan as warehouse burns and emergency services rush to scene
Several huge explosions were heard today at a US army base in Japan.

At least 10 fire engines rushed to the scene in Sagamihara city, south of Tokyo, amid reports of a blast sparked by an unknown cause.

Footage shows several small bangs and one huge explosion, which witnesses described on social media as like "a fireworks display."
[…]
The site is part of a US army complex next to the capital where three deliberate explosions were reported in April, in what police suspect was an act of left-wing Japanese extremists.

But so far there has been nothing to suggest this blast was terror-related.
(In a nice twist of irony, it would appear than 'terror' is now synonymous with 'islamic' as this is suspected to be a clear act of terrorism but by left wing Japanese, so it isn't terror. I guess thats what you get when you play with the language like Obama does)
(Two videos at UK Mirror source link)
3. Dutch video (with Eng. subtitles) news report on the attempted mass casualty attack by a muslim waging jihad on a train in Europe.
4. Palmyra's Baalshamin temple 'blown up by IS'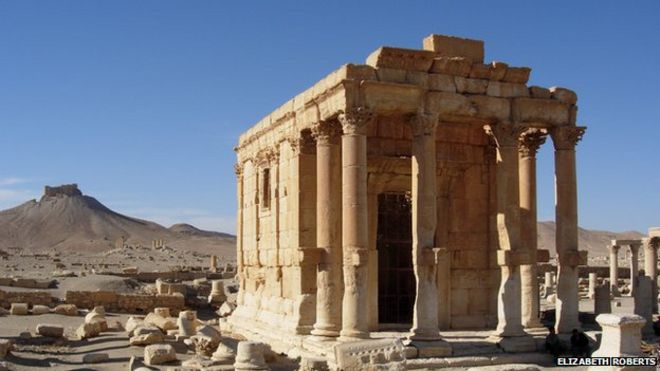 Islamic State militants have destroyed Palmyra's ancient temple of Baalshamin, Syrian officials and activists say.

Syria's head of antiquities was quoted as saying the temple was blown up on Sunday. The British-based Syrian Observatory for Human Rights reported that it happened one month ago.
5. France train gunman Ayoub El-Khazzani 'dumbfounded' at terror allegations and claims he found AK-47 'by chance' in a park
Ayoub El-Khazzani, the man suspected of attempting a massacre on a French train, is "dumbfounded" that he is being accused of terrorism and claims he found the AK-47 assault rifle "by chance", according to his former lawyer.

Sophie David, a lawyer who was assigned to El-Khazzani when he was detained in Arras but is no longer representing him, said he denies firing a single shot.

Speaking to BFM-TV, David said: "He is dumbfounded that his act is being linked to terrorism," adding that El-Khazzani describes himself as a homeless man.

"He says that by chance he found a suitcase with a weapon, with a telephone, hidden away," she said.
6. The actual song performed at the Spanish rap festival by the Jewish American who was told he could not perform unless he signed a declaration against Israel and for the Palestinians. He refused, they denied him his performance, there was public outrage and here it is. Notice all the Pali flags at the start in the audience
7. Boko Haram crisis: Nigerian army chief ambushed
Suspected Boko Haram militants ambushed a convoy carrying the new head of the Nigerian army, the military says.

The ambush, which took place on Saturday in north-eastern Borno state, led to a clash in which one soldier and at least five militants were killed.

Army chief Gen Tukur Buratai took up his post in July after the president sacked the heads of the military for failing to end Boko Haram's insurgency.
8. Germany:Fresh clashes over new refugee shelter
Thank you Gates of Vienna, M., Oz-Rita, Wrath of Khan, ML., Richard and many more.
Many of you will have noticed a significant improvement in performance and load time for the site today and going forward. This is thanks to the herculean effort and patience of a good friend of the site and of the counter-jihad. Of course, times being what they are, one cannot name someone who helps a site like this without endangering thier life but they know who they are and I want to thank them very much. I hope you all find the improvements to make your experience here less frustrating, at least from the wait time if not from the content.
Eeyore for VladTepesBlog