1. Bin Laden: Osama's son Hamza 'issues al-Qaeda message'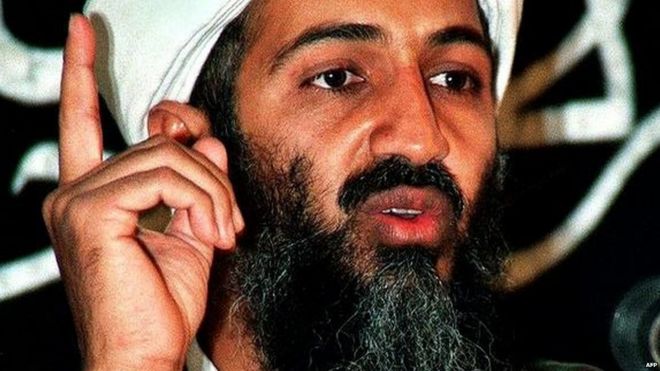 The message is believed to be the first time al-Qaeda propaganda has presented Hamza Bin Laden as an official member of the militant group.

In the message, shared by al-Qaeda supporters on Twitter, Hamza Bin Laden urges attacks on the US and its allies.
(Alt. source: The Mirror which has the video)
2. French court's pro-pork ruling on school menus upsets Muslims
PARIS: A leader of France's top Muslim organization is criticizing a court decision that could jeopardize a decades-old policy in which public schools offer substitutes to pork when the meat turns up on lunch menus.
Abdullah Zekri of the French Council of the Muslim Faith said Thursday he is worried that the ruling a day earlier in eastern Dijon could sow discord in France — a country that in recent years has struggled to find a balance between its secular principles and its respect for religious beliefs.
3. There are so many videos now showing the immigration problems Europe is facing from illegal muslims. This one though gives some sense of scale.
4. ISIS executes 22 wounded at Sirte medical center, burn the center down
ISIS militants executed 22 wounded persons who were being treated at a medical center in the city of Sirte's District No. 3.

According to sources who spoke to Alwasat, ISIS fighters stormed the center and conducted inspections. The militants then executed 22 and mutilated their bodies before burning down the building.
5. UN council to meet on Islamic State gay attacks
(It might be interesting to make a list of the things the UN council did not meet to discuss. Like the genocide of the Yazidi or Christians. The resurgence and normalization of slavery. The death of women's rights and human rights in any reasonable fashion etc. etc. etc.)
The informal meeting on August 24 will shine a spotlight on "ISIL and its systematic targeting of LGBT persons who find themselves in ISIL-controlled territory," said Samantha Power.

The United States and Chile will host the meeting that will be open to all member-states interested in the plight of lesbian, gay, bisexual and transgender people persecuted by the jihadists.
6. Turkish hotel plays practical joke on guests with Islamic State mock attack including fake immolation on guests and AKs
(I Suddenly get why muslims have no sense of humour. Because when they try and have one, its considerably worse than when they do not)
Jason Phythian, 43, was relaxing poolside when a group of men stormed the pool area brandishing fake guns and 'fuel' cans. Mr Phythian claims a man dressed in Arab clothing poured a liquid labelled as fuel over his head and then pulled out a lighter.

"One ran up to me with a bucket with 'fuel' written on the side. He threw it over me and got out a cigarette lighter."

Jaosn's sister Dawn Sutton, 41, wrote she was "so shocked to see them dressed up. One was dressed in army pants walking around with a gun pointing it at people."
7. Interesting video of a girl in a bikini on a beach in Koss as a dinghy full of illegals arrive
8. Abu Bakr Baghdadi, Islamic State leader, raped American hostage Kayla Mueller, U.S. intel finds
(I guess that didn't quite go like she thought it would)
Mueller, whose death was reported in February, was held for a time by Islamic State financier Abu Sayyaf and his wife, known as Umm Sayyaf. Al-Baghdadi took Mueller as a "wife," repeatedly raping her when he visited, according to a Yazidi teenager who was held with Mueller and escaped.

The 14-year-old talked to U.S. officials, who corroborated her account with other intelligence and passed it on to her parents, Carl and Marsha Mueller, in June, according to a family spokeswoman, Emily Lenzner.
(It is also why we should not use the word, 'wife' when referring to a muslim sanctifying a sex slave by muttering an incantation. This happens more often than we think and closer to home than you might be comfortable with)
Thank you Snaphanen, M., Richard, GoV., Fjordman, and all. More to come.
A blast from the past. Bosnian muslim SS members at prayer
And below, an interesting but long conversation between a leftist-liberal and a more centrist liberal which is great listening while you are doing household chores. There is nothing on the screen that needs to be seen for context so you can just listen while doing other things.