1. Left Wing Extremists Traveling En Masse To Calais To 'Support' Illegals Attempting To Cross Channel
(And 'support' is rightfully in scare quotes as clearly the intention is not to support them so much as assist them in their goal of becoming illegal dependents on the British government. Not that they want to clothe and feed and house these people themselves)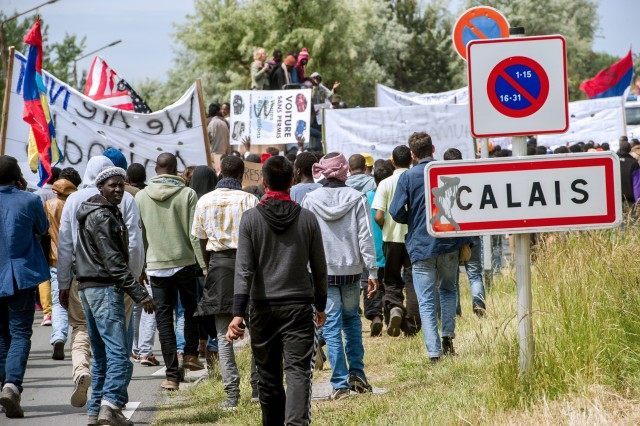 Up to 700 hard-left activists are planning to travel en masse to Calais from London to deliver "support" to illegal migrants camped near the Channel Tunnel. The development follows reports last week that French Police are "convinced" that British anarchist groups are working in the camps to "manipulate migrants" and coordinate attacks, demonstrations and crossings.

Yesterday, once more, hundreds of migrants stormed lorries waiting to board ferries as French Police temporarily stood down their guard. And on Saturday, masked British activists accompanied over 200 migrants on a march from the 'Jungle' camp to the tunnel entrance, to demand open borders, The Times reports.

Weyman Bennett, 50, a far-left activist from Tottenham addressed the march. He has held senior positions in the Socialist Workers Party and is an organiser for Unite Against Fascism. He said:
(Clearly these people are working to assist others in breaking laws. It should be an easily indictable offense)
2. Sweden boosts security for asylum seekers after IKEA attack
(So two Eritrean, almost certainly muslim, 'asylum seekers' in Sweden murder two people, seemingly at random, at an Ikea and the Swedish response is to give added protection to the people from the population from whence they came. Got it. If any rational Swedes with a personal culture of classical liberalism, reason and rule of law care to emigrate, please consider Canada. We urgently need more of you. But wait till you get a chance to vote in Swedish SD please. They might be able to fix this)
STOCKHOLM, Aug 11 (Reuters) – Police in central Sweden have increased security at asylum lodgings, fearing a backlash after two Eritrean asylum-seekers were suspected of murdering two people at an IKEA store.

A man and a woman were killed in a knife attack at an IKEA store in the city of Vasteras on Monday. Two suspects were detained by police, one of whom was seriously injured.

One suspect has denied involvement, while the other is hospitalised. Both had been staying in the same asylum centre, police said. Police said there was no evidence of any political motive.

"Local police across the region have been tasked with taking these measures, to be there for safety purposes for everyone there – those who work there and those who live there," Vastmanland police spokesman Per Agren told Sweden's TT news agency, referring to asylum centres in central Vastmanland county.
3. Russian forces kill 4 militants, including rebel chief
(A couple of videos in Russian to follow)
MOSCOW (AP) — Russian security forces have killed four suspected militants, including the top leader of Islamic rebels in North Caucasus, the nation's counterterrorism agency said Tuesday.

The Anti-Terrorist Committee said the suspects were killed in a raid in the province of Dagestan. It identified one of them as Magomed Suleimanov, the leader of the Caucasus Emirate, a loose group embracing Islamic militants in the Caucasus. Suleimanov's deputy was also among those killed.

The committee said Suleimanov was suspected of staging the 2012 killing of Said Afandi, the powerful leader of Dagestan's Sufi Muslim brotherhood. The warlord was also accused of numerous killings of police officers and civilians in the region.
4. (Turkish) Ambulances ferry ISIL terrorists between Ad?yaman and Syria, CHP report says
In a recent report, the main opposition Republican People's Party (CHP) has claimed that ambulances are routinely used in the southeastern province of Ad?yaman to carry injured Islamic State in Iraq and the Levant (ISIL) militants from Syria to Turkey and to transport new ISIL recruits across the border into Syria.

A delegation of CHP deputies and party members who visited Ad?yaman found that many locals recruited by ISIL cross into Syria by bribing border guards as little as TL 20 and the police, the Prime Ministry and the National Intelligence Organization (M?T) turn a blind eye to reports of illegal activities along the border.

The report also alleged that some coffee houses in the city are being used as contact points for ISIL, as well a number of mosques. "Many ISIL militants who come from Syria are allowed to propagate ISIL's ideology, especially in Mara?l?lar Mosque and Fatih Mosque. It is understood that the imams of these mosques turn a blind eye to the illegal activities of ISIL militants. Moreover, some families who complained about ISIL's recruitment activities and warned one of these imams were asked not to get involved in such issues, with one of the imams saying: 'They [ISIL recruiters] came from abroad. The [Turkish] government has allowed them. They may leave soon.'"
5. Swedish Ikea store stops knife sales after attack
(So…. the answer is knife control. Let in million of violent people who hate you, and then make it impossible for the indigenous people to slice bread)
Stockholm (AFP) – The Ikea branch in central Sweden where two shoppers were fatally stabbed — reportedly with knives taken from the shelves — will temporarily stop knife sales, the store manager said Tuesday.

"This is a decision I've taken and it is temporary," store manager Mattias Johansson told news agency TT, adding that the store would reopen on Wednesday morning.

The Ikea store in Vasteras, about 100 kilometres (60 miles) west of Stockholm, has been closed since Monday when two shoppers were fatally stabbed in the kitchenware section.

Two Eritrean asylum-seekers have been arrested on suspicion of murder, but police said Tuesday that the motive for the attack was still unknown.

The victims did not have any connection to their attackers, police said.
6. SPAIN – Clashes in Catalan resort town after Senegalese man dies in police raid
A 50-year-old Senegalese national died on Tuesday after jumping off a third-floor balcony during a police raid in Salou, an incident that set off clashes between authorities and a group of African migrants in the Catalonia resort town.

The Mossos d'Esquadra Catalan regional police were attempting to arrest the man during an operation aimed at cracking down on the illegal selling of imitation goods.
7. Greek mayor warns of 'bloodshed' as police beat migrants
Overwhelmed police on the Greek island of Kos on Tuesday beat migrants with truncheons and sprayed them with fire extinguishers as its mayor warned of a "bloodbath" if the crisis gets worse.

Amid mounting tensions across Europe over the spike in new arrivals, Germany's police union called for a scrapping of Europe's visa-free Schengen travel zone — while Italian police said they had arrested nearly 900 suspected human traffickers since January 2014, but added that the kingpins were at large.

In Kos, the migrants, mostly Afghans and Syrians, were being relocated to a local football stadium after camping along roads and beaches for weeks.

Four police used truncheons and fire extinguishers seemingly to prevent a stampede as a crowd tried to squeeze through a door into the stadium, an AFP photographer at the scene said.

At least one woman had fainted in the heat and many children were crying as the tightly packed mass of people jostled for space, just days after the country's handling of migrants came under fire from the United Nations.

Tensions on the tourist island are high with its mayor claiming there were 7,000 migrants stranded on Kos, which has a population of only 30,000 people.
Thank you M., WTD., Richard, and all who sent in material showing the global melt down as it takes place.
One great expose of why the world is melting down is explained beautifully in this comment by an expat Middle Easterner on a comment at Gates of Vienna here.
Well worth the read. Regulars at this site might recognize the author as someone who has done many translations for us over the years.
Lastly RT has this video up with the title being, "Warning for refugees?" with no evidence that anti-illegal migrant groups cause it. But they posted it that way anyway.
Published on Aug 11, 2015
A building burnt to the ground early on Tuesday morning in Koenigs Wusterhausen near Berlin has raised suspicions of an anti-migrant attack due to plans to house a group of refugees in a neighbouring residential building.