1. In Obama's America, it can be a crime to successfully defend yourself from a jihadi attack.
From Allen B. West:
As reported ten days ago by Western Journalism, "A Navy officer and Marine reportedly returned fire at the shooter who killed five service members in Chattanooga, Tenn., even though current policy does not permit military members to carry […]
Ladies and gents, resulting from the text message I received yesterday, I can confirm that the United States Navy is bringing charges against Lt. Cmdr Timothy White for illegally discharging a firearm on federal property.
2. In this 32 minute debate on Glazov, the panelists are extremely well known to this readership and therefore their positions are likely well known. It is probably skippable to many of you that don't have a half hour for Choudary et al. But it is good to see such a clear expression of these points of view thanks to the contrast the other panelists provide.
And Robert Spencer is always worth watching.
3. Jihad in Tennessee
4. Muslims marvel ar miracle magic-marking mould
Thousands of people in Mali's capital, Bamako, are flocking to see what it believed to a religious sign on a wall that suddenly appeared last weekend.

Many believe the white image on the outside wall of a toilet shows a man praying, interpreting it as a message from God.

Riot police have been deployed to keep an eye on the crowd as people queue day and night to see the mark.

Most southern Malians are Tijani Muslims, a moderate sect of Sufi Islam.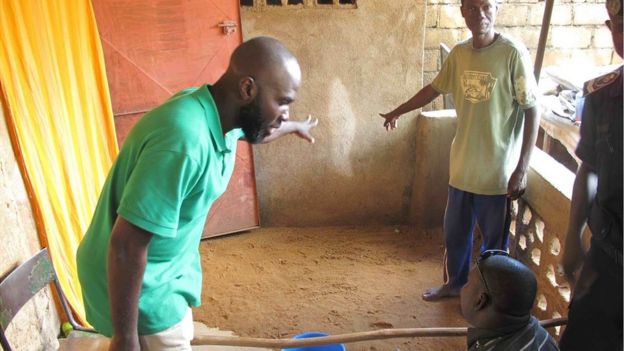 5. Turkey's sudden interest in fighting the islamic state has lead to the killing of 250 Kurds by Turkey. (oddly the only people who actually are being effective in fighting the Islamic State)
6. UK: Police use force to keep rival migrant protesters apart in Folkestone
7. Police Warn of No-Go Zones in Germany
(There was a successful push a while ago to eliminate that term as it was too accurate and frightening. Things must be quite bad if it as returned to the MSM)
Spiraling levels of violent crime perpetrated by immigrants from the Middle East and the Balkans are turning parts of Duisburg, a key German industrial city, into "areas of lawlessness" — areas that are becoming de facto "no-go" zones for police, according to a confidential police report that was leaked to the German newsmagazine Der Spiegel.
8. Tard-diggers scamming the Islamic State
9. Lawyer's Secular Society explains its decision to share a platform with Geert Wilders etc.
(More to say on this later)
Thank you WTD., M., Gates of Vienna, Richard, and all. More to come later today.
After a brief chat with Oz-RIta who patiently explained the equine facts of life, I would like to wish all horses in the Southern hemisphere a happy birthday today.
Below, some muslims in England respond to Cameron's speech on extremism the way a rabid dog or a healthy cat responds to a pail of water.
Lastly, and kind of riffing on a great moment in Shakespeare's Romeo and Juliet, a thought occurred while watching that amazing, 'Coughlinesque' analyst, Sebastian Gorka, on the video posted last night.
Marriage is the opposite of war in the sense that it takes two to make a successful marriage and only one to make a successful divorce. But it only takes one nation with an army to make a successful war yet it takes two to prevent one by deterrence and it takes two to guarantee the sovereignty of each and survival of both cultures. (It made slightly more sense in my head last night but the follow up still stands)
So no amount of Obama policies of disarming and soft diplomacy can possibly improve the security and cultures of the USA. Of course, one suspects that was the point.