h1. Even fake anti Islamic State protest by Irish muslims produces no takers.
(Notice the sign that at least 2 of the nearly no one who is at this 'protest' has, which blames foreign policy and essentially the West for Islamic State actions. How is this not the same as the positions taken by nearly all muslim extremists? The classic Clay Pot fallacy. 'These horrors aren't happening, and if they are happening they are your fault'
The Islamic State would agree. If there weren't so many disbelievers they wouldn't have to kill so many of us!)
Drawing fewer than 50 people, a protest by Muslims against the Islamic state in Dublin has instead become emblematic of the silent acquiescence of ISIS among many in Western Europe's Islamic communities.

Organised by the Irish Muslim Peace and Integration Council, this weekend's protest was meant to be a strong symbol of the rejection of extremist Islam by westernised Muslims, but it ended up a bit of a damp squib after fewer than 50 people took part. Standing on a traffic island between two main roads through central Dublin, the rally was called to disassociate Islam from the Islamic State – but leader Dr Umar al-Qadri admitted there was radicalisation in Ireland.

Far from the turnout being just down to apathy – or the Irish weather – he admitted one of his volunteers had even been beaten up in an Irish mosque while handing out flyers advertising the protest. The assailant shouted "We are Isis, are you going to protest against us?" as he assaulted the pamphleteer, reports the Irish Times.
2. 'German-Somali' behind Mogadishu's Jazeera hotel blast
A German of Somali origin is suspected to have been the suicide bomber who struck in Somalia's capital, Mogadishu, on Sunday, a Somali intelligence officer has told the BBC.

The male bomber was believed to be from the city of Bonn, said the officer, who spoke on condition of anonymity as investigations were continuing.

The attack on the five-star Jazeera Palace Hotel killed 15 people.
(Photos at BBC link above)
3. Islamic State ramps up its hipster merch catalogue with a line of watches
(Now you won't have to look to see if a potential jihadi is wearing his watch on the right wrist anymore to know his belief and commitment to jihad. You just need to see if its an official Islamic State Watch!)
If they are looking for more designs here is one they can use. (Flag from The People's Cube)
4. Yemen conflict: Saudi-led coalition resumes air strikes despite truce
(The BBC headline clearly indicates that the Saudis broke the truce. But the article says that they hit  'rebels' after the 'rebels' hit an air force base, presumably during the truce.
Hard to know who will strike first when both sides believe the Treaty of Hudaibiya is the perfect way to behave during conflict)
The ceasefire started at midnight on Sunday, but was pierced by a strike on rebels after they attacked Aden airport with rockets.

There was further fighting in the south on Monday, as Houthi militias shelled residential areas in the city of Taiz.

The truce, agreed by Saudi Arabia, was originally called to allow aid agencies to access civilians.

At least 1,700 people have been killed in fighting in Yemen and thousands of others are in desperate need of food and medical supplies.
5. The Saudis have come out with a nice bit of logical torture in this attempt to force blasphemy laws on the world. But only for Islam. 
(In order to understand what the real message is in this oddly written piece of trickery, one has to understand the premises upon which the Saudis, and all muslims, build their cases, which interestingly explains the syntax and choice of, and lack of, words in the article. No, it is not because the author doesn't understand English so its written in a kind of 'accent', its because in the Islamic view, the appearance of mohamed abrogated all previous 'prophets' and all previous religion. So only Islam counts as a bona fide religion and only Mohamed is worthy of being above criticism. Therefore, the islamic world can call for blasphemy laws to be implemented everywhere to protect islam, while they continue to disallow, and even commit genocide, against all people who do not follow islam. If you read the article with this in mind, the language they choose makes sense)
To wit:
LILLE, France — Saudi Arabia has reiterated its call on the international community to criminalize any act vilifying religious beliefs and symbols of faith as well as all kinds of discrimination based on religion.

Addressing an international symposium on media coverage of religious symbols based on international law, which started in this French city on Saturday, a senior Saudi official said the Kingdom emphasized years ago that the international community must act urgently to confront ethnic, religious and cultural intolerance, which has become widespread in all communities and peoples of the world.
"Based on religion" Who else would say it like that? "Religion" means there is only one to them. So they mean, 'Based on Islam'. The proof is rather stunningly obvious all over the world these days but for the hell of it, one example:
6. Three Things you didn't know about Islam
(OK I'm pretty sure ALL readers to this site know all three things about Islam. And, we posted this video in 2010 when it came out, It was one of the first truly viral videos about the facts of islam ever made in modern times and it made a huge splash back then. Lots of people were talking about it and for a while, everyone was trying to figure out how to do those great text effects. It was the subject of a number of meetings I attended as well.
I post it again because yesterday, Richard Dawkins tweeted it out. This means a few good things, not the least of which, the influential inteligencia have either started to lean critical facts about islam, or as likely, already knew it but are starting to be willing to be seen spreading these truths. So fair enough here it is again.)
7. New Afghan reality show. One Wedding and Twenty One Funerals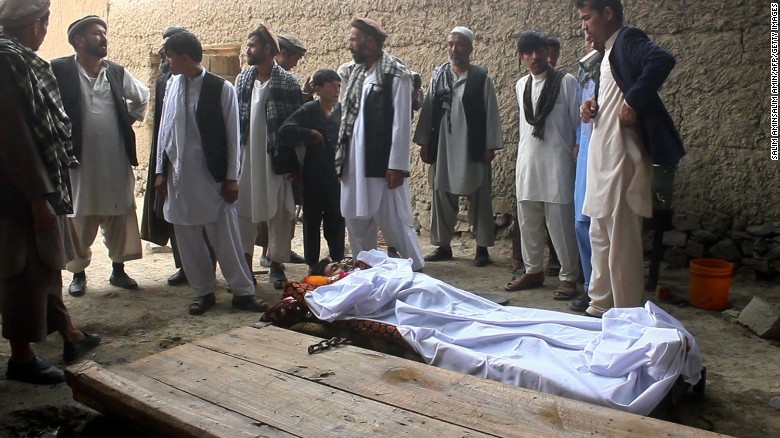 Kabul, Afghanistan (CNN)A wedding in Afghanistan turned deadly Sunday night when a gunfight broke out, killing 21 people, an Afghan official said.

Two armed groups got into a dispute at the wedding in the northeastern province of Baghlan, Interior Ministry spokesman Sediq Sediqqi said.

The dueling groups fired on each other, Sediqqi said. But the bullets also killed guests who were not involved in the fight.

Two teenage boys were among the 21 killed, he said, and eight other people were wounded.

The cause of the dispute wasn't immediately clear.
Thank you Buck, Richard, M., ML., Wrath of Khan, and so many more. And yes, there is still more to come. Trying to keep up with the constant barbarity and horror that islam makes as its sole product can cause carpel tunnel even if it effects you in no other way.