1. Madrid hosts UN meet on homegrown jihadism
(Something tells me that there will be no actual experts on the subject at all at this event. Just more purveyors of the narrative who will wring their hands at each other in a mutual self congratulatory session of shocked incomprehension of why this takes place)
Security experts and ministers gather in Madrid on Monday for two days of UN-sponsored talks on how to stop radicals leaving their countries to join armed jihadist groups abroad.

Spain's government said it will also chair a meeting of the United Nations Counter-Terrorism Committee on Tuesday, the day after the talks involving international experts.

Spain this year sits on the UN Security Council and has launched a crackdown on "homegrown" jihadists, who it says are leaving to fight with the Islamic State group in Iraq and Syria.

It will host discussions on ways to stop jihadists becoming radicalized and travelling abroad as "foreign terrorist fighters" (FTF) – and how to prosecute and rehabilitate those that return.

The UN said in a statement the meetings aimed to "produce a set of strategies and techniques to guide member states in their efforts to address the FTF threat".
2. A video of preaching jihad to children. A clear and unambiguous statement of belief and obligations to act. A passerby objects.
3. Iran Leader's Nephew To Obama: They're Lying To You

PJ Media reports that an open letter to President Obama from the nephew of Iranian Supreme Leader Ayatollah Ali Khamenei, Dr. Mahmoud Moradkhani, was posted on an Iranian website this past Tuesday. The extraordinary letter states in no uncertain terms that Khamenei is lying in his negotiations with the West, relying on taqiyya, (the Shia doctrine which allows Muslims to lie to infidels in order to further Islam's goals). Moradkhani clearly states that the Islamic regime has deceived the Iranian people, compares their deception to Hitler's actions, accuses some of the West's media of censoring remarks made by Iranian opponents of the regime, calls for Obama to reject the nuclear deal and pleads for the end of the Islamic regime in Iran.
4. 'There is no solution except Jihad in the path of Allah': Leader of Somali terror group Al-Shabaab sends out chilling call for fresh wave of terror attacks across east Africa
The leader of Somali terror-group Al-Shabaab has urged Muslims in east-Africa to rise up against the 'evil Christians'.

In an online statement obtained by MailOnline, Ahmed Omar Abu-Ubeyda told them to 'migrate to the lands of Jihad' and seek out battlefields all over the world.

He also welcomed the people of Ethiopia, Djibouti, Uganda and the dangerously unstable Central African Republic to come to Al-Shabaab's terror training camps.

Ubeyda was appointed the group's leader in September 2014 after Ahmed Abdi Godane was killed in a U.S. airstrike.
5. Video on Punjab attack, much more serious than it looked last night
(Other explosive devices were found, suggesting this was meant to be a large scale coordinated attack)
Indian forces battle attack on police station
6. Paris France: BDSapalooza
(Maybe next year they will have rides, candies made from dates and 'how to lift one's derrière to the sky like a real mujahadeen' lessons)
7. CLAIM: Tommy Robinson Imprisoned to Stop Muhammed Cartoon Contest, UK Cops Won't Deny
(I look forward to the list of historical and contemporary analogues and illustrations to which this action is equivalent)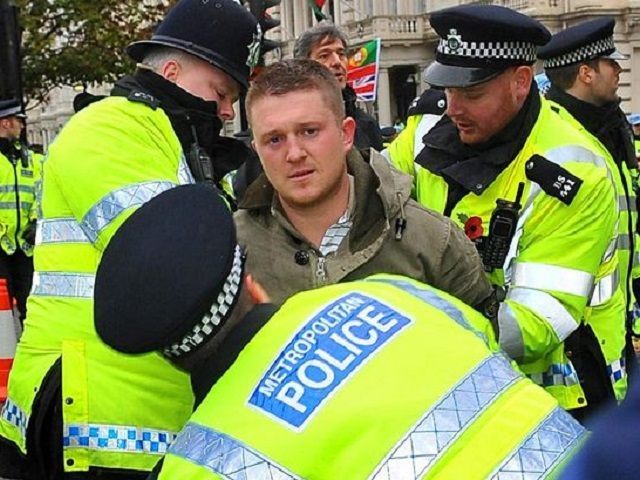 British police have refused to deny the sensational claim by hard-left activist group Hope Not Hate that former-EDL leader Tommy Robinson was recalled to prison to prevent him from taking part in a 'draw Mohammed' competition.

Writing in an already questionable report, which in a stunning leap of logic claimed freedom-of-speech campaigners in the United Kingdom were attempting to ignite a civil war with British Muslims, Hope Not Hate director Nick Lowles wrote there had been a government conspiracy to take Robinson out of circulation. In a section of the report summarising the backgrounds of the Mohammed Cartoons organisers, Lowles claimed Tommy Robinson, real name Stephen Lennon, had been:
"returned to prison for breach of license (for a conviction for mortgage fraud) in what appeared to be an attempt by the authorities to prevent him from getting in the cartoon plot"
8. Pompeo on Iranian side deals
("This isn't Canada, this is Iran")
Thank you Maria J., M., Gates of Vienna, Buck, and all who sent in materials. More to come.