1. Schoolteachers among six in Israel charged with supporting ISIS
Jerusalem (CNN)Six men have been arrested on suspicion of supporting ISIS in Israel, following an investigation by Israeli security and counterterror forces.
The men were indicted on charges of supporting a terrorist organization, possessing and distributing advertising materials of an illegal group, and conspiracy, among other accusations, according to a written statement from police spokeswoman Luba Samri.

Among the six suspects: four schoolteachers, one of whom taught at an elementary school in Hura. According to police, the man took "every opportunity" to teach his young students about ISIS.

Police say the teacher would sing songs praising ISIS in class, express his support for the terrorist organization, and show students map drawings of the self-proclaimed Islamic State — the group's preferred moniker, and also the way it refers to its wide swath of territory across Syria and Iraq.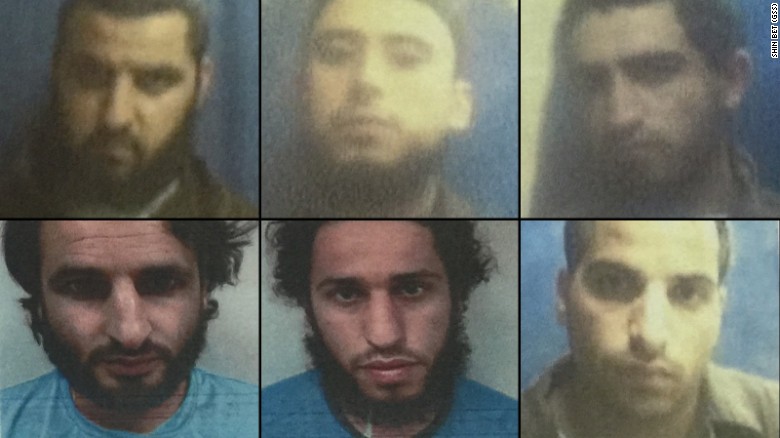 2. Ex-congressional hopeful indicted in alleged anti-Muslim plot
KNOXVILLE, Tenn. — A federal grand jury has indicted a former Tennessee congressional candidate for allegedly soliciting others in a plan to burn down a mosque in Islamberg, a predominantly Muslim hamlet in Hancock, New York.

Robert Doggart, 63, allegedly planned to burn a mosque, as well as a school and a cafeteria in the community. Investigators said he sought others to join the plan through Facebook posts and in telephone conversations.

The case was investigated by the FBI, and the U.S. Department of Justice's Civil Rights Division is prosecuting Doggart.

According to court documents, Doggart is a member of several "private militia groups." He ran as an independent candidate for Congress in Tennessee's fourth congressional district in 2014. The Department of Justice pressed charges in Tennessee, where Doggart still lives.
3. Iran Now Demands Weapons Embargo Be Lifted in Any Deal
The day before the deadline, Iran says sanctions on their ballistic missile program must be lifted and the UN general arms embargo terminated

In response, one Western official was quoted as saying, "There's no appetite for that on our part." Another said flatly that such an agreement was "out of the question."

The demands address conventional weapons, which have not, until now, been a part of the negotiations. In the context of the framework agreement, the U.S. government assured Congress in April that "important restrictions on conventional arms and ballistic missiles" would be incorporated into any new UN regulations for Iran.
4. If anyone has 3 hours to go through this hearing on arming the kurds and training people to fight the Islamic State,(White House ISIS Strategy)  it would be great to know if there are significant parts that can be edited out of it for a short video which would be informative and honest to the context of this hearing.
5. ISIS sends another child to his violent death: Suicide bomber, aged just FOURTEEN, kills 50 Kurdish fighters' in Syria
(Could be worse. If he was in Canada, he would be sharing a penthouse condo with Omar Khadr and waiting for a multi million dollar payout from the Canadian feds even though they had nothing to do with his war crimes)
ISIS fanatics have sent a 14-year-ld boy to his death in a suicide bombing that killed 50 Kurdish militants in northern Syria, it emerged today.
Islamic State supporters claim the boy drove a truck filled with explosives into a military checkpoint in Hasakah last night.  
The brainwashed child, who they name as Omar Hadid al-Muhammadi, is pictured in green army gear with a rifle hung around his tiny shoulders, pointing his finger in the ISIS salute, just moments before he sets off on his mission.
ISIS claims his death was part of a larger onslaught on the Kurdistan Worker's Part in Ras al-Ayn, a village on the Syrian-Turkish border. 
They have been celebrating his 'martyrdom' on social media by posting vile messages such as: 'This lion of the khilafah [caliphate] has killed over 50 PKK murtadeen [one who opposes religion]… May Allah accept him in the ranks of the Shuhadah [martyrs]. 
6. Given that Obama again today made noises about how some groups distort islam and take it out of context (posted earlier today) it seems like now is a good time to post this image: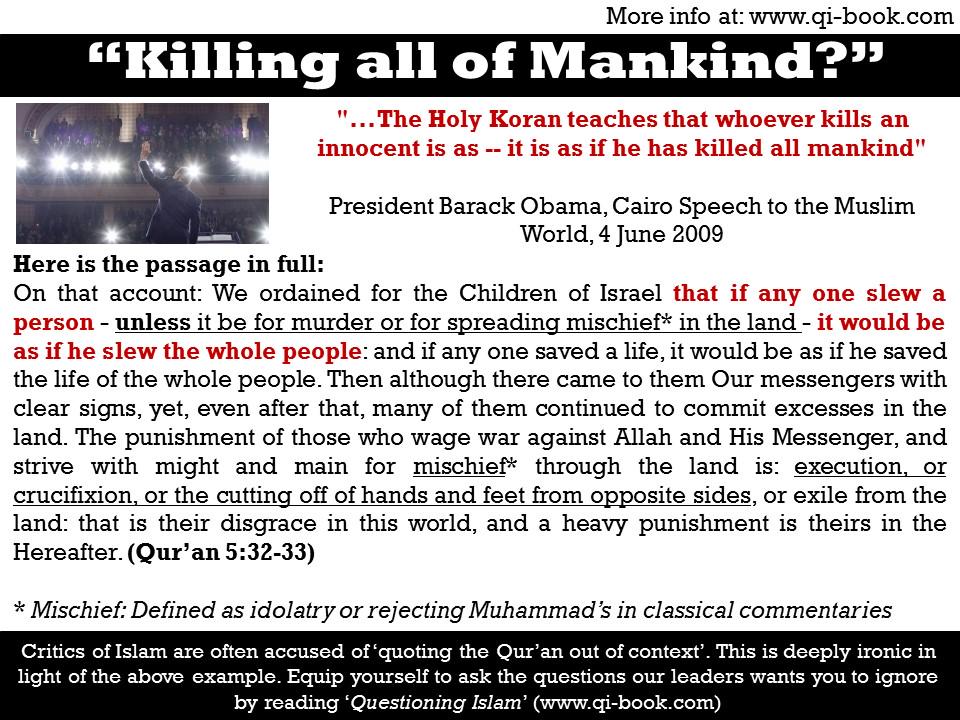 7. Orthodox Jewish Man Beaten In Williamsburg In Latest Possible Hate Crime
NEW YORK (CBSNewYork) — The NYPD is investigating another possible hate crime in Williamsburg, Brooklyn.

There have been four attacks against the Orthodox Jewish community in a week — the most recent came late Monday night.

As CBS2's Ilana Gold reported, a 65-year-old man was attacked around 11 p.m. across the street from his home near Wilson Street and Wythe Avenue.

A teenage boy and girl ran up to him from behind and started punching him in the face and laughing about it, investigators said.

On Tuesday afternoon, CBS2 saw the victim as he limped out of his apartment with cuts and bruises under his eye. He did not want to comment, but his neighbor spoke with CBS2 anonymously.
(Islam has normalized violent antisemetic acts for all with a proclivity to do them)
8. Moroccan women in Inezgane court over dress
Two women have gone on trial in Morocco on charges of "gross indecency" for wearing skirts.

The two were arrested in Inezgane last month, after a market trader drew attention to what they were wearing and a crowd gathered round, reports say.

An internet petition calling the arrest an attack on personal freedom has attracted thousands of signatures.

There was controversy in May when a Jennifer Lopez performance in Morocco was considered "sexually suggestive".
Thank you M., Gates of Vienna, Wrath of Khan, and all.