*** Before heading to any of the news items, PLEASE READ THIS article by Sonia Bailley. Has anyone wondered why the US seems more uptight about the threat to July 4 celebrations tomorrow than anytime since 911? This may be exactly why. ***
1. The Local Newspaper That Thinks Legitimate Protest is Worse Than Raping Underage Girls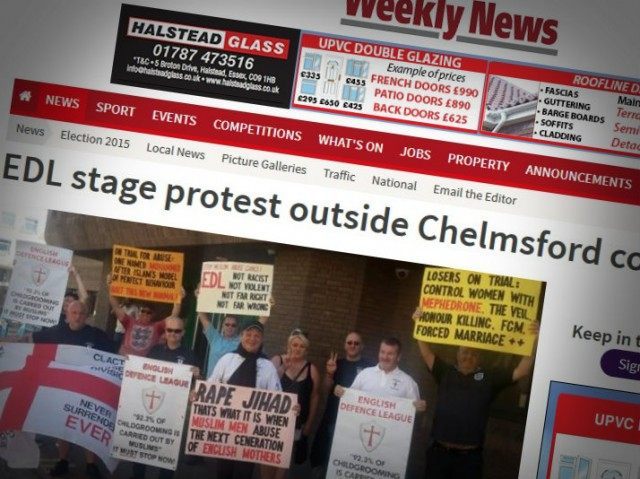 Which story do you think is more worthy of attention in a local newspaper:

a) three members of a local Muslim gang in court on charges of grooming and raping children?

b) protestors outside the court condemned by left-wing activists?

Yes, me too. But the rules are different, apparently, if you work for the Chelmsford Weekly News.
2. Muslim convert facing jail after admitting flying back to the UK from Syria using her party girl twin sister's stolen passport 
A devout Muslim convert is facing jail today after being caught flying back to the UK having been in Syria using her party-girl twin sister's stolen passport.

Jamila Henry, 22, was detained by anti-terror police at Luton Airport when she got off a plane from the Turkish capital of Istanbul.

The passport belonged to her twin Jalila, a self-proclaimed party girl, who later complained that the incident had ruined her plans to go on a girls' holiday to Amsterdam. 
3. This video is about ongoing riots in the Netherlands, but there is way more behind this than what is being reported. Like US riots which claim it has to do with actions of an unjust or brutal state actor, in fact there are sinister forces behind them by people with an agenda few would consider in the public interest.
4. Hate preacher accused of radicalising Frenchman who 'beheaded his boss before placing his head on a spike' lives in BRITAIN, it is revealed
The French ISIS fanatic accused of beheading his boss before placing his head on a spike was radicalised by a man living in Britain, it has emerged. 
Frederic Jean Salvi, who is also known as 'Ali' and is believed to be linked to terror attacks in Paris and Indonesia, is currently working and living in Leicester, it has been reported.
Last week Salvi was accused of helping to radicalise Yassin Salhi, 35, who allegedly murdered his boss Herve Cornara before attempting to drive his van into a gas factory in Lyon.
According to the Daily Mirror, Salvi was not born a Muslim, but converted inside jail while serving time for drug trafficking in the early 2000s.
5. Rocket from Egypt Hits Southern Israel
A rocket fired from Egypt exploded in southern Israel's Gaza belt region Friday afternoon.

Residents of the area were forced into rocket shelters after sirens sounded at approximately 4:20 p.m. local time. No damage or injuries has been reported.

The IDF temporarily closed Route 12 as a "security precaution."

Unlike other recent rocket attacks, which have broken the relative calm since the truce signed between Israel and terrorist groups in Gaza, this attack did not come from the Gaza Strip but from within Egyptian territory.

Although there has been no official claim of responsibility, the likely culprit is ISIS's Egyptian branch, known as "Sinai Province."

The terror group has been escalating its attacks against the Egyptian authorities, assassinating Egypt's chief prosecutor and carrying out a massive assault which left some 100 people dead this week.
The Muslim Brotherhood has warned of "serious repercussions" and has called on its supporters to "rise in revolt" after Egyptian police killed 13 of its members.

Egyptian police raided an apartment in the Cairo suburb of 6th of October on Wednesday and killed 13 of the outlawed group's leading members, including a former member of parliament, Nasser al-Hafy, security sources and a member of the group said.

The Brotherhood members were reportedly meeting to discuss sponsoring the families of detainees when the police stormed the building. The victims' families said the men were unarmed and had been taken into custody earlier in the day but were released after giving fingerprints.
7. The 'humanitarian aid' aboard a recent flotilla to Gaza fit in two cardboard boxes
Pro-Palestinian activists aboard a Swedish vessel tried and failed to punch through Israel's maritime blockade of Gaza this week. Israeli commandos boarded the vessel, searched the ship and brought it to an Israeli port.

The Israeli military called the operation "uneventful." According to a report, Israel's Channel 2, one of the activists was zapped with a taser. The foreign activists were detained and are being deported.

In the scope of Middle East confrontations, it was a minor, though publicized, affair.

Afterwards, Israel's defense minister Moshe Yaalon said, "there was no aid on board" the activist ship.

Not necessarily so — but pretty close. We checked. You decide.

Members of the Gaza flotilla organization — which sent four boats, three of which turned around before arriving in the vicinity of Israel — have repeatedly said the vessel that was stopped, Marianne, was carrying humanitarian aid for Palestinians in the Gaza Strip.
8. The worst agreement in U.S. diplomatic history
Charles Krauthammer:
The devil is not in the details. It's in the entire conception of the Iran deal, animated by President Obama's fantastical belief that he, uniquely, could achieve detente with a fanatical Islamist regime whose foundational purpose is to cleanse the Middle East of the poisonous corruption of American power and influence.

In pursuit of his desire to make the Islamic Republic into an accepted, normalized "successful regional power," Obama decided to take over the nuclear negotiations. At the time, Tehran was reeling — the rial plunging, inflation skyrocketing, the economy contracting — under a regime of international sanctions painstakingly constructed over a decade.
Thank you M., GoV., Richard, Bains, Dan F., and many more.
These are surreal times. Usually massive conflict comes from a few things, which are very bad economic conditions, forcing different peoples to mix, and ideological nut bags who convince enough people to risk life limb and wealth to enforce that ideology on others. It is easy to see the two out of three in play here and the third factor has two different insane and counter-productive ideologies at play working together to destroy what was in fact a dramatically successful, wealthy, efficient and productive even happy society. Civilization had conquered many diseases, some of which are coming back now through nothing but bad management, and the world's poor were either getting richer or at worst not getting poorer, and the only real famines and droughts even now are not as much from nature as from wars and so on. Life was pretty good till the Marxists and muslims deliberately started to examine what made things work, and then screw them up.
Yesterday we posted how Obama deliberately stopped various Arab states from sending the Kurds, who are the only people having any successes against the Islamic State, the heavy weapons they need to continue. How can this not be a clear signal Obama and the US is on the other side?
More to come.