1. Judge restores right for Britain First to demonstrate against mosques in Luton
(The assumption is, this will take place any minute now. Also at this time, a demo is taking place in Sweden by a PEGIDA spin off which could be interesting. First hand account by Liberty DK who went to speak there ASAP)
2. Refugee host school bans revealing clothes
(The thing about dhimmitude, one must begin immediately, and start with the women)
A school in Bavaria has sent a letter home to parents warning them not to let their daughters wear revealing blouses or short skirts, because emergency accommodation for refugees has been set up next to the gym.
A week ago emergency accommodation for 200 Syrian refugees was erected right next to the gym of Wilhelm-Diess-Gymnasium in Pocking, Bavaria, Die Welt reports.
The gym has been closed as a result, and PE lessons have been relocated to a nearby primary school, but the school is still worried about the refugees interacting with students.
So worried in fact that the headteacher recently sent out a letter to parents to give reassurance about extra security measures.
"For the refugees, access to the school gardens and buildings is strictly forbidden. The same goes for the school grounds during the day. The number of teachers on duty during breaks has been increased," read the letter from headteacher Martin Thalhammer.
The letter goes on to give students instructions on how to deal with the situation:
 "The Syrian citizens are mainly Muslims and speak Arabic. The refugees are marked by their own culture. Because our school is directly next to where they are staying, modest clothing should be adhered to, in order to avoid discrepancies. Revealing tops or blouses, short shorts or miniskirts could lead to misunderstandings."
(Read the rest of the article at source. In Canada, there is a very high chance that the person who wrote the letter would be prosecuted for a hate crime for daring to suggest that muslims who see girls in skimpy clothes and cannot control themselves are guilty of racism. So this letter costs him from both sides)
3.Tunisia to close 80 mosques following terror attack
(At last! Someone does something rational following a muslim attack! And it was Tunisia instead of France or the US or England, nations which are officially secular more or less. Egypt also understands what mosques usually are, and deal appropriately also)
Tunisia's Prime Minister Habib Essid announced on Friday that the government will be shutting 80 mosques that are outside of state control on the grounds that they may incite violence. The plan, which will be carried out in the next week, follows an attack on a tourist resort hotel in the coastal city of Sousse, around 140 kilometers (87 miles) south of the capital Tunis.

Tunis also plans to crack down on financing for certain associations as a countermeasure against another attack.

The gunman had disguised himself as a tourist, hiding a rifle in an umbrella. He then opened fire on lounging tourists at the Imperial Marhaba hotel, killing 39 people including Britons, Germans and Belgians.
4. Suspect of yesterday's french terror attack and beheading was "just a normal muslim" according to his wife. Many people will likely agree with her.
5. Police withheld bombshell report revealing how gangs of Muslim men were grooming more than 100 schoolgirls as young as 13 in case it inflamed racial tensions ahead of General Election 
Britain's second largest police force withheld a report about gangs of Muslim men grooming children in case it inflamed racial tensions ahead of a General Election, it was revealed today.

West Midlands Police were warned more than 100 predominantly white children – some as young as 13 – were at serious risk of child exploitation five years ago.

A document entitled 'Problem Profile, Operation Protection' from March 2010 reveals Asian gangs targeted schools and children's homes across the force area.
(This report says MUSLIM. It is also recommended reading for all)
6. Pride March London. (Rainbow now includes black and white!)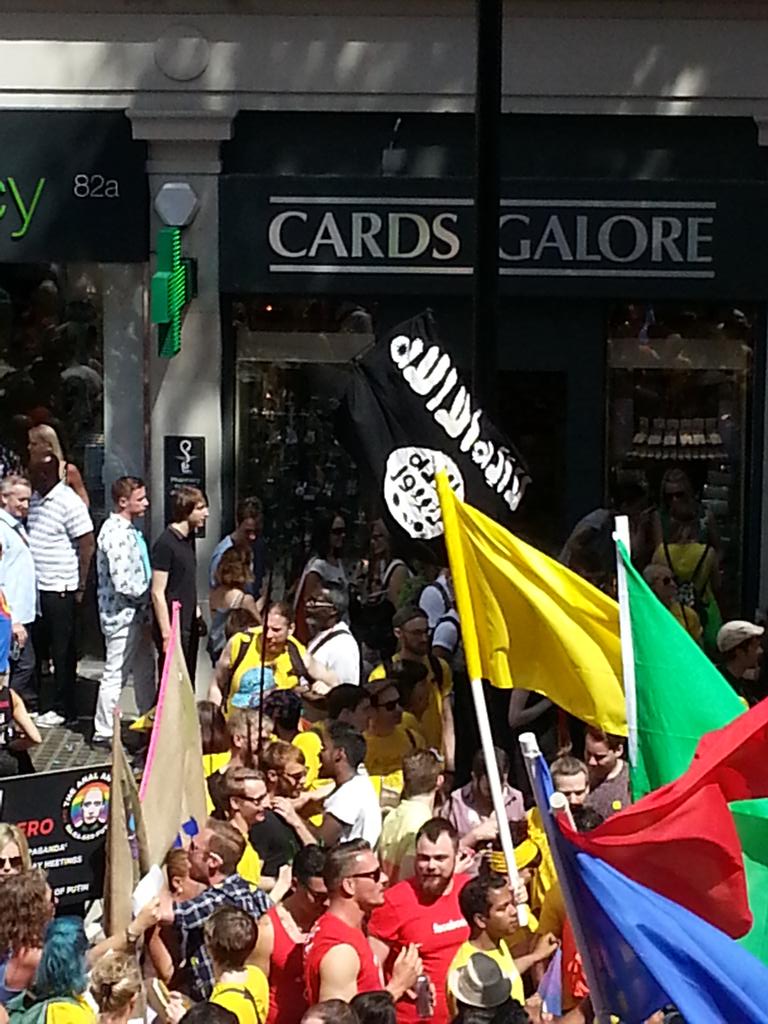 7. U.S. troops face eating, drinking restrictions during Ramadan
(This is infuriating)
Do U.S. troops fast during Yom Kippur? Lent? No? Why not? "U.S. Troops Face Eating, Drinking Restrictions During Ramadan," by Jeryl Bier, Weekly Standard, June 26, 2015 (thanks to Pamela Geller):
A top commander in southwest Asia reminded U.S military personnel stationed in Muslim countries in the Middle East of the restrictions placed on them during Ramadan. According to a report by the U.S. Air Forces Central Command Public Affairs, Brig. Gen. John Quintas, 380th Air Expeditionary Wing commander in Southwest Asia, said that the U.S. is "committed to the concepts of tolerance, freedom and diversity." But he added that soldiers should "become more informed and appreciative of the traditions and history of the people in this region of the world… [R]emember we are guests here and that the host nation is our shoulder-to-shoulder, brothers and sisters in arms, risking their lives for our common cause to defeat terrorism."
8. Speaking of flags:
(From Twitter) 
Thank you Oz-Rita, Maria J., Wrath of Khan, Buck, M., and all. More to come shortly.