1. Melanie Phillips in Australia gives cool, analytical and well organized presentation of Islamic antisemitism in Europe today, and the real risks and future for the Jewish people of Europe, as well as the psychology behind a resurgence in a general revived antisemitism in Europe outside of Islam. This is an hour. Jewish people would do well to watch it with full attention. Non-Jews may watch this the way they would tomorrow's newspaper. Because while the modus operandi being used on Jews will not be identical to other groups, a version of it to the same effect will be used on pretty much everyone, sooner or later. This is a very good lecture by Ms. Phillips.
2. Solihull West Midlands Pig heads dumped outside mosque
Four pigs heads were dumped outside a Solihull community centre that has allegedly been used as a mosque.

West Midlands Police charged 34-year-old Carl Stephens, of The Radleys, Marston Green, in Birmingham, with causing religiously aggravated harassment, alarm and distress.

He will appear at Birmingham Magistrates' Court after police arrested him in the early hours of Wednesday (10 June).

The animals' remains were found on the grounds of the Hermitage Road premises on 12 April.

An investigation was launched by Solihull Council after claims the facility was being used as a mosque and was in breach of planning consent.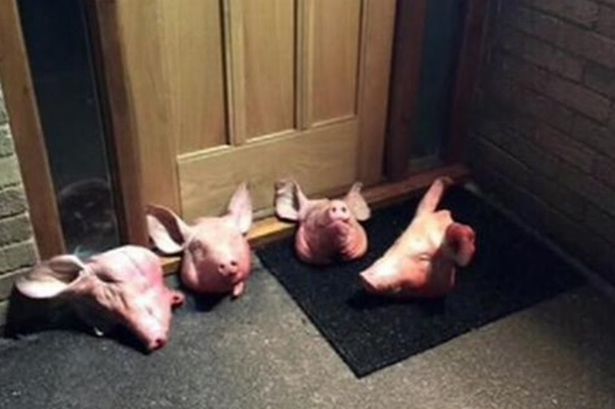 3. UN covering up massive sex abuse scandal by UN soldiers in CAR right after lambasting the Catholic Church on the same issue.
4. Woman in US fights off 5 home invaders with handgun she bought after her previous experience with a home invader. 
5. Man Allegedly Linked to Boston Terror Suspect Usaama Rahim Arrested, Sources Say
(Very little information at link)
Thank you M., CB Sashenka, GoV., Oz-Rita (some interesting German videos in the pipe now) and all who sent in materials and comments.