1. Muslim in New York attacks gay couple with chair in public restaurant in New York. Police claim he is a career criminal. In the US, muslim trumps gay in Politically Correct poker.
2. 20 teen school boys try to rape teacher
Twenty teenage school boys tried to rape their female teacher in Egypt after she prevented them from cheating in the examination, newspapers reported on Sunday.

The unnamed teacher decided to expel the boys in preparatory class after catching them cheating in the final examination at the school in capital Cairo.

Newspapers said the students waited for the teacher to step out of school after the examination and attacked her, adding that they ripped her clothes and tried to rape her before other teachers and students intervened and saved her.

The papers said the education ministry decided to suspend the school manager and his aides for failing to report the incident and taking measures against those students.
3. Austrian 14-year-old jailed on 'terrorism' charges
4. Daily Mail article on the burning of sex slaves for refusal to obey order to "extreme sex acts"
5. Mapped: The countries facing the greatest threat from terrorism
Western economies including France and Germany are facing greater terror threats because of Isil and al-Qaeda and its supporters. Click on this map to find out where political violence and terror is the biggest threat, according to global risk management company, Aon
6. Ontario Signs Agreement of Cooperation with the Ismaili Imamat
Premier Kathleen Wynne welcomed His Highness the Aga Khan to Queen's Park today for the signing of a historic Agreement of Cooperation between the province and the Ismaili Imamat. The agreement outlines areas of cooperation and joint initiatives, including leveraging diversity and culture as an economic driver and supporting a pluralistic approach to education.

Projects include the secondment of Ontario teachers to the Aga Khan Academies; the creation of opportunities for Aga Khan Academy graduates to attend Ontario's world-class post-secondary institutions; and the exploration of a range of curriculum-linked resources that emphasize intercultural understanding and that draw on the Aga Khan Museum for its teaching collection and expertise on pluralism of Muslim culture to support learning in Ontario schools.
(There are videos here at this site which show the Aga Khan speaking his true mind to his believers. For those who wish to know what he is about and his cult, it is worth seeing them)
7. Tunisian Cleric Bechir Begga: Satan and the Jews Are the Enemies of the Muslims
8. AFDI's New Free Speech Bus and Train Ad Campaign Featuring Muhammad Cartoon
(CAUTION: Breitbart has enough auto-play crap to cause an epileptic seizure)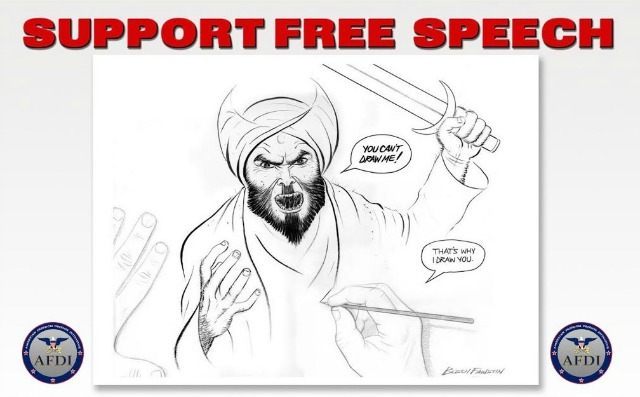 Because freedom of speech is under violent assault, the human rights advocacy group the American Freedom Defense Initiative (AFDI) has announced a new ad campaign to defend freedom of speech and stand up to violent intimidation kicking off in the nation's capital. […]

"We cannot submit to the assassin's veto.
9. US and Turkey agree to provide air protection for terrorists who are fighting Assad
(There, see? Obama's America and Turkey managed to find common ground and common purpose after all. To jointly support islamic terrorists in their quest for a Caliphate)
THE HILL – The U.S. and Turkey have agreed in "principle" to provide air protection to Syrian rebels being trained and equipped to fight the Islamic State in Iraq and Syria (ISIS), according to Turkey's foreign minister.

"There is a principle agreement on providing air support," Mevlut Cavusoglu, the Turkish foreign minister told the pro-government Daily Sabah newspaper in comments published Monday, according to The Associated Press.
Thank you M., TL., Wrath of Khan, and many more who sent in materials and more to come. Tonight Alexandra, who organized the Draw limits on religious tyranny event at Parliament hill and had the permit yanked at the last second will be speaking on Blog Talk radio tonight at around 7:30 EDT at this link for anyone interested. I should be on around a half hour earlier.